DWHoops Photos by Orin Day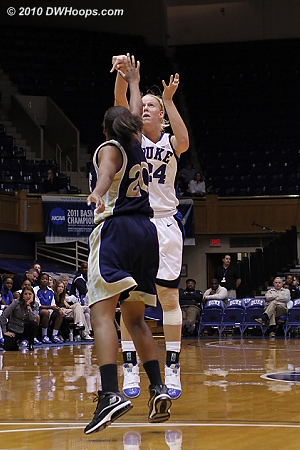 Scheer drains a trey to break the 11-11 tie, and Duke would be off to the races.
---
The trademark Jasmine Thomas shot
---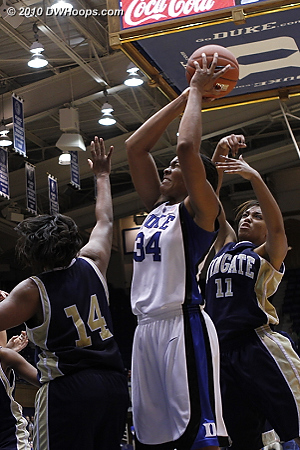 Krystal grabs a tough board and is hacked -- she had 22 rebounds tonight.
---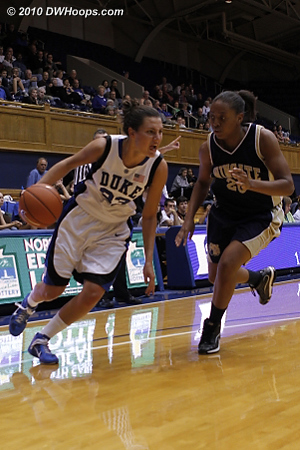 A very active Haley Peters tried to be everywhere
---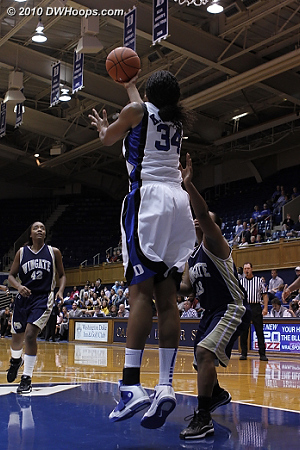 Krystal with the blind over the head layup, it was good
---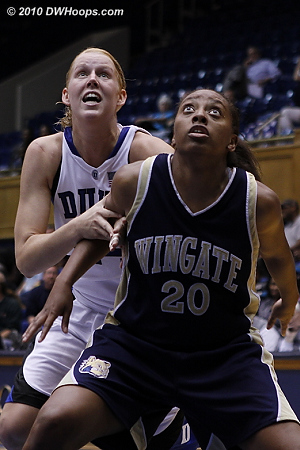 Scheer and Wingate's Tish Logan await the result of a Duke free throw
---
Duke beat Division II Wingate University by 44 points, but this game was far more difficult than the final score would suggest. The young Bulldogs, a team that mostly played transfers, sophs and frosh, went toe-to-toe with the bigger and tougher Blue Devils and didn't flinch. Missing injured star Kurie Washington, Wingate played out of their minds on offense and forced Duke to take a number of ill-advised shots. Of course, the talent disparity meant that this wouldn't be nearly enough to make the game truly competitive, but they forced Duke to work hard in order to win, and that was a victory of its own.
Duke's starting lineup was a weird one. Chelsea Gray was held out to help continue the rehabilitation of her foot. Allison Vernerey is being held out as a precaution following a head injury, but she should be available to play on Sunday. Both players are pretty much ready to play but simply haven't practiced enough to play. Richa Jackson was suspended for a game after breaking a team rule, while Jasmine Thomas sat out the first (very painful) five minutes of the game for a similar reason. The starting lineup turned out to be K.Thomas, Kathleen Scheer, Haley Peters, Karima Christmas and Shay Selby. I'm not sure we'll ever see that particular grouping of five players ever again, but this particular grouping seemed awkward at best. These were players who simply weren't used to play with each other, one that included a frosh trying to learn multiple positions and struggling to do so.
Early on, Duke tried to shoot over Wingate's zone, but all they were able to get were stickbacks. Scheer, J.Thomas and Christmas all scored early on stickbacks, while Selby scored on a drive and Christmas had a three point play. Wingate was doing a decent job against Duke's pressure and even managed a few transition points when they caught Duke napping after a made basket as they quickly sprinted up the floor to score easily. There was a three minute period where Krystal badly airballed a three point attempt (by at least two feet), Tricia Liston & Haley Peters had back-to-back turnovers and then Liston passed up a decent shot to take a tougher one that missed. Fortunately, Jasmine had come into the game by then and muscled her way up for a layup. That made it 9-4, but Duke continued to play into Wingate's hands by taking a series of bad jump shots. The Bulldogs took advantage by hitting a three to make it 9-7 with 12:31 left in the half.
Christmas followed another miss by Liston for a stickback, but Wingate zipped up the floor after a Jasmine miss for a score. They tied the game at 11 with a well-designed play, firing up their bench. Duke finally started working inside-out as K.Thomas relocated a pass to Scheer at the top of the key for a three. Krystal was menacing Wingate inside, blocking several shots despite good positioning on Wingate's part, and she was owning the boards early on. Free throws after offensive rebounds by Christmas & J.Thomas pushed the lead up to 17-11. Despite three Duke turnovers in a row, the Devils were able to apply enough pressure to force 3 turnovers on Wingate. Selby then delivered a perfect lob pass to J.Thomas, who used a back pick to easily lay up the ball. That made it 19-11 with 8:00 minutes to go in the half.
Just when it seemed Duke was starting to open up a lead, the feisty Bulldogs fought back. Aided by turnovers by Peters and Selby, Wingate hit a jumper and got 2 foul shots after challenging K.Thomas to make it 19-15 with 6:25 left. Christmas scored on yet another offensive rebound and was fouled, hitting the freebie. Chloe Wells came up with a great steal and J.Thomas capitalized with her go-to mid-range jumper. Duke continued to apply pressure and Christmas came up with a steal, passing it on to J.Thomas for an easy layup. With 5:14 to go in the half, this was (amazingly) Duke's first double-digit lead.
Wingate continued to show poise by working hard to set up a great shot, nailing it to cut the lead to 9. Krystal Thomas finally got aggressive going to the basket and was fouled, hitting 1. That sparked a half-ending 16-6 run that put Duke firmly in control. After K.Thomas came up with a steal, Scheer stuck back a missed three by Christmas. Wells stole the ball again and fed Jasmine for a layup. That prompted a timeout and more dueling turnovers by both teams. Duke would win up with 12 in the first half. Eventually, another steal by Christmas would result in another easy score for Jasmine. After a Wingate score, Wells delivered a pass from the wing to Scheer in the low block. She then did something I had never seen her do before. Rather than try to bull her way to the basket, she instead backed in and shot a beautiful turnaround jumper that banked in off the window.
K.Thomas then bothered a shot, got the rebound and went up strong (for the first time all game) at the other end, getting fouled. Her 2 foul shots made it 37-19. Jasmine concluded Duke's scoring for the half with a drive, but Duke's defense broke down, allowing a three. Shay then took a tough shot, missed it, and then fouled going after the rebound. Luckily, the Wingate player missed the front end of a one-and-one, and that was the half, with Duke up 39-23. Wingate shot a respectable 31% against Duke (compared to 39.5% for the Blue Devils) and forced 12 Duke turnovers. The key to the half for Duke was their 14-2 advantage on second-chance points and 18-6 advantage in points off turnovers. The Devils were 1-12 from three, and those 12 attempts represented a third of their shot attempts. That was not an example of sound thinking on Duke's part, given their overwhelming height advantage. Furthermore, those were mostly shots taken pulling up from three, instead of the favored inside-out approach. Krystal had her usual solid defensive half with 8 rebounds and 4 blocks, but she only took 2 shots (both misses) and picked up 3 fouls. J.Thomas led Duke with 16 points, while Christmas & Scheer had 9 each.
Duke came out a lot more focused in the second half, and K.Thomas in particular showed that she meant business. She earned a quick steal and then posted up after catching a pass from Scheer, sinking a nice hook shot. She then rebounded a shot she bothered. Jasmine fed Scheer around the elbow, and she used a textbook turnaround jumper to score. It was obvious that her success in the first half was filling her with confidence. After a Wingate score, J.Thomas once again drove right through the defense for a layup. Selby then found Scheer for another three to make it 48-26. The plucky Bulldogs weren't ready to wave the white flag just yet, outscoring Duke 7-5 over the next three minutes. They were doing it by going to the foul line and getting offensive rebounds--what should have been Duke's bread and butter. Scheer and J.Thomas kept the lead at roughly the same level as Leener hit her third three of the game (from K.Thomas on a relocation shot) and Jasmine sank her trademark pull-up jumper in the lane.
Over the next five minutes, Wingate was still attacking with everything they had, and the lead stayed at about 20. Duke put them in the one-and-one with eleven minutes left in the half. Haley Peters got on the board thanks to a bank shot jumper and a crazy shot with a second left on the shot clock. Selby came up with another steal and Christmas finished. With about eight minutes left, Duke subbed in J.Thomas, Scheer and Liston, and that combo helped blow the game wide open. Duke ended the game on a 25-2 run keyed by 3 threes (by Liston, Selby and J.Thomas) and 6 more points in the post by K.Thomas. Scheer scored on a drive and had an assist during the run.
The final numbers were more to Duke's liking. They shot 45% in the second half and held Wingate to 23%. Duke turned a +10 rebounding margin at the half to a +28 bulge, including an astonishing 27 offensive rebounds. The Devils committed just 6 second-half turnovers, giving them a 17-2 second half edge in points off turnovers. While coach McCallie wasn't entirely pleased with her team's performance, she had to have been pleased by the game that Wingate gave them. Their coach, Barbara Nelson, noted that her team actually beat Div. I Presbyterian College this past week, so this effort was no fluke--even with so many young players and absent their star. Overall, McCallie was happy with her team's second-half effort (especially on the boards) and felt there were "aggressive mistakes" as opposed to the "passive mistakes" of the first half. I'm not sure Duke took Wingate as seriously as they should have in the early going, given the number of forced one-on-one plays and awkward shots that were taken. When they relaxed and went back to team play, the results were much more positive. All told, this was kind of a weird game in that so many players were unavailable, but it was good to see some unusual combinations and extended playing time for the younger players. McCallie let them work through their mistakes for the most part, and all three wound up having some strong moments throughout the game--though they have plenty of work ahead of them.