DWHoops Photos by Orin Day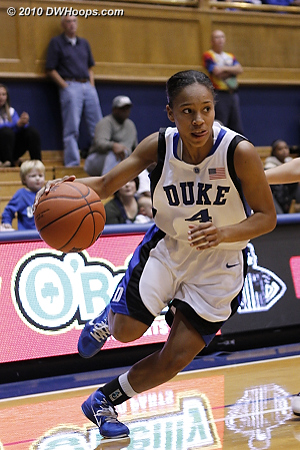 Chloe Wells had an outstanding afternoon, leading all scorers with 24 points (10-13 FG, 3-4 3FG) and adding 9 steals.
Durham, NC: Duke used a knockout 20-0 run and an unselfish offensive mindset to close their 2010 exhibition season with a 121-65 victory over Carson-Newman this afternoon. Six different Blue Devils scored before the Division II Lady Eagles finally scratched at the 12:30 mark with a three pointer from Mandy Mendenhall. Standing out from Duke's gaudy first half stats was the fact that 17 of the 27 Blue Devil baskets were assisted, while the Lady Eagles bounced back from their opening 0-7 salvo to shoot a respectable 8-19 from the floor. Freshman Chloe Wells had a near-perfect first half, shooting 7-8 from the floor (3-3 3FG) with seven steals. Jasmine Thomas passed up the open shot to distribute the ball as seven of her eight assists came in the first half. "I feel when we're learning and growing as a team and building chemistry that the best thing to do is to make the extra pass," said Thomas. "Everyone on the floor at any given time is capable of scoring."
Duke outrebounded Carson-Newman 53-19, and while the Lady Eagles did bring only one player over 5-11, the constant hustle of the Blue Devil players further swayed this statistic. Kathleen Scheer worked hard for her ten rebounds (five offensive) en route to her second exhibition double-double. She was just one of seven Duke players to score in double figures as freshmen Wells (24) and Tricia Liston (20) led all scorers. Liston and Wells both cited being more comfortable on the floor as a major reason for their marked improvement, and clearly this could be applied to the whole squad. "When you go against such size, strength, and athleticism there are some major advantages and that showed," said Carson-Newman Head Coach Dean Walsh, who felt his team made an incomplete effort during certain stretches. "I thought everybody did something special, and I thought we got better as a team," said Duke Head Coach Joanne P. McCallie. "We're looking forward to the next game." That game will come next Saturday against BYU (7PM, Cameron Indoor Stadium), a team that has "reloaded" with a strong freshman class after reaching the WNIT quarterfinals last season.


Duke Blue Devils Team Box Score
| | | | | | | | | | | | | | |
| --- | --- | --- | --- | --- | --- | --- | --- | --- | --- | --- | --- | --- | --- |
| | PTS | FG | FG % | 3FG | 3FG % | FT | FT% | A | O-D-REB | BLK | STL | TO | PF |
| 2nd | 59 | 24-38 | 63.2 | 4-9 | 44.4 | 7-7 | 100.0 | 13 | 8-16-24 | 3 | 10 | 8 | 12 |
| TOT | 121 | 51-89 | 57.3 | 9-17 | 52.9 | 10-14 | 71.4 | 30 | 27-26-53 | 6 | 26 | 18 | 26 |
| 1st | 62 | 27-51 | 52.9 | 5-8 | 62.5 | 3-7 | 42.9 | 17 | 19-10-29 | 3 | 16 | 10 | 14 |
Carson-Newman (Exhibition) Team Box Score
| | | | | | | | | | | | | | |
| --- | --- | --- | --- | --- | --- | --- | --- | --- | --- | --- | --- | --- | --- |
| | PTS | FG | FG % | 3FG | 3FG % | FT | FT% | A | O-D-REB | BLK | STL | TO | PF |
| 2nd | 36 | 10-29 | 34.5 | 6-11 | 54.5 | 10-13 | 76.9 | 9 | 4-5-9 | 0 | 2 | 11 | 7 |
| TOT | 65 | 18-48 | 37.5 | 11-20 | 55.0 | 18-24 | 75.0 | 16 | 6-13-19 | 6 | 4 | 33 | 14 |
| 1st | 29 | 8-19 | 42.1 | 5-9 | 55.6 | 8-11 | 72.7 | 7 | 2-8-10 | 6 | 2 | 22 | 7 |
---
Please support DWHoops with a site membership today!
Click Here to Learn More