DWHoops Photos by Orin Day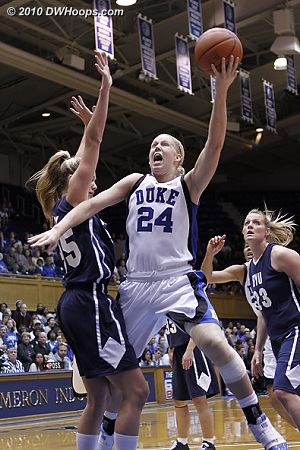 Kathleen Scheer flourished at the four in her first start as a Blue Devil.
The takeaway from Duke's win over BYU in the season opener is that it has veterans it can depend on when things get rough as well as young players with a bright future. The Cougars were a great first opponent for Duke as they were disciplined, experienced and physical. They caught Duke off-guard with an initial 8-0 scoring burst and kept the Devils off-balance for most of the first half with a relentless full-court press that forced 12 turnovers. As noted in my preview, Duke responded by attacking the basket and getting to the foul line. The Devils left 15 points at the line thanks to misses, but the fact that they were able to force BYU coach Jeff Judkins to massage foul trouble with his younger players had a great deal to do with Duke coming back from a 6 point deficit. Karima Christmas was a one-woman gang in the first half with 16 of her 20 points, while it was Jasmine Thomas & Kathleen Scheer who took over in the second half with a combined 23 points. The best thing about this game was that it showed that the Devils' defensive communication greatly improved. Jasmine noted that talking while trying to fight through screens is especially difficult, but that doing so was in fact the key to reducing the effectiveness of the screens. Frosh Chloe Wells came back from early difficulties to make a number of big plays, while fellow frosh Richa Jackson, Chelsea Gray and Haley Peters also had their own share of bright moments. This Duke team will continue to be a work in progress, but one can see the shape of something very interesting beginning to coalesce.
Duke Blue Devils Team Box Score
| | | | | | | | | | | | | | |
| --- | --- | --- | --- | --- | --- | --- | --- | --- | --- | --- | --- | --- | --- |
| | PTS | FG | FG % | 3FG | 3FG % | FT | FT% | A | O-D-REB | BLK | STL | TO | PF |
| 1st | 30 | 9-35 | 25.7 | 1-5 | 20.0 | 11-18 | 61.1 | 3 | 14-17-31 | 6 | 5 | 12 | 4 |
| 2nd | 39 | 13-22 | 59.1 | 3-6 | 50.0 | 10-18 | 55.6 | 7 | 3-18-21 | 2 | 4 | 10 | 12 |
| TOT | 69 | 22-57 | 38.6 | 4-11 | 36.4 | 21-36 | 58.3 | 10 | 17-35-52 | 8 | 9 | 22 | 16 |
Brigham Young Team Box Score
| | | | | | | | | | | | | | |
| --- | --- | --- | --- | --- | --- | --- | --- | --- | --- | --- | --- | --- | --- |
| | PTS | FG | FG % | 3FG | 3FG % | FT | FT% | A | O-D-REB | BLK | STL | TO | PF |
| 1st | 23 | 9-31 | 29.0 | 3-14 | 21.4 | 2-5 | 40.0 | 7 | 6-16-22 | 1 | 7 | 13 | 14 |
| 2nd | 31 | 8-30 | 26.7 | 6-15 | 40.0 | 9-11 | 81.8 | 6 | 5-10-15 | 1 | 4 | 7 | 13 |
| TOT | 54 | 17-61 | 27.9 | 9-29 | 31.0 | 11-16 | 68.8 | 13 | 11-26-37 | 2 | 11 | 20 | 27 |
---
Please support DWHoops with a site membership today!
Click Here to Learn More