DWHoops Photos by Orin Day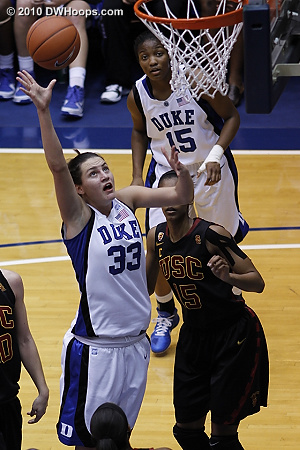 Freshman Haley Peters grabbed 13 rebounds in just 19 minutes against USC.
Coach Joanne P. McCallie won her 400th career game against a Southern California team that had just upset #23 Gonzaga. Unlike the past two seasons, when the Women of Troy jumped on Duke early and the Devils had to rely on Jasmine Thomas to do all the heavy lifting, this time Duke took control of the game early on and overwhelmed USC with aggressiveness and depth at both ends. Ten different Duke players scored at least four points as wave after wave of fresh players reduced a normally efficient USC offense to one-on-one desperation play. Though things got a little ragged in the second half after Duke had built a big lead, the overall effort from every player was consistent. The Devils simply outclassed the Women of Troy in every category: rebounding, turnovers, shooting, defense, etc. Jasmine led the way with 14 points, but she often deferred to the younger players in an effort to let them feel their way. For a second straight game, the freshmen got better playing against a more experienced opponent, and that's all one can ask from them at this point. USC coach Michael Cooper knew his team had been outworked, and opened his press conference by saying, "Mama said there'd be days like this", praising Duke's size in particular. Nine Duke players got double-digit minutes as coach McCallie continues to mix and match lineups and defensive sets. The frosh will now face their first true road game this Thursday, which will be an important step in their development.







Duke Blue Devils Team Box Score
| | | | | | | | | | | | | | |
| --- | --- | --- | --- | --- | --- | --- | --- | --- | --- | --- | --- | --- | --- |
| | PTS | FG | FG % | 3FG | 3FG % | FT | FT% | A | O-D-REB | BLK | STL | TO | PF |
| 2nd | 35 | 12-27 | 44.4 | 4-8 | 50.0 | 7-15 | 46.7 | 8 | 11-12-23 | 4 | 8 | 12 | 13 |
| TOT | 75 | 25-60 | 41.7 | 6-13 | 46.2 | 19-32 | 59.4 | 13 | 21-29-50 | 6 | 12 | 15 | 21 |
| 1st | 40 | 13-33 | 39.4 | 2-5 | 40.0 | 12-17 | 70.6 | 5 | 10-17-27 | 2 | 4 | 3 | 8 |
Southern California Team Box Score
| | | | | | | | | | | | | | |
| --- | --- | --- | --- | --- | --- | --- | --- | --- | --- | --- | --- | --- | --- |
| | PTS | FG | FG % | 3FG | 3FG % | FT | FT% | A | O-D-REB | BLK | STL | TO | PF |
| 2nd | 28 | 8-27 | 29.6 | 3-13 | 23.1 | 9-17 | 52.9 | 4 | 10-9-19 | 0 | 6 | 11 | 14 |
| TOT | 50 | 17-54 | 31.5 | 4-19 | 21.1 | 12-24 | 50.0 | 8 | 14-23-37 | 1 | 6 | 17 | 26 |
| 1st | 22 | 9-27 | 33.3 | 1-6 | 16.7 | 3-7 | 42.9 | 4 | 4-14-18 | 1 | 0 | 6 | 12 |
---
Please support DWHoops with a site membership today!
Click Here to Learn More