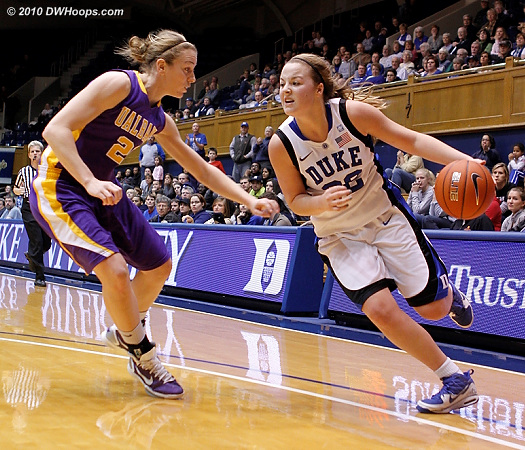 DWHoops Photo by Orin Day
Freshman Tricia Liston scored a career and game high 15 points in just 24 minutes.
Duke's win over Albany was one where youth was very much served. Playing against a team coached by former McCallie assistant Katie Abrahamson-Henderson, Duke was able to finally get a respite game after a tough early schedule. No one played more than 25 minutes, and everyone saw at least eight minutes of playing time. The Devils took a while to seize full control of this game, which was good in the sense that young players were able to get real game minutes and bad in the sense that the Devils were frequently impatient on offense. The highlight of the game came in the second half, when all five freshmen saw the floor together for a good five minutes and extended the lead from 23 points to 33 points. Chelsea Gray and Tricia Liston led Duke with dual career highs at 15 points apiece, and Duke had 23 assists on its 33 field goals. This was an important game in the sense that it gave Duke's young players an opportunity to boost their confidence a bit before another stretch of brutal games. Albany's overall scrappiness forced Duke's young players to make plays, rather than simply have things come easily for them. We'll see how much of a boost this game will be in the coming weeks.


Duke Blue Devils Team Box Score
| | | | | | | | | | | | | | |
| --- | --- | --- | --- | --- | --- | --- | --- | --- | --- | --- | --- | --- | --- |
| | PTS | FG | FG % | 3FG | 3FG % | FT | FT% | A | O-D-REB | BLK | STL | TO | PF |
| 1st | 34 | 14-26 | 53.8 | 4-11 | 36.4 | 2-8 | 25.0 | 11 | 4-10-14 | 0 | 11 | 11 | 7 |
| 2nd | 49 | 19-30 | 63.3 | 6-10 | 60.0 | 5-7 | 71.4 | 12 | 7-11-18 | 4 | 8 | 7 | 8 |
| TOT | 83 | 33-56 | 58.9 | 10-21 | 47.6 | 7-15 | 46.7 | 23 | 11-21-32 | 4 | 19 | 18 | 15 |
Albany Team Box Score
| | | | | | | | | | | | | | |
| --- | --- | --- | --- | --- | --- | --- | --- | --- | --- | --- | --- | --- | --- |
| | PTS | FG | FG % | 3FG | 3FG % | FT | FT% | A | O-D-REB | BLK | STL | TO | PF |
| 1st | 15 | 7-21 | 33.3 | 1-10 | 10.0 | 0-0 | | 2 | 4-9-13 | 0 | 3 | 16 | 8 |
| 2nd | 33 | 11-26 | 42.3 | 7-11 | 63.6 | 4-7 | 57.1 | 8 | 6-6-12 | 0 | 3 | 9 | 7 |
| TOT | 48 | 18-47 | 38.3 | 8-21 | 38.1 | 4-7 | 57.1 | 10 | 10-15-25 | 0 | 6 | 25 | 15 |
---
Please support DWHoops with a site membership today!
Click Here to Learn More