DWHoops Photos by Orin Day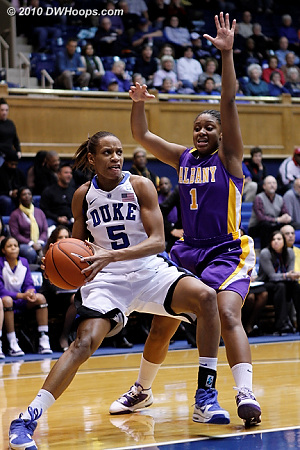 Jasmine Thomas menaces the basket as Albany's Cassandra Callaway tries to intervene.
---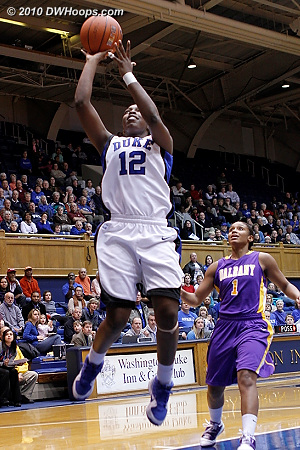 Chelsea Gray scores on a fast break layup.
---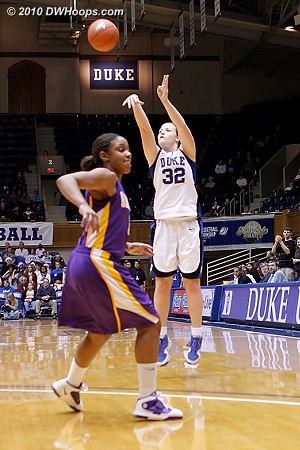 Tricia Liston found confidence from three point range, draining three of four.
---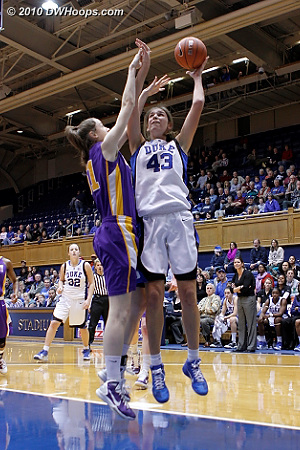 Allison Vernerey puts up a shot in the paint during a second half Blue Devil spurt.
---
Duke's victory over Albany was essentially a game-long laboratory. From the very start, coach McCallie started by getting her team back to basics: pass the ball into the post. Albany, coached by former McCallie assistant Katie Abrahamson-Henderson (they go back to Maine together), is rebuilding its program under its first-year coach. She spent several years at Missouri State (post Jackie Stiles) before going to Indiana as an assist for a couple of years. The Great Danes (whose mascot looks not unlike Scooby Doo) proved to be a scrappy, disciplined bunch who played a tightly-woven zone in the first half. That zone forced Duke into rushing some shots and throwing the ball out of bounds. The Devils simply didn't do a good job of probing the zone via dribble penetration on the wings and causing it to move, nor did they do a good job of throwing the ball over the top. Instead, they tried to shoot over the zone, a strategy that led to several offensive lulls in the first half.
Albany, whose tallest player is just 6-2, was forced to do some major chucking, with 5-4 guard Felicia Johnson tossing up 12 attempts from three. In the first half, those shots didn't land, as they hit just 1-10 from long range. They stayed in the game in the first half thanks to the stickiness of their zone, their work on the boards (Duke had just 4 offensive rebounds, which really hurt on their 7 misses from three), and Duke's overall impatience on offense. In general, Duke did not come out with a lot of intensity. Karima Christmas was not hustling, Krystal Thomas was frustrated that she couldn't get the ball and Kathleen Scheer struggled with traveling calls. Fortunately, Jasmine Thomas was very much a senior All-America as she showed her younger teammates how to get it done with steals, rebounds and all-out hustle. She laid the groundwork for a late first-half run that put the game out of reach.
Duke opened the game with a score right off the tip, as Chelsea Gray hit a streaking K.Thomas going to the hoop. Abrahamson-Henderson noted that this has long been one of McCallie's bread-and-butter plays. After a quick layup inside by clever Albany post player Julie Forster, Gray stroked a three on a pass from J.Thomas. A couple of plays later, she return the favor by finding Jasmine for a trey, putting Duke up 9-2 with 14:46 left in the first half. Johnson, using her weird knuckleball shooting technique, hit a three for Albany and Forster followed that up with a score inside to make it 9-7.
Christmas penetrated the zone and found Allison Vernerey inside for a left-handed hook shot, and J.Thomas followed that up by finding Shay Selby in transition. A teardrop runner by Gray made it 16-7 after a Selby steal. After a short push shot from Johnson, Gray turned the ball over. J.Thomas immediately got it back and then unselfishly gave the ball up to Selby on a 2-on-1 break. After an Albany score, Jasmine had a steal/runout and followed that up with a trey on a pass from Chloe Wells. That made it 23-11, but Albany kept up for the next three minutes, cutting the lead to 10 at 25-15.
Duke really started to hustle at this point as Scheer dug out a loose ball for a layup, Gray came up with a steal/runout and then found Tricia Liston for a three. Liston, who was very active in both halves, finished Duke's scoring in the half with a beautiful pass inside to Vernerey for a layup. Duke held Albany scoreless over the last five minutes of the half and finally started to move the ball around freely and getting more results from its defensive pressure. While the Devils did turn the ball over 11 times in the first half, these were mostly traveling violations and offensive fouls; as a result,, they held an 18-0 edge in points off turnovers (along with the expected 20-8 advantage in points in the paint).
Duke started the second half with a lot more focus, and after they gave up a three from Johnson (who flung the ball at the hoop like she was mad at it), the Devils went on a 6-0 run fueled by J.Thomas. She hit Vernerey inside, found her on a break and then cut through the defense for a layup. Jumpers from Scheer and Gray put Duke up 45-20 with 16:24 left in the half. Vernerey was in for K.Thomas, who was shaking off a nasty elbow she took to the chest. Shots were starting to splash in for Duke, who did a much better job of reversing the ball from post to perimeter for open shots. Albany kept that margin at about 25 for nearly five minutes before Chelsea Gray entered the game, creating a lineup that featured all five frosh.
Chloe Wells said that "we wanted to show them it's not all hype; we can actually play." This was truly a look at Duke's future, and it was encouraging to see the chemistry between these five players. Richa Jackson had just finished scoring 3 points in a row when Gray came in. Wells started the frosh run with a beautiful floater in the lane. She then went baseline to score on a drive and then immediately stole the ball and laid it in. Wells came up with another steal and dished to Gray for a layup. After an Albany score, Liston moved the ball around and found Gray for a trey. Wells continued her strong play by finding Liston for a three. When Krystal Thomas came back in the game, the frosh had pushed the lead up to 67-34 with 6:10 to go.
From there, Albany prevented the game from getting truly ugly with a flurry of threes after Duke went up by as much as 38 points. Duke simply ran its offense, getting baskets inside from K.Thomas and Liston and outside from Wells and Liston. The Devils held commanding 22-6 edges in points in the paint as well as second-chance points (12-2); the latter figure was especially impressive given that Duke had just 7 offensive rebounds in a half where they shot 63% from the field. The Devils shot an impressive 59% from the field as a whole, while Albany shot just 38%. It was a solid but fully unsurprising performance, and it hopefully was one that will energize the team's younger players as they prepare for a tough stretch of games.