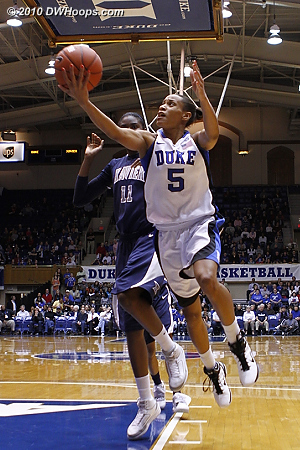 DWHoops Photo by Orin Day
Jasmine Thomas took over the Duke offense, then saved the victory with a last second blocked shot.
Duke mounted a furious comeback in the last three minutes of a brutally physical game in Cameron Indoor Stadium, knocking #4 Xavier from the ranks of the unbeatens with a 46-45 victory. The Blue Devils trailed by 3 at halftime and, after scoring an early basket, fell into a 9 point deficit that took nearly ten minutes to erase. With dismal outside shooting and tough defense from Xavier bigs Amber Harris and Ta'Shia Phillips, Duke had no choice but to put the ball into the hands of All-America candidate Jasmine Thomas. She took over the point guard spot for nearly the rest of the game, and while it wasn't a quick solution it was a steady one -- Duke finally caught up, tying it up at 40 with just over 9 minutes left. Duke went ice cold at that point, but so did Xavier as the Blue Devils finally found some inside answers to contain the duo of Harris (22 pts on 10-18 shooting, 15 boards, 6 blocks) and Phillips (8 points and 19 boards). With Duke stuck on 40 points for over six minutes, Xavier built a 45-40 lead that Duke again toiled to erase.
A layup by Jasmine Thomas with 2:11 closed it to 45-43, then a twisting stickback by Karima Christmas over Megan Askew made it a one point game. On the ensuing possession Xavier didn't even get a shot as Allison Vernerey stepped into the passing lane to steal the ball, one of 21 Duke thefts on the night. After a Duke time out Karima Christmas drove the baseline but ran into Phillips; Krystal Thomas boarded the miss from the weak side and was fouled, sinking the first to knot the game at 45 with just 31 seconds left. Xavier predictably ran the clock but Karima Christmas knocked the ball away from Special Jennings into the hands of Jasmine Thomas, and Xavier's Tyeasha Moss committed their tenth team foul to prevent a breakaway layup. With 2.5 on the clock, Jas missed the first free throw but rallied after a Xavier time out to sink the second, giving Duke a 46-45 lead and setting the stage for one of the wilder finishes in recent years. A perfect home run pass found Xavier's Special Jennings all alone under the basket, but Jasmine came out of nowhere to block her shot, resulting in furious outbursts from Xavier Head Coach Kevin McGuff and top assistant Mike Neighbors. With players restraining the two coaches, the referees huddled, checked the video monitor, and announced that no time was left, leaving the floor without comment. "If you can find a way and win ugly then you can win them all," said Duke Head Coach Joanne P. McCallie. "[Jasmine's] blocked shot is one of the best plays I've seen in 19 years of coaching. That was the most professional block I've ever seen." J.Thomas added, "If it was a foul or a block it had to be done. It would have been an open layup and they'd have won the game."
Jasmine finished the game with 16 points (11 second half), 6 boards, and a season high 3 blocks, while Krystal Thomas was the only other Blue Devil in double figures. Duke was outrebounded 51-37 but their 19 offensive boards (13 in the second half alone) kept them in the game while their shooting (9-36 FG, 0-7 3FG) failed them. Xavier was a more efficient 7-18 in the second stanza, but 20 turnovers (including 14 "live" Duke steals) kept them from getting more chances. While it wasn't pretty, Duke remains perfect going into their nine day holiday break, with Temple next in Cameron on December 30th.


Duke Blue Devils Team Box Score
| | | | | | | | | | | | | | |
| --- | --- | --- | --- | --- | --- | --- | --- | --- | --- | --- | --- | --- | --- |
| | PTS | FG | FG % | 3FG | 3FG % | FT | FT% | A | O-D-REB | BLK | STL | TO | PF |
| 1st | 25 | 10-35 | 28.6 | 2-8 | 25.0 | 3-5 | 60.0 | 6 | 6-14-20 | 5 | 7 | 6 | 6 |
| 2nd | 21 | 9-36 | 25.0 | 0-7 | 0.0 | 3-7 | 42.9 | 2 | 13-4-17 | 1 | 14 | 6 | 7 |
| TOT | 46 | 19-71 | 26.8 | 2-15 | 13.3 | 6-12 | 50.0 | 8 | 19-18-37 | 6 | 21 | 12 | 13 |
Xavier Team Box Score
| | | | | | | | | | | | | | |
| --- | --- | --- | --- | --- | --- | --- | --- | --- | --- | --- | --- | --- | --- |
| | PTS | FG | FG % | 3FG | 3FG % | FT | FT% | A | O-D-REB | BLK | STL | TO | PF |
| 1st | 28 | 12-32 | 37.5 | 1-8 | 12.5 | 3-4 | 75.0 | 4 | 6-20-26 | 3 | 3 | 10 | 5 |
| 2nd | 17 | 7-18 | 38.9 | 0-4 | 0.0 | 3-8 | 37.5 | 4 | 9-16-25 | 5 | 2 | 20 | 10 |
| TOT | 45 | 19-50 | 38.0 | 1-12 | 8.3 | 6-12 | 50.0 | 8 | 15-36-51 | 8 | 5 | 30 | 15 |
---
Please support DWHoops with a site membership today!
Click Here to Learn More