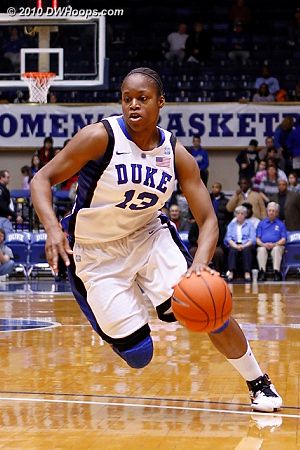 DWHoops Photo by Orin Day
Karima Christmas was Duke's star against Temple, with half of her 20 points coming from the line.
Sometimes, basketball is just a game of matchups and being forced to live with a decision on how to guard a player. Temple coach Tonya Cardoza said that she chose to have her Owls guard Karima Christmas in much the same way they did last year: concede the jump shot in order to limit her penetration and offensive rebounding. When Karima drained two early treys, Cardoza was forced to guard her at the three point line, which opened up driving lanes for the senior. Christmas was the one player that their otherwise sticky matchup zone couldn't account for, and Karima responded with 20 points, 8 rebounds, 2 assists, 2 blocks, and 4 steals.
Otherwise, Temple outrebounded Duke, got tons of great looks from the perimeter and got plenty of chances from the foul line. In the end, foul trouble from their bigs allowed Duke to catch up on the boards, and Duke's depth just wore down the Owls. Still, spotty shooting from the foul line (17-27), dumb turnovers and a defense that let the Owls score using the same play five times in a row made things tighter down the stretch than they should have been, as a 15-point Duke lead shrank to just 4 with 25 seconds left. A Christmas stickback after a missed foul shot sealed the win for the Devils, who will now get four days to practice before facing Kentucky.




Duke Blue Devils Team Box Score
| | | | | | | | | | | | | | |
| --- | --- | --- | --- | --- | --- | --- | --- | --- | --- | --- | --- | --- | --- |
| | PTS | FG | FG % | 3FG | 3FG % | FT | FT% | A | O-D-REB | BLK | STL | TO | PF |
| 1st | 30 | 11-27 | 40.7 | 5-10 | 50.0 | 3-5 | 60.0 | 8 | 6-9-15 | 8 | 4 | 10 | 6 |
| 2nd | 41 | 12-24 | 50.0 | 3-4 | 75.0 | 14-22 | 63.6 | 7 | 7-14-21 | 3 | 10 | 11 | 12 |
| TOT | 71 | 23-51 | 45.1 | 8-14 | 57.1 | 17-27 | 63.0 | 15 | 13-23-36 | 11 | 14 | 21 | 18 |
Temple Team Box Score
| | | | | | | | | | | | | | |
| --- | --- | --- | --- | --- | --- | --- | --- | --- | --- | --- | --- | --- | --- |
| | PTS | FG | FG % | 3FG | 3FG % | FT | FT% | A | O-D-REB | BLK | STL | TO | PF |
| 1st | 31 | 11-35 | 31.4 | 4-10 | 40.0 | 5-6 | 83.3 | 5 | 15-11-26 | 1 | 5 | 9 | 7 |
| 2nd | 33 | 12-26 | 46.2 | 5-12 | 41.7 | 4-9 | 44.4 | 6 | 3-10-13 | 0 | 4 | 12 | 13 |
| TOT | 64 | 23-61 | 37.7 | 9-22 | 40.9 | 9-15 | 60.0 | 11 | 18-21-39 | 1 | 9 | 21 | 20 |
---
Please support DWHoops with a site membership today!
Click Here to Learn More