DWHoops Photos by Orin Day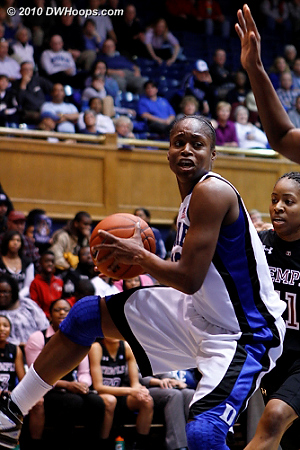 Karima Christmas grabs an offensive board
---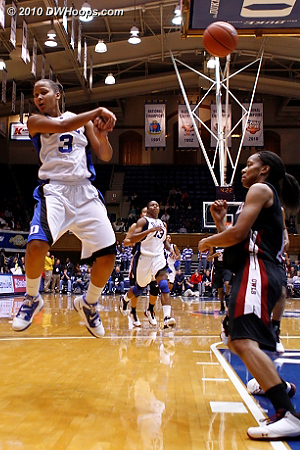 An amazing no-look pass by Shay Selby set up Kathleen Scheer under the basket.
---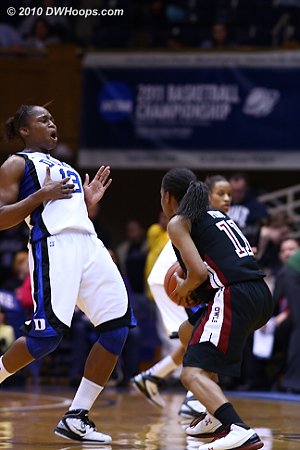 Karima Christmas recoils from Shey Peddy after absorbing an elbow.
---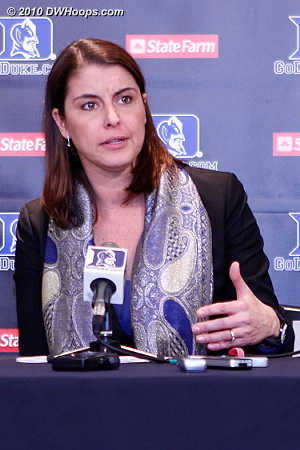 Coach P said that she was unhappy at Duke being outrebounded again.
---
Duke's win over Temple was unsurprisingly ugly, as the well-coached Owls were physical and kept the Devils off-balance. For the second straight game, Duke was outrebounded by their opponent--but this time, it was against a team that was smaller than Duke. What's more, they did it playing a zone for much of the time. Coach McCallie said she was upset that this had occurred and that rebounding & toughness would be a key focus in practice during the next week. The officiating crew tonight is one well-known for letting a lot of contact go, but Duke's reaction was being offended at not getting fouls called in their favor instead of going in even harder. That changed in the second half as they worked harder to get offensive rebounds and went to more favorable matchups.
While Duke's freshmen struggled for much of the game (with the notable exception of Chloe Wells, who had several big plays), the veterans certainly made their share of mistakes. The seniors combined for 16 of Duke's 21 turnovers, for example. Many were unforced errors. Temple's zone took Krystal Thomas out of the action for much of the first half, while Jasmine Thomas was just 2-8 from the field. Only Karima Christmas proved to be too much for Temple to handle. On the sixth day of Christmas, Karima gave to Duke: 20 points, 8 rebounds, 2 assists, 2 blocks, 4 steals (and 6 lumps of coal called turnovers). She boosted Duke to leads of 9-2 and 20-3 thanks to her shooting--which was exactly what Temple coach Tonya Cardoza feared, since they were conceding it.
Christmas started the game demonstrating why they needed to keep her out of the lane when she scored off the dribble. Jasmine Thomas followed up with a pull-up jumper coming off a screen. Christmas then found Kathleen Scheer for a 15' jumper and Chelsea Gray hit Christmas for a corner three. Duke never adjusted very well to the way Temple was able to set screens to get their shooters loose in the corner, making one extra pass to the open player. In the first half, when Duke jumped over screens to get to the shooter, Temple was frequently able to make another pass to get it to a mid-range shooter. Wilmington native Qwedia Wallace was able to exploit Duke in this manner in the first half, but it was a series of timely threes that prevented Duke from building a big lead in the early going.
Indeed, the Owls went on a 9-2 run to tie things up at a 11, with a couple of threes thrown in there. Chloe Wells, filling in for Gray (who had 2 fouls), found Haley Peters driving to the basket for a three point play. Wells had an impressive five minute stretch where she dished 3 assists (including treys for J.Thomas and Christmas) and drained a three of her own. That latter shot came with 8:34 left in the first half and gave Duke a 23-15 lead. It seemed that Duke had finally solved Temple's zone, but it was defensive and rebounding lapses that helped Temple go on a 7-0 run. Duke also turned the ball over twice during this segment.
Duke pushed the lead to 26-22 thanks to a great look from Tricia Liston to K.Thomas and a Christmas free throw, but a Temple three brought them within a point. A J.Thomas turnover led to an easy transition opportunity for the Owls, giving them their first lead at 27-26. Shay Selby, the last player off the bench, alertly nailed a long three to give the Devils back the lead, but a couple of midrange jumpers by Wallace gave the Owls a 31-30 lead at the half. Duke was able to turn 9 Temple turnovers into 14 points, but the Owls were +11 on the boards (including 15-6 in offensive rebounds), had more free throw attempts (6-5) and were even in terms of turnovers. Temple was 4-10 from three while Duke was 5-10, which was the only thing that had them hanging close. Still, there was definitely the sense that Temple was playing as well as they possibly could while Duke could still offer a course correction.
That certainly played out during the first four minutes of the second half, as J.Thomas hit a jumper, Scheer & Christmas hit 2 foul shots apiece, and Krystal Thomas broke off a hook shot. After forcing 4 turnovers to go on that 8-0 run, the Devils relaxed and Temple struck with a three. That triggered a 7-2 run by the Owls, allowing them to pull within 40-38 with 13:55 left. Wells hit a runner with the shot clock running down and Temple then went cold. Christmas sank 4 straight foul shots to push the lead to 46-38. Temple had a stickback, but Christmas found Selby for a long three. A steal by Christmas led to a J.Thomas runout to make it 51-40. Duke got the ball back but J.Thomas threw a lazy pass that led to an Owl three point play.
Selby matched that with yet another trey (this time from Wells), as the Owls and Devils traded baskets. Temple cut the lead to 56-47 with 6:12 to go, but Selby hit another three and J.Thomas made a 17' jumper to put Duke up 61-47. Wallace drove, scored and was fouled to make it 61-50, but J.Thomas found K.Thomas inside for an easy score when Temple started to press, and Selby broke off a no-look pass for a Scheer layup. Duke was now up 65-50 with 4:20 to go and the game looked well in hand.
Then the Owls started running a play where a couple of shooters would rub off high screens, forcing Duke defenders to switch and get out of position. A third shooter would be ready in the corner for a skip pass, and they exploited this for for 4 threes in a three minute span. Meanwhile, Duke started missing free throws. Two from J.Thomas with 1:28 left made it 68-59, but the Owls came within 68-64 with 25 seconds to go. Jasmine came up with a rebound but missed 2 free throws. Christmas boarded the second one and stuck it in to put the game away. Duke had a 21-13 edge on the boards, shot 50% from the field and went to the foul line 22 times (to just 9 for Temple). Duke will now get a few days of practice in to work on their deficiencies, but the Devils are 13-0 after playing a difficult schedule. Things won't get any easier any time soon as they start the ACC schedule and play Kentucky, one of the best teams in the SEC.