DWHoops Photo by Orin Day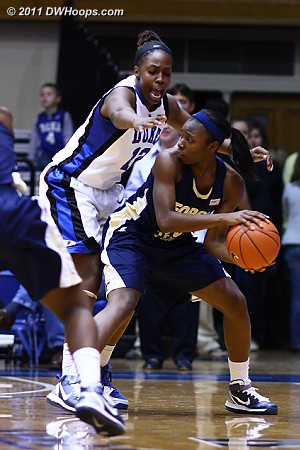 Duke's defense held Tech to just 12 baskets, 32 points.
Of her team's defensive and rebounding efforts in the first half, coach Joanne P. McCallie said that this was the best that Duke had performed in those departments all year. In a game where Duke scored just 3 points in the game's opening eight minutes, McCallie said she wasn't the least bit concerned because that defense was so fearsome. Georgia Tech coach MaChelle Joseph credited Duke's seniors in particular, noting that just because players like Karima Christmas & Krystal Thomas don't score a lot of points, their presence takes away 10-30 points a game from opponents thanks to how physical they are. She wasn't complaining about her players "not moving without getting hit", saying that's the way she likes the game to be played, but lamented the fact that her team didn't step up to the challenge. After that tough opening eight minute stretch, Duke scored 66 points in the game's final 32 minutes. Duke dominated every category: rebounding, turnovers (they forced 32, with 19 steals!), shooting, trips to the foul line, etc. Every Duke player scored and every one, "from one to eleven", made a positive contribution. Duke now goes to 4-0 in the ACC but will make another quick turnaround to play on Sunday afternoon.









Duke Blue Devils Team Box Score
| | | | | | | | | | | | | | |
| --- | --- | --- | --- | --- | --- | --- | --- | --- | --- | --- | --- | --- | --- |
| | PTS | FG | FG % | 3FG | 3FG % | FT | FT% | A | O-D-REB | BLK | STL | TO | PF |
| TOT | 69 | 22-61 | 36.1 | 4-15 | 26.7 | 21-28 | 75.0 | 12 | 21-24-45 | 3 | 19 | 17 | 13 |
| 1st | 26 | 7-25 | 28.0 | 2-8 | 25.0 | 10-15 | 66.7 | 3 | 11-16-27 | 3 | 4 | 12 | 4 |
| 2nd | 43 | 15-36 | 41.7 | 2-7 | 28.6 | 11-13 | 84.6 | 9 | 10-8-18 | 0 | 15 | 5 | 9 |
Georgia Tech Team Box Score
| | | | | | | | | | | | | | |
| --- | --- | --- | --- | --- | --- | --- | --- | --- | --- | --- | --- | --- | --- |
| | PTS | FG | FG % | 3FG | 3FG % | FT | FT% | A | O-D-REB | BLK | STL | TO | PF |
| TOT | 32 | 12-42 | 28.6 | 2-11 | 18.2 | 6-14 | 42.9 | 6 | 10-22-32 | 4 | 4 | 32 | 19 |
| 1st | 15 | 7-28 | 25.0 | 1-8 | 12.5 | 0-2 | 0.0 | 4 | 5-10-15 | 1 | 2 | 10 | 9 |
| 2nd | 17 | 5-14 | 35.7 | 1-3 | 33.3 | 6-12 | 50.0 | 2 | 5-12-17 | 3 | 2 | 22 | 10 |
---
Please support DWHoops with a site membership today!
Click Here to Learn More