DWHoops Photos by Orin Day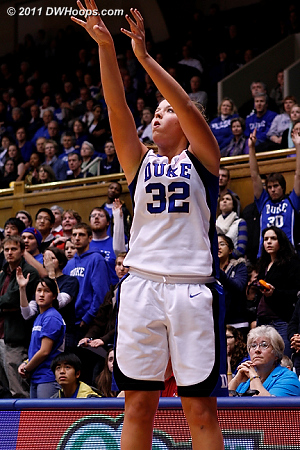 Liston drains a corner three for a 12-8 Duke advantage.
---
Karima Christmas layup sequence - 2 of 3
---
Jasmine Thomas hits to put Duke up by 20
---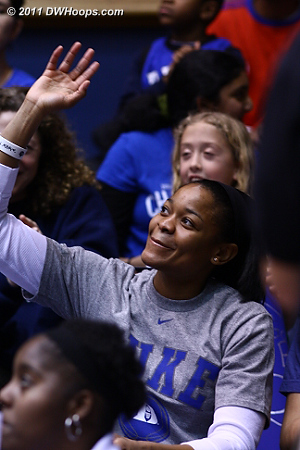 Alana Beard in the house!
---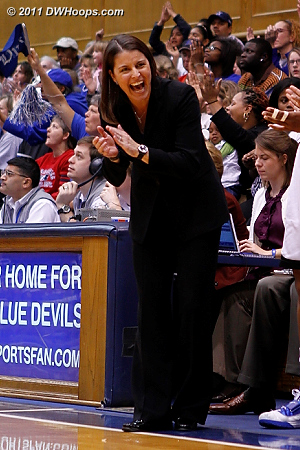 Coach P reacts to the Scheer trey.
---
Georgia Tech played a fine schedule coming into their game with Duke and had run off thirteen straight wins. That included a comeback win against UNC as they went to 4-0 in the ACC standings. Duke has been a constant thorn in their sides, as the Jackets have not beaten them since 1994. This time, it looked like Tech had the personnel and the attitude to finally knock off the Blue Devils. For much of the first half, the two teams engaged in a battle of wills, as the refs let each team get physical with each other. Every shot was contested. Defenders swarmed ballhandlers. Battles for rebounds were a form of hand-to-hand combat. It was a question of which team was going to blink first. When Duke hit a couple of threes to establish a 7 point lead, you could see Tech start to crack just a bit. The Jackets were holding on by their fingernails at the half, trailing by 11, but the wheels came off in the first five minutes of the second half. Duke ripped off a 15-0 run that blew the door open, and Tech never recovered.
Statistics can sometimes be deceiving, but not in this game. Duke was +13 on the boards, +15 in turnovers and had edges of 26-10 in points off turnovers, 19-4 in second chance points and 28-14 for points in the paint. To add insult to injury, Tech was just 6-14 from the foul line while Duke went 21-28. Duke wound up with eight players who scored between 6 and 11 points, while no Jacket came close to double-figure scoring. Duke clamped down on Tech from the tip and never let up, even when they stopped pressing and trapping. It was a focused, mature performance from a team that was ready to play, even if their play on offense wasn't always pretty.
In the early going, Duke was getting plenty of opportunities but couldn't quite cash in on them. Duke held an early 3-2 lead thanks to foul shots by Karima Christmas and Krystal Thomas, but they would wind up missing their first six shots and turning the ball over 6 times. That included charges by Christmas and Jasmine Thomas. Things were being called fairly, however, as a similar move by Tech star Alex Montgomery was also whistled as a charge. That call was far more damaging, as it was her second foul in the first couple of minutes of the game. Tech coach MaChelle Joseph opted to go offense/defense with her star, yanking her in and out of the game as she was able to in order to minimize her chances of picking up a third foul. This ploy worked to the extent that Montgomery was able to play 16 first half minutes while avoiding that third foul, but she was a miserable 0-7 from the field.
Tech went up 6-3 thanks to a couple of stickbacks and a short jumper from star frosh Ty Marshall. Shortly after that hoop Jasmine Thomas went down hard with a rolled ankle, but after a moment of pain (for both her and the silenced crowd) she was OK and jogged to the bench. Chelsea Gray had 3 early turnovers for Duke as she noted she was looking hard for the assist and wasn't precise enough. Finally, she did find Allison Vernerey inside for a score. Duke then took the lead for good when Karima Christmas plowed into a defender, who then fell down, and drilled a 15' jump shot. Tricia Liston stuck back a shot by a now taped-up J.Thomas, but Marshall connected on a stickback of her own. Gray threw a beautiful cross-court pass to Liston, who nailed a three in the corner to make it 12-8 with 8:42 left. The two teams went scoreless for nearly three minutes, but a three from Chloe Wells gave Duke a 7 point lead and seemed to really deflate the Jackets for a moment.
A steal of a rebound by Tech center Sasha Goodlett gave her team a lift, but Duke kept pounding away at the basket, getting 2 foul shots from K.Thomas and 2 from Gray, making the score 19-10 with 2:54 to go. Tech got one of their rare easy looks to cut the score to 19-12, but a K.Thomas stickback and a driving three point play from Gray doubled up the score at 24-12 with 1:45 left. Tech brought in shooting specialist Frida Fogdemark and ran a play where they had Foster get the ball in the corner, feint a drive and shot and then quickly pass to Fogdemark, whom had been left open when Duke's defenders tried to close in on Foster. J.Thomas was back to her usual form and was fouled driving on Goodlett. She nailed both, and the lead held as Tech had a shot clock violation (their second of three in the game to go with a five second inbounding turnover) and a miss from Fogdemark (forced to shoot off the dribble). Duke dominated the boards to the tune of 27-15, but they had 12 turnovers (compared to 10 for Tech), and GT scored 8 points off of them. Joseph massaged her foul trouble with some creative subbing, but her bench produced just 3 points. While Duke shot an icy 28%, Tech was even colder at 25%. The difference is that Duke got to the line 15 times and converted 10 times.
When the second half began, I wondered if Duke's focus would be as intense as it needed to be in order to put away their opponent. In some recent games, their attention has wavered a bit, allowing teams to come back thanks to offensive and defensive breakdowns. This was not the case in this game, as Duke started the half on a dominant 15-2 run -- all while Tech was starting to melt down at both ends. It began with a dish from Gray to K.Thomas in the paint, ripping through Tech's defense with a diagonal entry pass. After 2 free throws from Montgomery, Peters drove and pulled for a 10' jumper. Foster missed an easy shot and Tech then turned the ball over. Duke capitalized with a Gray free throw. Chelsea then broke off passes to a twisting Christmas, and a running KT. Jasmine hit a leaning 10' jumper to make it 37-17. Christmas hit 2 free throws and Vernerey found Peters inside for a high-low.
The run was aided in part by Montgomery picking up 2 more quick fouls a couple of minutes into the half (including another charge). Goodlett picked up her third foul a minute later and Walthour had 3 fouls of her own. With their leaders hamstrung, Tech's bench was helpless before Duke's fearsome onslaught. A Tech score was met by a stickback from Liston and a three from Wells to make it 46-19 with 11:49 left. Duke started to ease up a bit on its full court pressure, but they were very much still actively going after steals in their base defense. Duke ran a highly effective combination of shifting defense in order to confuse the Jackets, switching from man-to-man to matchup zone from possession to possession.
Duke closed out the game on a 23-13 run as the deep reserves continued to be active on defense and everyone scored. Jasmine hit a few shots, indicating that her ankle was fine. Duke swamped the Jackets in every conceivable category in the half: points in the paint was 20-4, points off turnovers was 22-2 (Duke only committed 5 second-half miscues), second chance was 12-0 and bench was 20-9. Duke's win gives them a tiebreaker against the Jackets and keeps them tied with Miami and a game ahead of several other squads. Duke will now have the opportunity to continue to work on chemistry and road presence this weekend against NC State.