DWHoops Photos by Orin Day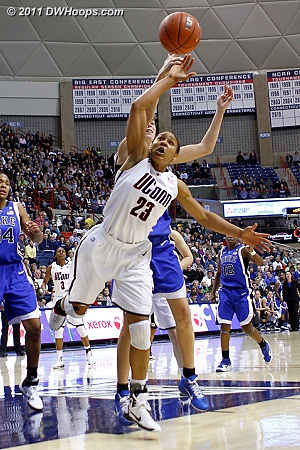 Maya Moore outduels Allison Vernerey for a rebound
---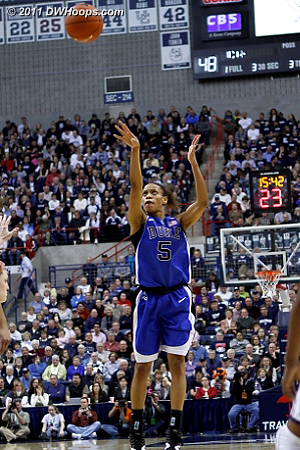 Jasmine Thomas hits a trey to cut the defict to 19.
---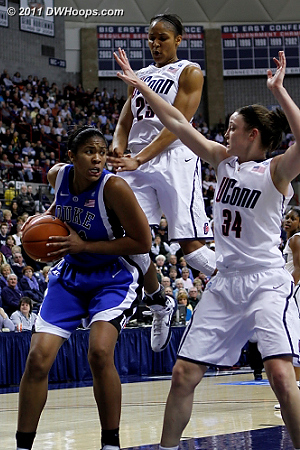 Maya Moore seemingly suspended in space over Krystal Thomas, as Kelly Faris tries to seal off the inside.
---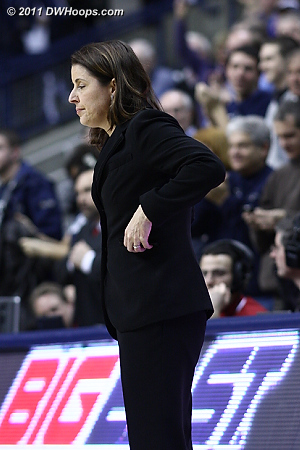 Coach P had to wait 23 seconds to shake hands as Geno stayed on the bench until the clock hit 0:00
---
There's honestly not much to say in terms of game analysis for the Duke-UConn game, other than Duke getting outworked and outsmarted in every phase of the game. In a hostile environment against an elite team that hasn't lost in Gampel in the last five years, Duke needed to get off to a fast start. That meant sharing the ball, attacking gaps, making multiple passes and using a lot of motion to get UConn to work on defense. Instead, Duke got jump-shot happy in the game's first five minutes, taking 8 long jumpers compared to 4 close-in shots. Meanwhile, UConn got off to a 13-0 start as they mixed transition baskets with a couple of threes by Kelly Faris.
Those jump shots made it easy for UConn to fire up their devastating fast break. With one of the country's best finishers and passers in Maya Moore, the Huskies got great looks whenever they wanted them. Duke did a poor job throughout of pressuring the ball, being physical without fouling, and recovering to open shooters. The Devils tried to compensate by pressing and extending their defense, but the Huskies were able to break this without too much difficulty. Duke did manage to get 14 points off turnovers, but it simply wasn't enough to counter the ease with which UConn was scoring for much of the game.
After Selby's basket, UConn ran off 10 straight points as Moore abused Karima Christmas and Kathleen Scheer for easy baskets. Duke was turning the ball over at this point, which made it even easier for UConn to score. With 6:20 left, Jasmine hit a three to cut it to 29-7, but an 11-2 run made the score 40-9 as the Devils were in danger of an all-time first half low. With Moore on the bench, Duke went on a 6-1 mini-run to end the first half that featured an assist from Chelsea Gray to Krystal Thomas and a Gray bank shot.
Duke showed some fight in the first six minutes of the second half. Their traps started to yield turnovers and Christmas was playing harder, scoring on a steal & layup and 2 foul shots. Jaz hit a couple of threes and KT scored 3 straight points to bring the lead down to 50-32. The Devils were on a 17-9 run and on the verge of making the game respectable before UConn reasserted themselves and ripped off 11 straight points. Frosh center Stefanie Dolson and wing Tiffany Hayes scored the first 8 points of the run, and Moore put a capper on it with a trey.
From there, the game was closer as UConn gave its deep subs a lot of run, and Duke did the same. It was still a 26-19 edge for UConn in the last ten or so minutes as every player continued to work hard. For Duke, the players were playing harder but didn't seem to know how to act as a team. Players like Allison Vernerey, Chloe Wells and Chelsea Gray never gave up and kept trying to make things happen.
This game was Duke's opportunity to prove itself as a true elite power this season. Instead, the Devils will have to fight to get a #1 seed. Duke hadn't overpowered many good foes this year, but their ability to to find a way to win no matter what was judged and found wanting by UConn. This certainly offers hope to their ACC opponents. What this loss can do for Duke is give them a chance to work on bad habits. The first bad habit is an inability to lock in as a team, where all five players complement each other. Part of that is the nature of Duke's very basic offense, which involves more read-and-react/one-on-one stuff than the sort of sharing the ball instincts that come so naturally for UConn. In other words, Duke's offense sometimes gets into "I need to make a play" territory instead of "We need to make a play."
That mentality is often in play at the beginning of games, especially those where the opponent has cut off Duke's first two options (pass into K.Thomas and dribble penetration); Duke has had problems finding a solid third and fourth option beyond someone pulling up to take a contested jump shot. Those offensive woes have often led to lapses in transition defense, as players simply don't hustle as much when baskets aren't dropping. Throughout the course of a game, the team would find ways to band together and act as a unit. The team that won the game in the second half of the NC State game was a very different entity than the team that played in the first half. That second-half team was dialed-in on every play and figured out ways to exploit their opponent. Their confidence and work ethic fed into each other. The first-half team went into a funk at both ends when shots didn't drop to start the game and took a long time to get angry and do something about it. That sense of anger didn't pop up much against UConn (with a few exceptions), in part because the line between anger & frustration is a thin one, and the Huskies are experts in turning that emotion against their opponents.
UConn is not the unbeatable superpower of past seasons, but in some ways they're an even better team. It's a close-knit group that trusts each other more every game, because the frosh are really starting to understand what it takes to win. Beyond the fact that they have the best player in the country, UConn won so easily because of that trust and teamwork. Very few teams have the talent to compete with them, and fewer have the sheer willpower and trust to withstand UConn's attempt to take over games. There's no shame in losing to UConn. What would be a shame is not taking the lessons of this game to heart, and Duke will be faced with two consecutive crucial conference games that will give Duke a pop quiz in that regard. Exactly how mentally tough this squad is will be demonstrated over the next week.