DWHoops Photos by Orin Day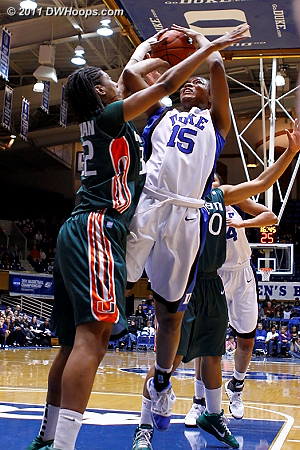 Richa Jackson, who made her first Blue Devil career start tonight, draws Morgan Stroman's first foul.
---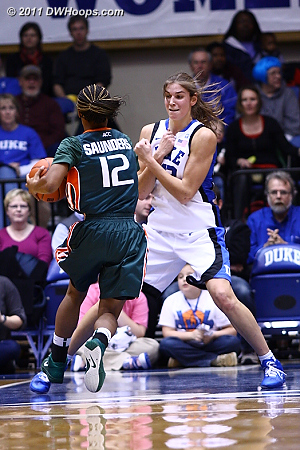 Allison Vernerey braces to take a charge (DWHoops members see the entire sequence)
---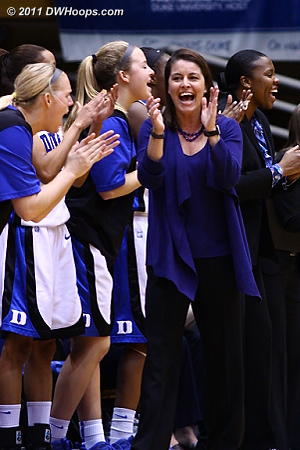 Coach P applauds Vernerey taking the charge (members see two more bench photos)
---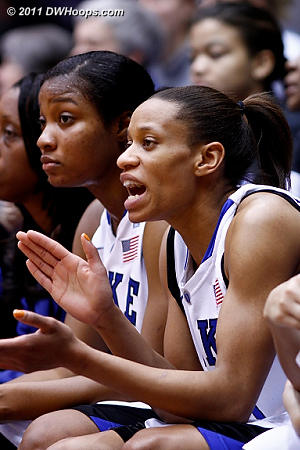 Jasmine Thomas (right), on the bench with two fouls and no points, cheers on the Duke defense
---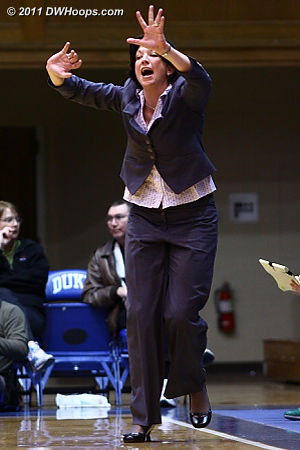 Miami Head Coach Katie Meier calls for Defense #5.
---
Fortunately for Duke, they managed to find a tonic for the dread condition known as "UConn hangover." Part of the cure is a bit of the hair of the dog, and so playing an aggressive, trapping team like the Miami Hurricanes was perfect in that regard. In terms of game advantages, Duke held all the cards coming into their game with Miami. They were playing at home, where they were undefeated. They were deeper and bigger than Miami. The Canes were a team that had to run and force turnovers to be successful, something that Duke could control. The only real question was whether Duke was ready mentally to take on the surging Hurricanes, a team with only 1 ACC loss, after the debacle in Storrs. How focused would Duke be? How would its frosh players respond to their first career defeat? As it turns out, the team was more than ready to play and rather than panic, they used a low-key practice to work on specific fundamentals.
The most important fundamentals Duke has had to work on included rebounding and passing with a purpose. When Duke's offense has looked its worst this year, it's been because the ballhandler has been pounding the ball with no particular plan. Against zones, this has meant a lot of stagnation on offense, allowing defenses to more-or-less rest while Duke took an awkward leaning jumper or a desperation three. Miami did Duke a favor with their constant trapping, as it forced Duke to make aggressive decisions with the ball. That led to a number of fantastic passes; for the game, 2/3 of Duke's scores came on assists (and a fantastic 14 out of 19 in the first half).
Duke's depth allowed it to absorb two fouls apiece from Krystal Thomas, Jasmine Thomas, Karima Christmas and Allison Vernerey in the first half. Jasmine wound up playing just 7 minutes, but the young lineup Duke had on the floor broke a tie and slowly allowed Duke to take control. Meanwhile, the foul trouble suffered by Miami posts Morgan Stroman and Sylvia Bullock hamstrung Miami's defense and rebounding efforts, allowing Duke plenty of good looks at the basket. While Miami's Riquna Williams kept her team in the game in the first half with 19 points, the sheer energy she had to expend drained her in the second half and she simply didn't get the support she needed for Miami to be really competitive.
The game was very close for the first ten minutes as there were 9 lead changes and 4 ties. In the early going, it was K.Thomas and Richa Jackson (in her first career start) who carried the Blue Devils. KT hit a free throw (drawing Bullock's first foul just a minute into the game), got a stickback and scored on a feed from Christmas. Jackson had an impressive turnaround jumper near the basket after she grabbed an offensive rebound and then drained 2 foul shots. Krystal also kicked the ball out to Chelsea Gray for a three when she got double-teamed. With 14:37 left, Duke led 12-7.
Two straight Duke turnovers led to 4 straight points for Miami. Jasmine Thomas went out with her second foul with 13:07 left in the half, but Duke responded by inserting Shay Selby and Chloe Wells. Allison Vernerey was also in the game and was double-teamed at half court. She alertly found a streaking Shay Selby for an easy layup. Miami tied the game at 14 with a stickback and took the lead thanks to a three from Riquna Williams. Wells found Christmas inside to cut the lead to 1, and Selby broke Miami's press by finding Haley Peters on the run. Miami went ahead again, but Vernerey hit Peters for another easy basket.
Selby came up with a steal & layup, which prompted a quick timeout for Miami coach (and former Duke legend) Katie Meier. It didn't help, as Peters came up with a remarkable steal and fast break assist to Chloe Wells. Vernerey took a charge and Wells found Jackson for a smooth-looking three that boosted Duke's lead to 27-19. Williams hit 2 foul shots, but Gray carved up Miami's defense on three straight possessions. She dished to Jackson inside, to Peters on a cut and then Peters on the run. Gray was pumped to see these plays succeed, because they took a level of precision she's lacked at times this year. Just when it looked like Duke was ready to take control, they started to give up wide-open looks from three for Williams, who only happens to be the top scorer in the ACC.
Williams hit 2 threes that cut the lead to 35-27, but Tricia Liston came off the bench to spark a 6-0 run. Gray followed that basket with a steal and layup, and Christmas then hit Vernerey for a score inside. That made it 41-27 with about two minutes left. Christmas fouled Williams as she was attempting a three, biting on a simple head fake. Williams hit 2 shots, but Duke came back with another Vernerey basket. Williams hit another trey after Liston missed a shot and things nearly got worse when KT was called for an offensive foul. Williams and Shenise Johnson both missed late baskets that could have made this a single-digit game at the half. The Devils were +10 in points off turnovers and had commanding 34-6 and 20-0 edges in points in the paint and bench points, respectively. Duke shot 49% and held Miami to 39%, and forced them into 12 turnovers. The Devils committed just 8 turnovers of their own.
Miami is a team that's come back from big deficits this year, but they were weirdly passive to start the second half. Duke wasn't exactly painting a masterpiece themselves, as they committed 4 turnovers in the first five minutes of the half. Miami stayed within striking distance as a result before Duke turned to Karima Christmas. Rima had been active in the first half even if she still struggled with her shot. A basket early in the second half seemed to relax her a bit, and so when the Canes cut the lead to 49-40, Christmas went to work. She scored on a drive, a stickback and an impressive turnaround jumper. That stickback came as she trailed J.Thomas on a fast break attempt, leaping to tap the ball back in after it bounced off the backboard. That basket made it 55-40 with 13:35 to go.
Miami then had a possession that nearly lasted two minutes after a series of fouls, deflections and offensive rebounds gave them five cracks at the baskets before Riquna Williams scored. Miami got a stop but their momentum was halted by a J.Thomas steal & runout. Deflated, Miami started jacking up shots and Duke responded with 2 Christmas foul shots and a nifty bank shot by Chloe Wells. That made it 61-42 with 8:53 left as the Canes never threatened again. Duke's offense was very precise down the stretch (though there were still 4 more turnovers) as they shot 64% against a tired Miami team that was still trying to press. Katie Meier rolled the dice defensively, hoping that her team could generate some momentum with a press, but Duke was able to break it as easily as UConn was able to blow through Duke's attempt to press them. The Devils shot 64% in the second half as a result of their aggressiveness, ball movement and commitment to finishing shots. Miami scrapped hard (they came up with 10 offensive rebounds in the second half alone) but simply weren't efficient enough to make much headway.
For Duke's it's another win over a top 25 opponent, but more importantly, it cements their lead in the ACC. At 7-0, Duke is now half done with their ACC schedule. No opponent has fewer than two conference losses; Miami was the last one-loss team left in the ACC. Duke's showdown game with UNC will go a long way in determining who might be the ACC champ and how quickly they might get there. Richa Jackson's breakout performance also makes things very interesting for Duke down the stretch. Coach McCallie is still trying to put together a starting five she can rely on to produce in every game, as well as put together an extended rotation. She did note last night that she doesn't care at all about who starts; instead, she wants "finishers". All eleven players have scored in double digits at one point or another this season, and there's yet to be total separation to create an 8 or 9 player rotation. We'll see how this continues to shake out as we head down the stretch in the regular season.