DWHoops Photos by Orin Day
Jas gets an easy bucket in transition and Duke leads 8-zip.
---
Vernerey scores with 10:43 left in the half. It's 20-11 Duke, but a long scoring drought would be next.
---
Using her right hand to shield the ball from shot blocker Waltiea Rolle, Allison Vernerey starts a left handed layup.
---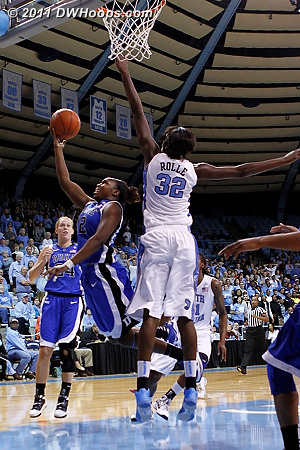 After driving the length of the court, Chelsea Gray puts up a potentially game tying layup as Waltiea Rolle patiently waits for the shot block opportunity.
---
Well, it's a race again in the ACC. The Devils are still a game ahead of everyone else (which includes UNC, Miami, Florida State and Maryland), but they're now in a position where UNC holds the tiebreaker over them. Every game for this quintet will now take on added significance, as they try to take care of business against the lesser teams in the league and win showdowns between each other. The loss to UNC was disappointing not because Duke shot poorly (they did, at 35%, but what else is new?), but because their defense did a horrible job of reacting to what UNC was doing well. One is used to seeing the Heels jack up wild shots and looking disorganized on offense, but they had a remarkable 20 assists for their 26 baskets. They killed Duke in transition and exploited soft spots in Duke's zone. Despite all of that, Duke still managed to pull ahead by 2 points with 3:30 to go, and lost because they had a number of mental breakdowns. Mental toughness has been this team's calling card all year, and it let them down.

Duke started the game looking sensational on offense, blowing out to an 8-0 lead. Chelsea Gray was especially aggressive, scoring on a drive, hitting a long jumper and finding Krystal Thomas for an aggressive reverse. A steal by Richa Jackson led to an easy basket for Jasmine Thomas. After a UNC score, Jasmine hit a three on a pass from Chelsea to make it 11-2 with 15:55 left. The Heels stormed back with a 7-0 run (including hitting just one of 3 threes), but Duke answered with a 9-2 run of its own. Allison Vernerey came off the bench to score twice on connecting plays, Gray stroked another three and K.Thomas hit a rare jumper on an inbounds pass from J.Thomas. The Devils were in a position, thanks to UNC shooting from long range, to take a big lead.

Instead, the Heels held Duke scoreless over the next seven minutes as they ran off 13 points, going up 24-20 with 5:26 left. Gray found Vernerey to bring Duke closer, and Vernerey scored again to make it 25-24. The Heels had plenty of chances of their own to push the lead out further, but their awful foul shooting (3-10 in the first half) allowed Duke to stay close. A late J.Thomas jumper made it 27-26 at the half. The teams were quite even statistically, shooting around 37%, each forcing 9 turnovers and getting about the same number of rebounds, threes and assists.

UNC made adjustments in the second half and Duke didn't. They slipped into the gaps in Duke's zone and were able to run off rebounds for key baskets. Duke's transition defense, a frequent irritant this year, looked leaden at times. The Devils were going after offensive rebounds (and it worked, as they grabbed 14 to just 5 for UNC), but it cost them points at the other end. After a three by Gray, UNC opened up a 34-29 lead three minutes into the half. The grim look on Jasmine Thomas' face revealed the sinking feeling that she would need to take over the game, despite UNC face-guarding her with the long and athletic Tierra Ruffin-Pratt. K.Thomas swung a pass to her on the baseline and she sank a jumper, and she followed that up with a pass to an aggressive Vernerey to cut the lead to 1. She then hit Gray for another three to tie the game at 36; eventually, a pass from Jasmine to Haley Peters made it 38-37.

The Heels were patient and broke down Duke's defense with a simple post pass and then struck quickly after a turnover by Tricia Liston. After a long miss by Liston, UNC beat Duke down the floor for another basket to make it 43-38 with 10:58 left. Once again, Jasmine tried to come to her team's rescue with a floater and a free throw. The Heels got three cracks at a three-pointer before sinking one to go up 48-42. Once again, the Devils rallied: Jasmine somehow slipped through the defense for a 10' jumper, Gray hit another three and Vernerey hit a foul shot to tie the game at 48. UNC's Jessica Breland put her team back on top and Karima Christmas (who had been a virtual no-show up to this point) missed the front end of a one-and-one. The Heels struck again to go up 52-48 with 5:38 to go.

Gray drove and was fouled, hitting both free throws. After a long UNC miss, Vernerey took her player off the dribble for a spectacular drive to tie the game at 52. The Heels scored again to go up by 2, but Christmas drove and finally got past Rolle to tie the game up again. Jasmine came up with a steal and long pass to Gray for a fast break basket to put Duke up 56-54 with 3:29 to go. UNC started running as soon as that play was developing and wound up with a three point play in transition to go up 57-56. A Christmas turnover led to another three point play. Jasmine hit a foul shot to cut the lead to 3 and her team got the ball back. A Duke miss led to yet another UNC fast break, and Breland threw a spectacular behind-the-back pass to Italee Lucas to go up 62-57 with 1:33 left. After a miss by Gray, Jasmine came up with a steal and buried a three with 37 seconds left to make it 62-60. Duke opted to play defense instead of foul, forced a miss and found the ball in the hands of Gray. She sped up the floor and ignored Kathleen Scheer ahead of her in transition, opting instead to take the ball to the basket herself. It was blocked out of bounds (with plenty of contact) by Rolle to end the game.

Chelsea started to protest vociferously after sitting on the ground, stunned, for a moment. However, coach Trisha Stafford-Odom pulled her away, not desiring the sort of unpleasant scene created by the coaching staffs of Xavier and Kentucky after close losses to Duke. In the end, the Heels made the kind of smart, team plays that Duke had made in their close wins. Duke could have very easily wound up winning this game, but it also could have been much worse, because the Heels went through long stretches of shooting themselves in the foot (so to speak). Regardless, Duke will have some soul-searching to do this week--both players and coaches. The players have to commit more to each other and the coaches really needed to adjust their game plan when the Heels were exploiting it so ruthlessly.