DWHoops Photos by Orin Day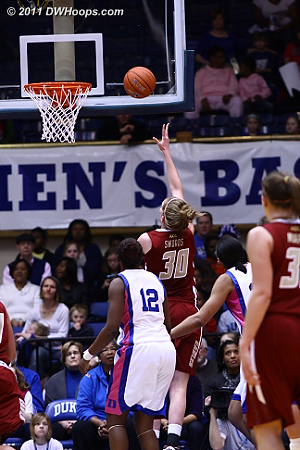 Swords was 2-2 in the first half - good looks, but her getting only two shots was a win for Duke
---
Jaclyn Thoman's long range shooting was stellar, 5-9 from behind the arc including this three.
---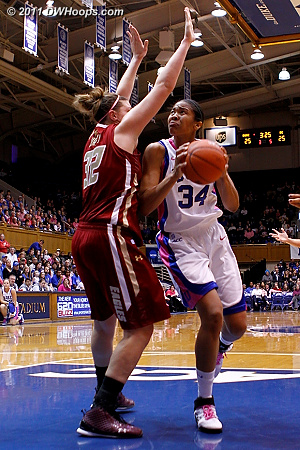 Krystal Thomas takes it right back at Murphy
---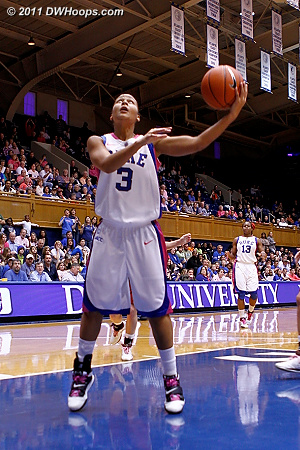 Selby was patient in going for the layup
---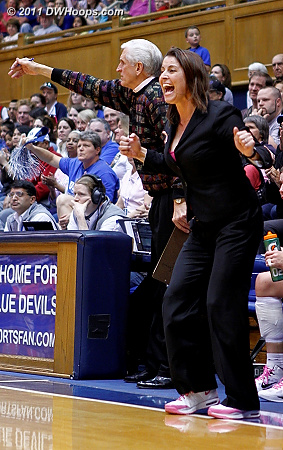 Coach P cheers after the Selby fast-break layup
---
Allison Vernerey notched her third consecutive game scoring in double figures
---
Duke regained a position of dominance in the ACC with their 66-53 win over Boston College in Cameron, as today's losses by UNC and Maryland have given Duke a leg up over everyone else. The Devils hold tiebreakers against nearest competitors Miami and Florida State (both a game back of Duke) with four games to go. Certainly, as we enter the home stretch of the ACC regular season, there will be a number of intense matchups. Duke's game against BC was certainly no gimme, given their win over Duke last year with many of the same players. While the Eagles were struggling in league play with a 4-5 record (coach Sylvia Crawley was a bit peeved to note that "We're comfortable being seventh" in the league standings), they had managed to beat Maryland and stayed competitive with UNC, Miami, Florida State and Georgia Tech.
Duke's mission was to stop Carolyn Swords from even getting the ball, and they did a fine job of doing so, as she only got off 4 shots. The double-post starting duo of Allison Vernerey and Krystal Thomas was quite effective in slowing down BC's twin towers of Swords (averaging 17.5 ppg, an ACC-leading 9 rpg and shooting an NCAA-leading 71% from the field coming into this game) and Stefanie Murphy. Krystal noted that Swords was posting up hard to begin the game but started to get a bit less aggressive when Duke was able to tip away entry passes. What did hurt Duke in this game was BC's outside shooting; they were the #2 three-point shooting team in the ACC coming into this game at 36% and hit 35% of their 26 threes today. The long ball was the only thing that kept them in the game, but one could see them start to chuck a little in the second half as their legs started to get tired. Every BC starter but Swords played at least 32 minutes, and Duke's running game wore them out a bit.
For Duke's part, one could see the beginning of a set rotation beginning to evolve. Coach P noted that she didn't want to "close any windows", but that it was going to be harder and harder for young players to impress in practice, given that practices are getting shorter. It's perhaps no surprise that the players emerging off the bench are junior veterans Shay Selby and Kathleen Scheer, both of whom made a number of key plays in this game. The Devils wound up with 18 assists on their 28 field goals as they were able to find gaps in BC's zone with both penetration and accurate diagonal passes. The fact that Duke was able to do this without a great offensive game from Jasmine Thomas (just 4 points) made this all the more impressive a victory.
Duke fell into a 5-1 hole early in the game as Murphy hit a jumper and Kerri Shields drained a three. BC used a mix of zones (3-2 and 2-3) in an effort to bait the Devils into taking threes. The Devils, for their part, made a concerted effort to not simply pass the ball around the perimeter, but to use different passing angles in an effort to get the defense to move. Chelsea Gray eventually helped Duke cash in with a diagonal pass to Vernerey on the left block for a score. Swords managed to get a seal inside for a basket, but Gray responded with a three to make it 7-6 with 15:39 to go.
Gray then came up with a steal and zipped a pass to Jasmine Thomas for a fastbreak layup. BC moved the ball around Duke's zone and found a hole in the corner, as point guard Jaclyn Thoman hit a three to make it 10-8. Vernerey then skipped the ball out on the perimeter to find Gray for another trey. Thoman sank another three of her own as BC reversed the ball, but Jasmine tied the game at 13 on a drive. That score kicked off a 10-0 Duke run that gave them a little bit of separation.
During the run, Duke established Krystal Thomas inside and got effort baskets from Karima Christmas (dubbed a "covert operative" by coach McCallie after the game). Rima got a stickback and found a lane to score on the left baseline. Krystal hit a hook shot and surprisingly sank a 17' jumper on a pass from Jasmine. The Eagles simply started missing shots from long range they had been hitting and turned the ball over twice. With 10:16 left in the game, Duke went up 21-13.
Christmas wound up trading baskets with BC over the next couple of minutes, as she scored on a pull-up jumper and a stickback. The latter basket put Duke up 25-17 with 8:07 to go. The Devils then went on one of their offensive droughts over the next five minutes as BC tied the score at 25 thanks to a series of layups and short jumpers. Duke was still getting good shots, it's just that KT, Christmas and Vernerey simply missed them. K.Thomas hit a jump hook with 3:23 to go to break the tie and scored again on a gorgeous feed from Gray. Duke's offense sputtered in the last 1:30, as Tricia Liston and Kathleen Scheer missed threes. The defense then broke down as the Eagles got a great shot that dropped. Jasmine then missed a short shot and Christmas bricked a stickback at the buzzer. Still, Duke led by 1 at the half and had advantages in points in the paint (18-10), 2nd chance points (8-5) and turnovers (8-3). BC was close because they shot 46% and hit 4 threes.
Duke was more aggressive at both ends in the second half, as Gray found Vernerey in transition and Christmas was fouled after coming up with a steal. Thoman drilled another three to keep the Eagles close, but Gray found Christmas for another basket. Thoman was fouled and hit 2 free throws, keeping her team in the game by herself, but Gray fed Vernerey for a jump-hook to make it 37-33. K.Thomas came up with a steal but decided to try to run the floor herself, a decision that led to her turning the ball over. BC took advantage when Kerri Shields sank a three to bring the Eagles within 1 point. Gray missed a layup and J.Thomas missed a wide-open three from the corner, and BC capitalized with yet another shot by Thoman. Suddenly BC had a 38-37 lead with 14:02 left.
Duke didn't panic, as Scheer made a beautiful pass to Vernerey, who finished to give the Devils the lead. Scheer then blocked a shot by Murphy and Shay Selby hit a tough little fade-away to give Duke a 3-point lead. J.Thomas got her second rebound in a row after a BC miss and Selby found Vernerey inside to give Duke a 5 point lead. Thoman finally missed a shot and Duke took advantage as Scheer found Selby inside for a layup--one where she switched hands before scoring lefty.
Thoman found Murphy to end the 8-0 run, but Christmas muscled her way up for a score on a bullet pass from Selby. Selby then came up with a steal and triggered a fast break where Scheer wound up tightly guarded in the post, only to hit K.Thomas for a short shot. Thoman, left wide open despite her huge game, sank a three to cut the lead to 49-43 with 9:13 to go. The Devils responded with a 9-0 run that showed off Duke's interior scoring and its speed. KT got fouled and hit 2 big free throws. On the other end Krystal blocked a shot that Christmas rebounded. Gray got the ball and tore down the floor, flying into the defense for a three point play. That gave Duke its first double-digit lead at 54-43. The Eagles turned the ball over on a shot-clock violation and K.Thomas muscled her way up for a score. Scheer picked Thoman's pocket and Gray found K.Thomas in transition to give Duke a 58-43 lead with 7:08 to go.
Duke missed 3 shots in a row yet BC could only get a single hoop before Vernerey scored on a stickback. Thoman hit yet another three, but Gray found Vernerey inside yet again to make it 62-48 with 5:10 left. The Devils then survived a four-minute scoring drought as Duke missed 5 shots in a row, turned the ball over 3 times in a row and J.Thomas missed the front end of a one-and-one. BC was able to make it a three-possession game with 3:23 left as Murphy nailed a three. Duke came up with some big defensive plays after that, as Jasmine blocked a Thoman shot and held BC to one-and-done. A turnaround jumper in the lane by Gray with 1:07 put the game away, and 2 more free throws from her was a bit of icing.
Duke shot a sizzling 54% in the second half as Vernerey and K.Thomas combined for 20 points on 9-13 shooting. BC hit only 32% of its shots, though their 5-14 mark from three kept them in the game until the last minute. Swords took just 2 shots in the half and the Devils did a great job of controlling everyone but Thoman. A BC team that usually dominates post scoring had just 4 points in the paint, compared to 30 for Duke. Duke cranked up its pressure and fast break, getting a 10-3 edge in points off turnovers and 8-0 in fast break points. The Devils blocked 7 shots in the second half alone, and 8 for the game. All told, the Devils got great production from its frontcourt against one of the better frontcourts in the conference. They won comfortably without a great offensive performance by Jasmine Thomas. They prevented BC from getting to the foul line (just 4 attempts) thanks to solid defense. It was a workmanlike win at a time of year where such efforts are needed.