DWHoops Photo by Orin Day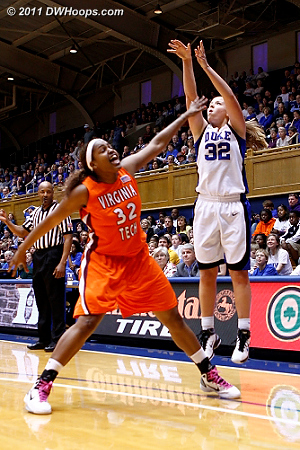 Tricia Liston scored a career high 19 points against the hapless Hokies.
As I noted in my preview, Virginia Tech is the sort of team that can make a reeling team feel better in a hurry. That was certainly the case in Cameron today, as Duke used a 22-0 run five minutes into the game to break a 7-7 tie and establish complete control of the game. Duke dominated in every conceivable category as they were +25 on the boards, held the Hokies to 33%, and held edges of 32-7 and 23-6 in points off turnovers and second chance points, respectively. The Devils dealt the Hokies their worst ACC loss ever, and a dispirited Beth Dunkenberger tersely registered her disappointment in her players' willingness to compete. A few Duke players had milestones and near-milestones: Jasmine Thomas' 27 points was 2 off her career high; Krystal Thomas smashed her single-game rebounding mark with 17; and Tricia Liston had her scoring high with 19. The disquieting note for Duke in this game was that Chelsea Gray went down with an injury three minutes into the game. She got x-rayed and the results are pending, but it is suspected that it could be a high ankle sprain. This is a painful injury that could take up to three weeks to return from. At the moment, she's being listed as day-to-day.
Duke Blue Devils Team Box Score
| | | | | | | | | | | | | | |
| --- | --- | --- | --- | --- | --- | --- | --- | --- | --- | --- | --- | --- | --- |
| | PTS | FG | FG % | 3FG | 3FG % | FT | FT% | A | O-D-REB | BLK | STL | TO | PF |
| TOT | 90 | 31-69 | 44.9 | 9-21 | 42.9 | 19-24 | 79.2 | 21 | 25-23-48 | 4 | 19 | 20 | 13 |
| 1st | 45 | 14-35 | 40.0 | 5-12 | 41.7 | 12-14 | 85.7 | 10 | 13-11-24 | 1 | 9 | 10 | 6 |
| 2nd | 45 | 17-34 | 50.0 | 4-9 | 44.4 | 7-10 | 70.0 | 11 | 13-12-25 | 3 | 10 | 10 | 7 |
Virginia Tech Team Box Score
| | | | | | | | | | | | | | |
| --- | --- | --- | --- | --- | --- | --- | --- | --- | --- | --- | --- | --- | --- |
| | PTS | FG | FG % | 3FG | 3FG % | FT | FT% | A | O-D-REB | BLK | STL | TO | PF |
| TOT | 40 | 17-51 | 33.3 | 1-8 | 12.5 | 5-7 | 71.4 | 11 | 10-14-24 | 2 | 10 | 32 | 16 |
| 1st | 19 | 8-26 | 30.8 | 1-5 | 20.0 | 2-2 | 100.0 | 6 | 6-8-14 | 0 | 6 | 18 | 8 |
| 2nd | 21 | 9-25 | 36.0 | 0-3 | 0.0 | 3-5 | 60.0 | 5 | 4-6-10 | 2 | 4 | 14 | 8 |
---
Please support DWHoops with a site membership today!
Click Here to Learn More