DWHoops Photos by Orin Day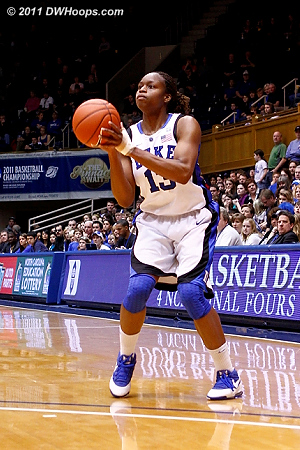 With Duke trailing by one, Karima Christmas hit her first three pointer in Cameron since December.
---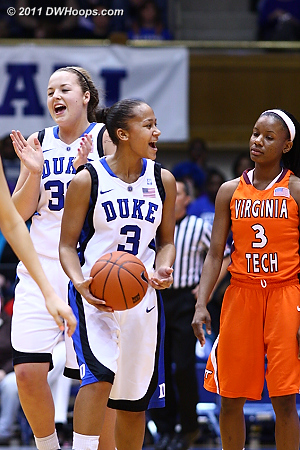 The game in a nutshell - Liston and Selby celebrate one of Tech's 18 first half turnovers - Aerial Wilson demoralized.
---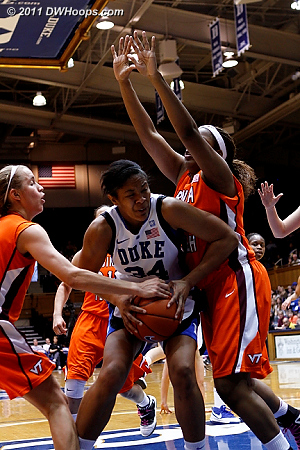 Krystal working hard inside
---
Jasmine Thomas starts another Duke break
---
Another trey for Liston
---
Duke's big win over ACC cellar-dweller Virginia Tech was important not from a tactical point of view, but rather from the point of view of focus and efficiency. The Devils faced a team that they should beat handily and did just that. Duke shut down leading scorer Shanel Harrison, who scored just 4 points thanks to consistent pressure as well as foul trouble. Another regular scorer for the Hokies, Monet Tellier, was 0-5 from the field with 6 turnovers. Virginia Tech was able to compete for brief periods of the game (at the beginning of the first and second halves in particular), but Duke soon took control thanks to a concerted effort on the boards, focusing on getting good shots, and the relentless energy of its bench.
One thing that Duke did well was adapting to one of its players going down a few minutes into the game. Shay Selby got sick moments before the Maryland game and Richa Jackson went down with a knee injury, adding to the problem of Chelsea Gray being out. Duke allowed its energy to flag at key points of that game, and a fired-up Terp squad took full advantage. This time around, Duke didn't miss a beat when Gray went down with an ankle injury at the 17:17 mark. Indeed, the Devils embarked on a 22-0 run shortly thereafter that removed the competitive aspect from this game.
Early on, Virginia Tech looked like they were ready to compete. Alyssa Fenyn missed 2 point-blank shots that were great looks, but she drained a three to seize the lead after Gray sank a 15' jumper. Gray came back to hit 2 foul shots, but she picked up her second foul as she injured herself. It looked like she stepped on someone's foot as she went down and started clutching her shin. Gray grabbing that area made me think that it's a high ankle sprain, and coach McCallie noted that it does appear to be a "bad" sprain. The Hokies took their last lead of the game at 5-4 by hitting 2 foul shots.
Karima Christmas gave Duke the lead back by draining a three from Jasmine Thomas. It was refreshing to see her hit from long range as, amazingly, it was only her second trey of calendar 2011. The two teams traded misses and turnovers for a minute before VT's Brittany Gordon tied the score. That's when the run began: after an offensive rebound by Karima Christmas, Haley Peters hit Jasmine for a three. Allison Vernerey came up with a steal and then found Peters for a 17' jumper. Hokie coach Beth Dunkenberger called an immediate time-out, but it didn't help as they turned the ball over on the next possession. The Hokies couldn't stop turning the ball over and Duke eventually took advantage as Tricia Liston hit a driving layup. Krystal Thomas, who dominated the Hokies' fairly tall front line practically by herself (she had 17 rebounds to 24 for the entire VT team), was fouled after an offensive rebound and hit 2 smooth free throws. KT then found Peters inside after grabbing another offensive board. At the 12:14 mark, Duke led 19-7.
Then, the breaking point -- Jasmine Thomas and Tricia Liston drained threes on assists from Chloe Wells. After a Wells foul shot, Liston found Jaz for another three. Jasmine said after the game, "I let myself get a little frustrated with my offense over those past 6 weeks [of not scoring 20 points or more] and I just came out tonight and relaxed. I missed a lot of layups [early in the game] and I didn't let it get to me. I just kept attacking and trying to get in the paint and it just got me into a rhythm." It was quite clear that she was relaxed, as her shot looked much smoother than it's been for quite a while.
The Hokies went scoreless for nearly eight minutes during the run and finally scored again at the 7:23 mark. They were much more competitive during the rest of the half but couldn't stop Duke from scoring. Richa Jackson and Karima Christmas in particular did a nice job during this period, with each scoring 4 points and an assist. The Hokies actually matched Duke point for point until the last three minutes, when the Devils held the Hokies scoreless and added 6 points. A score with seventeen seconds left salved that wound a little, but the Devils still held a commanding 45-19 lead. For most of the first half, VT had more turnovers than points; their last basket made it 19-18. Duke turned it over a bit too often themselves (10 turnovers) but still dominated points off turnovers 14-2. Duke's bench almost outscored VT's entire team as they added 18 points. Duke went to the foul line 14 times to just twice for the Hokies, a great sign of how committed they were on the defensive end, and showing how well they moved their feet. Duke varied its offense nicely as they took 23 shots inside the line and 12 treys; their only problem was missing some layups.
VT came out with renewed vigor in the second half as they made 5 of their first 6 shots. The problem for them was that Jaz scored 7 straight for Duke, nailing a three, scoring on a drive after a block by Krystal Thomas and pulling up for another long jump shot. With 17:38 to go in the game, Duke led 54-27. The Hokies held Duke scoreless for the next four minutes but could only muster 4 points. Liston broke the drought by driving and getting fouled, sinking both shots. Duke later went up by 29 when she scored on a stickback and was fouled. She missed the free throw but Christmas got the board and passed it back to Krystal. She hit Liston inside to makeit 62-33 with 11:36 left.
That's pretty much the time when VT's players started waving the white flag: it became apparent that they wanted to leave as quickly as possible. Duke took full advantage of this opportunity to stay focused and hungry. Dunkenberger actually challenged her team to stop Jasmine Thomas at that point, saying that Duke was trying to pad her stats by leaving her in. Whether or not that's true, Jasmine did stay aggressive as she scored 11 of Duke's next 16 points over a six-minute span. Duke's deep reserves held the Hokies to just 3 points in the last 5:20 of the game as Liston scored 7 more points. Duke shot 50% in the second half as Jaz scored 18 of her 27 points and Liston had 12 of her career-high 19. Duke scored 45 points in each half and held VT under 40% in both halves. I noted in my preview that Duke needs to treat each remaining game as though it were a playoff game, and this game was a good first step: dominating an opponent that the Devils should dominate, and taking them out of the game very quickly. We'll see if Duke can keep this going in their final road game of the year as they travel to Charlottesville.