DWHoops Photo by Orin Day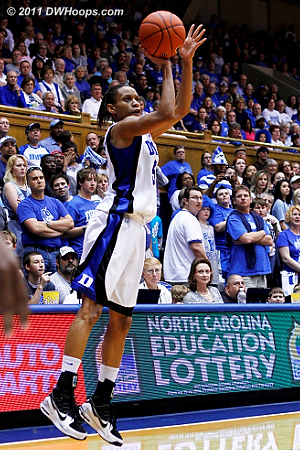 Jasmine Thomas led all scorers with 17 points on her Senior Night in Cameron.
In front of a raucous crowd, Duke clinched the top seed in the ACC tournament by beating arch-rival UNC. The Devils secured their second straight regular season championship and their 10th overall in a game that was a bizarre reverse-image of their loss in Chapel Hill. Duke started fast in that game, went through a slow spell and almost came back to win against an opponent that couldn't hit their free throws. In this game, UNC took an early lead before Duke rallied; the Heels only stayed close because the Devils couldn't hit their foul shots. While the Devils got significant contributions from frosh Haley Peters (6 points, 7 rebounds) & Tricia Liston (7 points) as well as junior Shay Selby (7 points, 3 assists), this day was really all about the seniors. Duke's seniors channeled the swirling emotions of the day into effort, as Karima Christmas had a double-double, Krystal Thomas won the ACC rebounding championship by grabbing 13 boards, and Jasmine Thomas led all scorers with 17 points--11 in the decisive second half. Duke now moves on to Greensboro to try to claim a second straight ACC championship. With six ACC teams in the top 25, the event promises to be a wild shootout.
Top Performers:
Jasmine Thomas: 17 points, 5 assists
Karima Christmas: 14 points, 10 rebounds, 6 assists
Chay Shegog: 14 points, 8 rebounds.
Duke Blue Devils Team Box Score
| | | | | | | | | | | | | | |
| --- | --- | --- | --- | --- | --- | --- | --- | --- | --- | --- | --- | --- | --- |
| | PTS | FG | FG % | 3FG | 3FG % | FT | FT% | A | O-D-REB | BLK | STL | TO | PF |
| 2nd | 37 | 15-32 | 46.9 | 4-8 | 50.0 | 3-11 | 27.3 | 10 | 12-15-27 | 3 | 5 | 10 | 8 |
| TOT | 66 | 24-69 | 34.8 | 7-19 | 36.8 | 11-23 | 47.8 | 17 | 23-29-52 | 4 | 10 | 17 | 18 |
| 1st | 29 | 9-37 | 24.3 | 3-11 | 27.3 | 8-12 | 66.7 | 7 | 11-14-25 | 1 | 5 | 7 | 10 |
North Carolina Team Box Score
| | | | | | | | | | | | | | |
| --- | --- | --- | --- | --- | --- | --- | --- | --- | --- | --- | --- | --- | --- |
| | PTS | FG | FG % | 3FG | 3FG % | FT | FT% | A | O-D-REB | BLK | STL | TO | PF |
| TOT | 58 | 19-62 | 30.6 | 4-19 | 21.1 | 16-22 | 72.7 | 13 | 17-29-46 | 7 | 7 | 19 | 21 |
| 1st | 31 | 10-32 | 31.3 | 2-11 | 18.2 | 9-11 | 81.8 | 6 | 9-20-29 | 3 | 4 | 9 | 11 |
| 2nd | 27 | 9-30 | 30.0 | 2-8 | 25.0 | 7-11 | 63.6 | 7 | 8-9-17 | 4 | 3 | 10 | 10 |
---
Please support DWHoops with a site membership today!
Click Here to Learn More