| | |
| --- | --- |
| THE NOSH NUTSHELL: 11 Point Devil Run Slams Dores | |
Please Support our Sponsor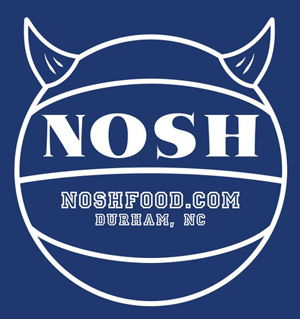 NOSH is the home of the Coach P Radio Show. Click their logo to learn more about their fantastic restaurant!
---
Chelsea Gray just missed a triple double with 14 points, 12 assists, and 8 boards as Duke pulled away in the second half to defeat Vanderbilt 88-69.
DWHoops photo by Orin Day
Duke broke open an uncomfortably tight game midway through the second half with an 11-0 run, thanks to an amped-up defensive effort and timely shooting from Chelsea Gray, Tricia Liston and Alexis Jones. For much of the first half, Vandy's sticky zone defense not only seduced Duke into taking perimeter shots, it also managed to hold Duke to one shot. The Devils had just 5 offensive rebounds in the first half, which certainly wasn't aided by Elizabeth Williams picking up two quick fouls. With Williams out, Duke didn't have the presence underneath necessary to provide proper balance, and the Devils didn't have the focus or intensity on defense needed to stop Vanderbilt. While the Commodores did turn the ball over sixteen times in the first half, only three of those were Duke steals. Without the benefit of live ball turnovers, Duke wasn't able to run much at all, scoring just two points in transition in the first half. The Devils did shoot relatively well in the first period, with Alexis Jones leading the way with ten points. Duke also converted at the foul line in a half that featured 21 first half fouls.
For most of the game, Duke held a small lead, built it up to eight or so points and then saw Vandy cut into it. After three ties and five lead changes in the first six minutes of the game, Duke started to gain that bit of separation late in the first half. However, Vandy scored the last six points of the half to cut the lead to just a pair. The first ten minutes of the second half featured fireworks from both clubs, as Duke hit a quartet of three pointers and was matched by Vandy in that regard, as Dore star Christina Foggie drained a couple of threes and Jasmine Lister also hit a pair. Vandy coach Melanie Balcomb noted that she thought her team eventually tried to match Duke shot-for-shot too much instead of patiently playing their game. They paid for it when Duke went on that 11-0 run. The run started with a three by Liston, a pull-up jumper from Jones and then a spectacular full court pass from Gray to Liston, who simply pulled up in transition and splashed in the trey. Duke's defense tightened up as they forced players to take bad shots and Gray went into Closer mode. She finished the run with a spectacular drive and the foul. After that, the two teams essentially traded shots for the rest of the game, though Duke went up by as much as twenty-three points down the stretch. Duke shot over fifty percent for the third straight time and wound up dominating in points off turnovers, 31-12. The proficiency of Vanderbilt's shooters and their unusual defense made this a good matchup for the Devils. That's especially because, as Coach McCallie noted, Duke's next opponent plays a similar style at both ends as Vandy. Top Performers:
Chelsea Gray, Duke. 14 points, 8 rebounds, 12 assists. Chelsea once again flirted with a triple-double and took over the game at both ends.


Alexis Jones, Duke. 17 points, 5 assists, 3 steals. Lex quietly worked well with Chelsea and hit a number of tough shots while finding her teammates.


Jasmine Lister, Vanderbilt. 23 points, 4 rebounds, 4 assists. Lister killed Duke from long range and also got into the lane more than once. She certainly showed no fear of Duke's quick guards.
Please Support our Sponsor!
Duke Blue Devils Team Box Score
| | | | | | | | | | | | | | |
| --- | --- | --- | --- | --- | --- | --- | --- | --- | --- | --- | --- | --- | --- |
| | PTS | FG | FG % | 3FG | 3FG % | FT | FT% | A | O-D-REB | BLK | STL | TO | PF |
| TOT | 88 | 31-60 | 51.7 | 11-19 | 57.9 | 15-20 | 75.0 | 23 | 11-21-32 | 4 | 11 | 19 | 16 |
| 1st | 36 | 11-28 | 39.3 | 4-9 | 44.4 | 10-12 | 83.3 | 10 | 5-11-16 | 3 | 4 | 11 | 13 |
| 2nd | 52 | 20-32 | 62.5 | 7-10 | 70.0 | 5-8 | 62.5 | 13 | 6-10-16 | 1 | 7 | 8 | 3 |
Vanderbilt Team Box Score
| | | | | | | | | | | | | | |
| --- | --- | --- | --- | --- | --- | --- | --- | --- | --- | --- | --- | --- | --- |
| | PTS | FG | FG % | 3FG | 3FG % | FT | FT% | A | O-D-REB | BLK | STL | TO | PF |
| 2nd | 35 | 14-28 | 50.0 | 4-13 | 30.8 | 3-3 | 100.0 | 6 | 4-7-11 | 0 | 3 | 12 | 8 |
| TOT | 69 | 25-52 | 48.1 | 8-22 | 36.4 | 11-16 | 68.8 | 15 | 9-20-29 | 0 | 9 | 28 | 19 |
| 1st | 34 | 11-24 | 45.8 | 4-9 | 44.4 | 8-13 | 61.5 | 9 | 5-13-18 | 0 | 6 | 16 | 11 |
---
Please support DWHoops with a site membership today!
Click Here to Learn More