| | |
| --- | --- |
| R BUCK RANCH NUTSHELL: Devils Make Quick Work of Eagles | |
Winthrop had no answer for Duke's defense as the #2 seed Blue Devils rolled over the #15 Eagles in first round NCAA Lincoln Regional action.
Photo by Orin Day
Please Support our Sponsor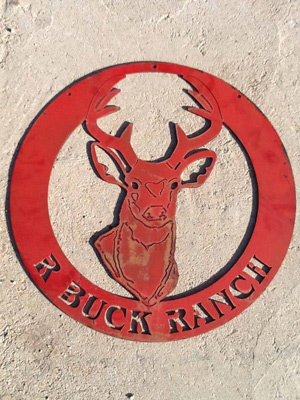 Click here to learn more about R Buck Ranch. Owned and operated by DWB fans in the Heart of Texas, Turkey and Exotic Season starts April 1!
---
Join DWHoops with Paypal!



DWHoops Needs
Your Support!
Click Here for More Info
DURHAM -- Fifteen seed Winthrop (24-9) gave two seed Duke (28-6) a reasonably stiff test for the first sixteen minutes of the first half. Then the Devils clamped down, forcing three turnovers and ending the half on a 12-0 run that turned a twelve point game into a blowout. The Devils' size and length was too much for a smallish Eagle squad that depended mightily on 6-3 center Schaquilla Nunn for production down low. When she went out with her second foul eight minutes into the first half, it suddenly became much harder for the Eagles to defend the post-heavy Devils. A focused and determined Duke team blew out to a 17-5 lead in the first eight minutes thanks to great passing and balanced inside-outside play. Duke scoring inside in the early going opened things up for a couple of treys for Tricia Liston, who had four on the day to move into a tie for 7th place all-time in ACC history with 252 made threes. Meanwhile, Winthrop had trouble getting the ball into the paint for anything resembling an open look. Adjusting to Duke's size was a bit of a shock, and they didn't do a great job of connecting from long range in the early going. Three-time Big South player of the year Dequesha McClanahan hit a trey to cut the lead to 17-9 with twelve minutes left in the half, which began a good ten minute span that saw the teams trade baskets.
The Eagles were able to stick around because they were getting offensive rebounds and because McClanahan was finding ways to get looks at the basket. They weren't able to make up ground because the Devils kept pounding it into the post, often with post-to-post passes. Indeed, bigs Elizabeth Williams, Haley Peters and Kendall McCravey-Cooper combined for twelve of Duke's 21 assists! Winthrop hit a three with under four minutes in the half to cut the lead to 29-17, and you could see the Eagles celebrate a bit. Peters then hit a short jumper and Liston followed that up after an Eagle miss. Peters got in Winthrop's passing lanes (she read them right all game long) and Williams soon score. Another steal by Peters led to free throws by Liston. Richa Jackson had a steal and runout with 34 seconds left. The Devils led 41-17 at the half and were in complete control. Duke dominated the boards and committed just six turnovers; I thought it curious that Winthrop coach Kevin Cook chose not to press earlier in the game given that Duke has a thin guard corps.
Winthrop hit a couple of threes early in the second half to cut the lead down to 21 points, and coach Joanne P. McCallie called a timeout to remind her team to focus. The Devils scored the next seven points, but Winthrop kept fighting, pulling to within 21 again midway through the half at 60-39. They would score just six points the rest of the way as Duke blasted them on a 27-6 game-ending run. The Devils were able to rest its starters a reasonable amount (only Liston played as many as 32 minutes) and got superb play from its bench, who scored 36 points. The Devils took this game seriously and went for the kill when they had the chance.
Top Performers
Tricia Liston, Duke. 20 points, 6 rebounds, 2 assists. Tricia hit a bunch of threes, but it was her rebounding at key moments that was most impressive.


Haley Peters, Duke. 11 points, 6 rebounds, 6 assists, 5 steals. This was a superb all-around effort for Haley, who disrupted Winthrop with her defensive reads and found her teammates in the post and the perimeter.


Dequesha McClanahan, Winthrop. 22 points, 6 rebounds, 6 assists, 2 steals. The senior went down fighting, finding gaps in Duke's defense to get off tough shots while still finding time to set up her teammates.


Duke Blue Devils Team Box Score
| | | | | | | | | | | | | | |
| --- | --- | --- | --- | --- | --- | --- | --- | --- | --- | --- | --- | --- | --- |
| | PTS | FG | FG % | 3FG | 3FG % | FT | FT% | A | O-D-REB | BLK | STL | TO | PF |
| TOT | 87 | 34-63 | 54.0 | 6-15 | 40.0 | 13-17 | 76.5 | 21 | 16-33-49 | 7 | 13 | 13 | 11 |
| 1st | 41 | 17-31 | 54.8 | 2-7 | 28.6 | 5-6 | 83.3 | 11 | 8-17-25 | 5 | 4 | 6 | 6 |
| 2nd | 46 | 17-32 | 53.1 | 4-8 | 50.0 | 8-11 | 72.7 | 10 | 8-16-24 | 2 | 9 | 7 | 5 |
Winthrop Team Box Score
| | | | | | | | | | | | | | |
| --- | --- | --- | --- | --- | --- | --- | --- | --- | --- | --- | --- | --- | --- |
| | PTS | FG | FG % | 3FG | 3FG % | FT | FT% | A | O-D-REB | BLK | STL | TO | PF |
| 1st | 17 | 6-29 | 20.7 | 3-11 | 27.3 | 2-2 | 100.0 | 5 | 6-6-12 | 0 | 2 | 7 | 5 |
| 2nd | 28 | 9-26 | 34.6 | 6-12 | 50.0 | 4-5 | 80.0 | 6 | 1-10-11 | 1 | 4 | 10 | 11 |
| TOT | 45 | 15-55 | 27.3 | 9-23 | 39.1 | 6-7 | 85.7 | 11 | 7-16-23 | 1 | 6 | 17 | 16 |
---
Please support DWHoops with a site membership today!
Click Here to Learn More