| | |
| --- | --- |
| NOSH Nutshell: Duke Finishes Game on 18-0 Run | |
Freshmen Start Strong!
Azurá Stevens (left) and Rebecca Greenwell (right) each notched double-doubles as Duke downed Marquette, 83-51.
DWHoops Photos by Orin Day
Please Support our Sponsor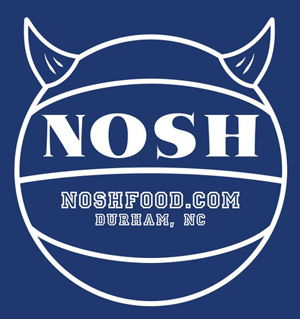 Visit NOSH for great food!
Click their logo for more info
CAMERON INDOOR STADIUM -- The final margin of Duke's 83-51 win over Marquette was a bit deceiving. The Blue Devils played poorly in the early going, made a huge run to take a definitive lead, slipped a bit late in the half when they could have really slammed the door on the Golden Eagles, and then gave up a huge run to start the second half. Every time it seemed like Duke was ready to take complete control, Marquette made it a competitive contest. The Eagles never drew closer than 12 points (with under ten minutes to go), but it took a dominant 18-0 Duke run to generate the final margin.
This being Duke's home opener (and with a pretty good crowd), one sensed some excited nerves in the early going. One got the sense that Duke was trying to blow Marquette out in the first two minutes of the game rather than being patient and simply taking care of business on a possession-by-possession basis. As a result, Duke took quick shots, dumb shots, off-balance shots and worst of all, looked like they were waiting for the officials to bail them out of some of their shots. Marquette took an 8-4 lead thanks to nailing some early threes, putting Duke in the unusual position of trailing at home.
The Devils righted the ship with a 28-4 run that played to their strengths. They looked to attack the basket and generated 8 free throws. They went hard to the offensive boards, as Azurá Stevens twice scored on stickbacks. They made timely and efficient use of the long ball, as Rebecca Greenwell stuck a couple of deflating threes. Finally, Duke relied on its defense to generate offense, as a Ka'lia Johnson steal led to a Sierra Calhoun three point play. Duke kept up its aggressive play going to the basket and pushed the lead to 40-16, until some reserves started slipping and taking bad shots. Duke's aggressiveness decimated a Marquette lineup that wasn't deep to begin with with foul trouble, but that aggressiveness lost some of its discipline. The Devils did at least dominate in the paint and on the boards, which was expected against Marquette.
Marquette made it a game with an 11-4 run to start the second half. Johnson came alive by twice getting fouled going to the hoop as well as finding both Oderah Chidom and Rebecca Greenwell attacking the basket. She was responsible for 8 straight Duke points that pushed the lead up to 52-33. A 7-0 Marquette run brought them as close as they would ever come, but this was answered by a drive from Stevens and a trey from Greenwell. The threes kept dropping to make up some ground for Marquette, and they pulled within 61-49 with under ten minutes to go. Stevens took over at this point. A walking matchup problem, she scored on two stickbacks, a short jumper, and a three point play. That last basket pushed the lead to 72-51. The rest of the game was mop-up, though the young players on the floor looked quite good during that sequence. Both coaches walked away from the game relatively satisfied that both of their teams would be able to learn from this experience.
Top Performers:



Azurá Stevens, Duke. 18 points, 10 rebounds ,3 assists. In just eighteen minutes, Stevens was the model of efficiency, confidence and poise.


Rebecca Greenwell, Duke. 22 points, 12 rebounds, 2 assists, 2 steals, 4-8 3FG. The thing about Greenwell is that even when she's struggling a bit, she's always working. That shows in her effort stats.


Arlesia Morse, Marquette. 17 points, 7 rebounds, 2 steals. After going 0-7 in the first half, Morse drained three consecutive treys in the second half to keep her team close.



Duke Blue Devils Team Box Score

| | | | | | | | | | | | | | |
| --- | --- | --- | --- | --- | --- | --- | --- | --- | --- | --- | --- | --- | --- |
| | PTS | FG | FG % | 3FG | 3FG % | FT | FT% | A | O-D-REB | BLK | STL | TO | PF |
| TOT | 83 | 30-71 | 42.3 | 4-13 | 30.8 | 19-22 | 86.4 | 20 | 19-37-56 | 8 | 12 | 14 | 12 |

Marquette Team Box Score

| | | | | | | | | | | | | | |
| --- | --- | --- | --- | --- | --- | --- | --- | --- | --- | --- | --- | --- | --- |
| | PTS | FG | FG % | 3FG | 3FG % | FT | FT% | A | O-D-REB | BLK | STL | TO | PF |
| TOT | 66 | 28-67 | 41.8 | 8-25 | 32.0 | 2-8 | 25.0 | 14 | 14-15-29 | 4 | 3 | 10 | 10 |

---

Please support DWHoops with a site membership today!
Click Here to Learn More