| | |
| --- | --- |
| NOSH Nutshell: Duke Starts Slow, Finishes Strong | |
Please Support our Sponsor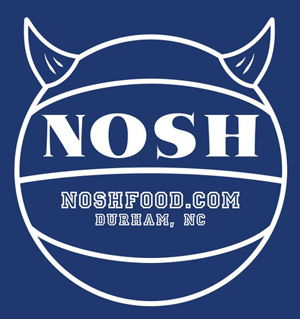 Visit NOSH for great food!
Click their logo for more info
CAMERON INDOOR STADIUM -- Duke used an 15-4 run to start the second half and never looked back in defeating Buffalo, 88-54. Freshman Sierra Calhoun led four Blue Devils freshmen in double figures (a school record) with 21 points on an odd night that saw significant minutes for Duke's deep bench players in the first half and a school record for rebounds set at 69. The previous record was set January 10, 1979 vs. Catabwa, going back to the pre-ACC era of Duke Women's Basketball. "Rebounding is not for the faint hearted," said Coach Joanne McCallie. Regarding Duke's slow start, Coach P commented, "That kind of stuff can't happen, the intensity has to start from the beginning, I think it built, but you have to be a 40 minute team, you can't come and go. I think we got out-fought, we got out-scrapped." Duke fought harder in the second half, finding their way to the free throw line 29 times after just two second half attempts.
"Our chemistry is growing every day in practice," said Calhoun, who hit double figures for the second time in her career while setting a new Duke record for consecutive free throws to start a career before missing on her 15th try. "Free throws definitely win games. I mean, no one is guarding you," a comment that elicited laughter in the media room. Rebecca Greenwell and Elizabeth Williams both notched double doubles, the third for Greenwell in the first four games of her career, while freshman Erin Mathias hit double figures for the first time with 11. Azurá Stevens continued her remarkable efficiency, scoring 12 points on 5-6 shooting and grabbing 7 boards in just seven minutes on the court.
As in previous games, Duke held a huge edge in the paint, outscoring the undersized Bulls 46-14 and a 27-4 edge on second chance points. 20 Blue Devil turnovers was one off the Duke season high of 21 vs. Alabama, largely a function of Buffalo's remarkably quick hands and nose for the ball. When asked about facing Duke's height, coach Felicia Leggette-Jack (a former McCallie assistant) said, "It's not their height, it's their talent." She went on to note that this Duke team was the most talented one that she had faced as a head coach, remarkable given her years in the Big Ten. Duke is indeed very talented, but without corresponding effort the result is the kind of performance seen in the first half, and one that Duke's coaches and fans would not care to see again.
Top Performers
Sierra Calhoun, Duke: 21 points, 7 boards, 4-7 3FG. Calhoun poured in on in the second half, with her second half-opening three pointer setting the tone for Duke putting the game out of reach. She effectively attacked the basket and got to the line without being rejected or stripped, unlike other Duke guards.


Elizabeth Williams, Duke: 14 points, 10 rebounds, 0 blocks. Despite being held without a blocked shot for only the second time in her college career, Liz scored 12 of her 14 in the first half, and was the only non-freshman to crack 10 points for Duke.


Erin Mathias, Duke: 11 points, 6 rebounds,3-4 FG. You could see Mathias' confidence on the court grow after being inserted in the first half, a pleasant surprise.


Camera Milely, Buffalo: 15 points, 6 boards, 2 assists, 1 block. Miley was everywhere in the first half, attacking the basket and foiling Duke's guard penetration. Her career-high scoring effort kept the game close for much longer than it might have been otherwise.



Duke Blue Devils Team Box Score

| | | | | | | | | | | | | | |
| --- | --- | --- | --- | --- | --- | --- | --- | --- | --- | --- | --- | --- | --- |
| | PTS | FG | FG % | 3FG | 3FG % | FT | FT% | A | O-D-REB | BLK | STL | TO | PF |
| 1st | 36 | 17-39 | 43.6 | 2-8 | 25.0 | 0-2 | 0.0 | 11 | 12-18-30 | 1 | 6 | 12 | 11 |
| 2nd | 52 | 16-36 | 44.4 | 3-7 | 42.9 | 17-29 | 58.6 | 6 | 16-23-39 | 2 | 6 | 8 | 8 |
| TOT | 88 | 33-75 | 44.0 | 5-15 | 33.3 | 17-31 | 54.8 | 17 | 28-41-69 | 3 | 12 | 20 | 19 |

Buffalo Team Box Score

| | | | | | | | | | | | | | |
| --- | --- | --- | --- | --- | --- | --- | --- | --- | --- | --- | --- | --- | --- |
| | PTS | FG | FG % | 3FG | 3FG % | FT | FT% | A | O-D-REB | BLK | STL | TO | PF |
| 2nd | 29 | 9-33 | 27.3 | 5-13 | 38.5 | 6-9 | 66.7 | 5 | 4-10-14 | 1 | 5 | 8 | 18 |
| TOT | 54 | 16-64 | 25.0 | 6-21 | 28.6 | 16-23 | 69.6 | 7 | 10-21-31 | 4 | 9 | 17 | 22 |
| 1st | 25 | 7-31 | 22.6 | 1-8 | 12.5 | 10-14 | 71.4 | 2 | 6-11-17 | 3 | 4 | 9 | 4 |

---

Please support DWHoops with a site membership today!
Click Here to Learn More