| | |
| --- | --- |
| NOSH Nutshell: Duke Finds Flow in Second Half | |
Top Scorers
Oderah Chidom (left) and Sierra Calhoun shared scoring honors with 13 points as Duke
held off a tenacious Stony Brook squad, 72-42.
DWHoops Photos by Orin Day
Please Support our Sponsor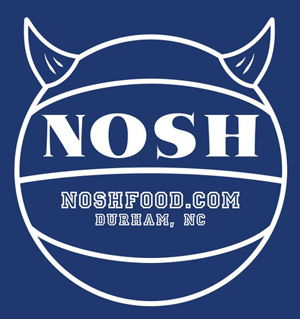 Visit NOSH for great food!
Click their logo for more info
CAMERON INDOOR STADIUM -- Duke's 72-42 triumph over a disciplined Stony Brook team featured yet another deceptive final score. The Blue Devils led by just ten at the half after an initial 11-0 spurt had put them in seeming control of the game. Duke scored just 18 points in the final fourteen minutes of the half, as a sticky Stony Brook zone and a slow pace on offense frustrated the Devils into a number of easy misses. All-America center Elizabeth Williams didn't get an official attempt in the first half and had just 3 points on 3-6 shooting from the foul line. The Seawolves double and even triple teamed her throughout the half, and Duke simply didn't make them pay, nor were they aggressive enough in attacking the post by way of sharp cuts and passes. Defensively, Duke wasn't letting Stony Brook get much either, as they held them to just 24% shooting in the first half and 3-10 from three. The Seawolves are a post-oriented team, so being forced to penetrate and pitch on the fly was something new for them. It didn't help that their top shot-maker, Sabre Proctor, get into early foul trouble and picked up her third foul in the first half. Still, thanks to Duke leaving a lot of points at the foul line and missing a half dozen tip-ins, the Seawolves got as close as 21-16 with four minutes to go in the half.
The game began with Amber Henson making an immediate impact. With Williams bottled up and Rebecca Greenwell constantly shadowed on the perimeter, Henson took passes from Williams and converted a three and a long jumper. Henson then found Ka'lia Johnson on a cut, and Sierra Calhoun completed the run with a couple of foul shots after beginning it with a drive. The Devils then went through multiple but short droughts that saw Stony Brook hang around and even chip away at the lead. When they pulled close, Greenwell made some nice plays, finding Oderah Chidom inside and Calhoun for a three. Dealing with their own foul trouble (Erin Mathias, Henson and Johnson all picked up a pair of fouls), Duke went deep into its bench and Lyneé Belton seized an opportunity, getting a crucial tip-in that pushed the lead from 7 to 9. Duke minimized its turnovers (just 5) in the first half, but they made silly errors, like a turnover on an inbounds play, stepping out of bounds after getting a rebound, and a number of silly fouls.
In the second half, Duke followed its directive to attack the basket and wore down Stony Brook's starters by getting them in even deeper foul trouble. Henson had a stickback plus one to ignite a 9-0 run that suddenly pushed the lead up to 40-22. Calhoun had a steal and dish to Johnson for another three-point play, and Sierra then found Greenwell for her first field goal of the game after going 0-7 in the first half. After a Stony Brook trey, the Devils had another 7-0 to push the lead to 47-25 as Calhoun hit a three off a Greenwell pass, Williams had her first field goal (a tip-in) and Greenwell finished in transition. Duke's lead held steady after that as Proctor was able to get some shots off at last and keep the Seawolves at least within screaming distance, but Duke ended the game on a 15-4 run against an exhausted Stony Brook line-up.
Not surprisingly, Duke dominated the paint points (36-8) and points off turnovers (18-4). Duke committed just 12 turnovers but only managed to force 14 against a team with a lot of chemistry. The Devils swatted 10 shots (several them out on the perimeter), dominated the boards and got plenty of production out of its bench. That said, they absolutely got Stony Brook's best shot, as they battled to the end and weren't afraid to get physical with the bigger Devils. This game concluded a run of three games in six days, with a four game coming on Sunday against a far tougher opponent. While Duke is playing reasonably well, they have a long way to go.
Top Performers



Sierra Calhoun, Duke. 13 points, 2 rebounds, 2 assists. The young wing is starting to put it together in terms of becoming a more efficient and aware player.


Amber Henson, Duke. 10 points, 4 rebounds, 2 blocks, 2 steals. Her maturity and poise tends to calm the entire team down.


Oderah Chidom, Duke. 13 points, 11 rebounds. Her aggressiveness in the second half helped break Stony Brook's zone.
Duke Blue Devils Team Box Score
| | | | | | | | | | | | | | |
| --- | --- | --- | --- | --- | --- | --- | --- | --- | --- | --- | --- | --- | --- |
| | PTS | FG | FG % | 3FG | 3FG % | FT | FT% | A | O-D-REB | BLK | STL | TO | PF |
| 1st | 29 | 9-31 | 29.0 | 3-13 | 23.1 | 8-14 | 57.1 | 7 | 13-15-28 | 6 | 5 | 5 | 9 |
| 2nd | 43 | 17-33 | 51.5 | 3-9 | 33.3 | 6-13 | 46.2 | 6 | 12-16-28 | 4 | 2 | 7 | 8 |
| TOT | 72 | 26-64 | 40.6 | 6-22 | 27.3 | 14-27 | 51.9 | 13 | 25-31-56 | 10 | 7 | 12 | 17 |
Stony Brook Team Box Score
| | | | | | | | | | | | | | |
| --- | --- | --- | --- | --- | --- | --- | --- | --- | --- | --- | --- | --- | --- |
| | PTS | FG | FG % | 3FG | 3FG % | FT | FT% | A | O-D-REB | BLK | STL | TO | PF |
| TOT | 42 | 14-55 | 25.5 | 6-23 | 26.1 | 8-11 | 72.7 | 8 | 12-19-31 | 4 | 3 | 14 | 24 |
| 1st | 25 | 7-31 | 22.6 | 1-8 | 12.5 | 10-14 | 71.4 | 2 | 6-11-17 | 3 | 4 | 9 | 4 |
| 2nd | 29 | 9-33 | 27.3 | 5-13 | 38.5 | 6-9 | 66.7 | 5 | 4-10-14 | 1 | 5 | 8 | 18 |
---
Please support DWHoops with a site membership today!
Click Here to Learn More