| | |
| --- | --- |
| NOSH Nutshell: 10-0 Aggie Run Erases Double Digit Lead | |
Please Support our Sponsor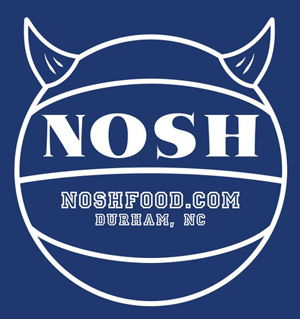 Visit NOSH for great food!
Click their logo for more info
REED ARENA -- Duke's 63-59 loss to Texas A&M in College Station was one where on one hand, the players will be kicking themselves for blowing an amazing opportunity at an upset win. On the other, the fact that Duke dominated the game's tempo for thirty minutes without its top player, Elizabeth Williams (out with an ankle sprain) and still had a number of chances to win at the end is a form of consolation. The game featured A&M's speed and relentless attack off the dribble vs Duke's size. In the early going, A&M seemed a bit over-anxious, as they took quick jump shots instead of trying to find ways to penetrate Duke's zone. To their credit, they used some high screens to free up high post jumpers and hit some. Meanwhile, Duke attacked A&M's man and created space for Rebecca Greenwell, who got in a groove early. The teams were close in the early going, until frosh Azurá Stevens entered the game. She's been a nightmare matchup for many opponents, and the Aggies were no exception. Her presence in the game sparked an 8-2 Duke run, as she hit a jump hook and scored on a spin move, while Greenwell outworked the Aggies on a drive and a stickback.
The Aggies responded and cut the lead to 19-15, but Amber Henson stroked a three and Stevens scored on a stickback to push the lead out to 24-15. Once again, the Aggies took long misses by Duke and managed to either get perimeter jumpers or some drives. The bottom fell out for the Aggies in the last six minutes of the half, however, as Lyneé Belton came in for a foul-plagued Oderah Chidom (starting in place of Williams) and got a stickback. She did a fine job in general of blocking out throughout the game, and the guards did not reward her with the ball much. Sierra Calhoun hit a three (her only make of the game), Greenwell hit two freebies and Ka'lia Johnson sank a 10' jumper to give Duke an improbable 33-21 lead at the half.
The Aggies came out attacking the basket in the second half, cutting the lead to 35-28 in just a couple of minutes.Greenwell responded with a huge three and Stevens scored on a pretty reverse to spark a 10-2 run where that duo scored all the points. In some respects, Duke going up by 15 was the worst thing that could have happened to the team. Instead of staying in the moment on a play-to-play basis, they started playing to the lead. Instead of patiently working the ball inside (and inside-out), they tried and blew shots going to the basket that were taken too quickly. A&M ran off ten straight points before Greenwell stopped the bleeding with a drive, but she also failed to guard Courtney Walker, who hit a momentum-swinging three with eight minutes to go.
Stevens did her best to keep Duke in the game, scoring on a runner and a stick back to keep Duke on top. Greenwell hit two free throws with about five minutes to give Duke its final lead at 53-52, but a three by Jordan Jones once again gave the Aggies momentum. Henson tied the game with two clutch free throws at 55, but turnovers doomed the Devils down the stretch. Duke missed free throws, committed offensive fouls, turned the ball over and couldn't seem to hit anything going to the hoop. The Devils took a number of high-difficulty pull-up jumpers trying to get quick scores instead of working within their offense. This was a young unit without its go-to player, but the Devils had to know that A&M may have had advantages over Duke (not the least of which was playing in a loud arena), but they were not significantly better than the Devils. Duke competed hard, but they will have to compete smarter if they hope to pull out wins against ranked opponents--especially on the road. Duke falls to 5-1 while A&M remains perfect at 7-0.
Top Performers



Courtney Williams, Texas A&M. 21 points, 6 rebounds, 3 assists. Williams was incredibly tough in transition, as no Duke player could keep up with her.


Courtney Walker, Texas A&M.. 19 points, 4 rebounds, 2 assists. Walker's clutch shot-making and tremendous defense carried A&M down the stretch.


Rebecca Greenwell, Duke. .23 points, 5 rebounds, 2 assists. Rebecca carried Duke early as A&M did a poor job of matching up with her, but she struggled to make plays in the second half.
Duke Blue Devils Team Box Score
| | | | | | | | | | | | | | |
| --- | --- | --- | --- | --- | --- | --- | --- | --- | --- | --- | --- | --- | --- |
| | PTS | FG | FG % | 3FG | 3FG % | FT | FT% | A | O-D-REB | BLK | STL | TO | PF |
| 2nd | 26 | 9-35 | 25.7 | 1-7 | 14.3 | 7-9 | 77.8 | 2 | 12-15-27 | 2 | 1 | 9 | 14 |
| TOT | 59 | 22-66 | 33.3 | 5-13 | 38.5 | 10-12 | 83.3 | 10 | 20-28-48 | 5 | 4 | 15 | 22 |
| 1st | 33 | 13-31 | 41.9 | 4-6 | 66.7 | 3-3 | 100.0 | 8 | 8-13-21 | 3 | 3 | 6 | 8 |
Texas A&M Team Box Score
| | | | | | | | | | | | | | |
| --- | --- | --- | --- | --- | --- | --- | --- | --- | --- | --- | --- | --- | --- |
| | PTS | FG | FG % | 3FG | 3FG % | FT | FT% | A | O-D-REB | BLK | STL | TO | PF |
| 1st | 25 | 7-31 | 22.6 | 1-8 | 12.5 | 10-14 | 71.4 | 2 | 6-11-17 | 3 | 4 | 9 | 4 |
| 2nd | 29 | 9-33 | 27.3 | 5-13 | 38.5 | 6-9 | 66.7 | 5 | 4-10-14 | 1 | 5 | 8 | 18 |
| TOT | 63 | 24-60 | 40.0 | 2-12 | 16.7 | 13-18 | 72.2 | 17 | 11-26-37 | 2 | 4 | 9 | 16 |
---
Please support DWHoops with a site membership today!
Click Here to Learn More