| | |
| --- | --- |
| NOSH Nutshell: Devils in Fifties for Second Straight Game | |
Please Support our Sponsor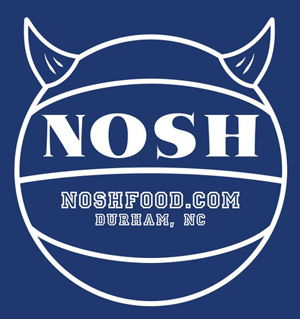 Visit NOSH for great food!
Click their logo for more info
PINNACLE BANK ARENA -- Duke's game against Texas A&M saw them start out hot and fade late. Against Nebraska, the Devils started cold but rallied late. In both games, Duke fell short. Still minus the two-way threat of Elizabeth Williams, a number of problems were exposed by the methodical and clever Cornhuskers. Nebraska blew out to a 22-9 lead thanks to a couple of timely threes, but it was their defensive scheme that was responsible for the advantage. They packed it in down low, kept a spy on Rebecca Greenwell and basically let Sierra Calhoun and Ka'lia Johnson take all the jump shots they wanted. It didn't help that both Oderah Chidom and Azurá Stevens (making her first career start in place of Amber Henson) picked up their second fouls in the middle of the run.
Duke crawled their way back into the game thanks to defense, rebounding and a few timely shots. After a season of struggles, Mercedes Riggs came off the bench and sank an open three. Duke was holding Nebraska to one-and-done and crawled within a couple of points as they started getting to the line. A flurry of turnovers by both teams slowed the action down, but Lyneé Belton got to the line with six seconds to go in the half and sank a couple of foul shots to cut the halftime margin to just 29-28 in favor of Nebraska.
In the second half, the two teams traded leads a few times and generally stayed close. For Duke, Stevens was once again nearly unguardable, as her size on the block makes her short turnaround jumper a truly deadly weapon. When others aren't hitting, she simply slides in to get the offensive rebound, and when she misses, she's adept at sticking it back. One of the key sequences of the game came when Nebraska hit back-to-back threes and Duke couldn't answer. It turned a one-point Duke lead into a small but significant Nebraska advantage. Duke would never lead again, and the Huskers played keep-away. The Devils had all kinds of chances to draw close, but simply couldn't execute down the stretch. Whether it was a foul, a missed box-out, a bad shot taken or something else, the experienced Huskers (with a crowd of over 7,000 backing them all the way) simply made more winning plays during winning time.
Top Performers



Emily Cady, Nebraska. 13 points, 11 rebounds, 4 assists, 2 steals. Cady was especially effective in the first half and did a great job of standing up against Duke's bigs.


Rachel Theriot, Nebraska. 17 points, 6 rebounds, 4 assists. She came alive in the second half and hit some big shots.


Azurá Stevens, Duke. .16 points, 9 rebounds, 2 assists. Stevens came up big against a second consecutive ranked opponent, but she continues to need to fight through foul trouble and mistakes.
Duke Blue Devils Team Box Score
| | | | | | | | | | | | | | |
| --- | --- | --- | --- | --- | --- | --- | --- | --- | --- | --- | --- | --- | --- |
| | PTS | FG | FG % | 3FG | 3FG % | FT | FT% | A | O-D-REB | BLK | STL | TO | PF |
| 1st | 27 | 8-27 | 29.6 | 1-7 | 14.3 | 10-12 | 83.3 | 5 | 8-13-21 | 0 | 3 | 7 | 8 |
| 2nd | 27 | 12-36 | 33.3 | 1-4 | 25.0 | 2-2 | 100.0 | 7 | 10-16-26 | 1 | 4 | 6 | 11 |
| TOT | 54 | 20-63 | 31.7 | 2-11 | 18.2 | 12-14 | 85.7 | 12 | 18-29-47 | 1 | 7 | 13 | 19 |
Nebraska (ACC/B1G) Team Box Score
| | | | | | | | | | | | | | |
| --- | --- | --- | --- | --- | --- | --- | --- | --- | --- | --- | --- | --- | --- |
| | PTS | FG | FG % | 3FG | 3FG % | FT | FT% | A | O-D-REB | BLK | STL | TO | PF |
| 2nd | 29 | 9-33 | 27.3 | 5-13 | 38.5 | 6-9 | 66.7 | 5 | 4-10-14 | 1 | 5 | 8 | 18 |
| TOT | 60 | 21-55 | 38.2 | 6-29 | 20.7 | 12-17 | 70.6 | 16 | 8-26-34 | 3 | 4 | 10 | 12 |
| 1st | 25 | 7-31 | 22.6 | 1-8 | 12.5 | 10-14 | 71.4 | 2 | 6-11-17 | 3 | 4 | 9 | 4 |
---
Please support DWHoops with a site membership today!
Click Here to Learn More