| | |
| --- | --- |
| NOSH Nutshell: Devils Drop Third Straight, all in 50's | |
Devils Fall to South Carolina
Big baskets by Elizabeth Williams and Rebecca Greenwell didn't stake Duke a big enough lead to
avoid a comeback by #1 South Carolina, who won 51-50 in Cameron.
DWHoops Photos by Orin Day
Please Support our Sponsor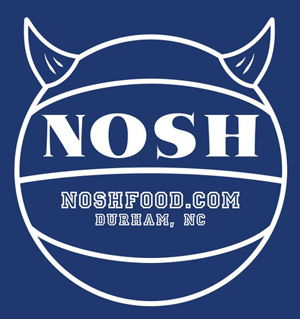 Visit NOSH for great food!
Click their logo for more info
CAMERON INDOOR STADIUM -- Coach Joanne McCallie of Duke was emphatic that whatever mistakes her team made down the stretch, this wasn't what cost her team the win against #1 South Carolina. Indeed, she pointed to USC bolting out to runs of 7-0 and 15-4 to open up the second half that was the real cause of Duke's loss; she described her team as "soft" during that period. Once again, Duke played just well enough to barely lose against a third consecutive ranked opponent. I can only think of ACC associate basketball commissioner Nora Lynn Finch wondering out loud if Duke had overscheduled its non-conference opponents this year, because the Devils hadn't lost three in a row since McCallie's first season in 2008. This team is even younger than her first team. While it does have the advantage of senior All-America Elizabeth Williams, she wasn't at full strength returning from an ankle sprain.
Duke was clearly the more battle-tested team coming into this game. USC's only tough game had been against another ACC foe in Syracuse, and the Orange punished the Gamecocks on the boards, bothered them with their length and equaled their quickness. Despite using four players 6-4 or taller, USC was clearly bothered by Duke's size and ferocious interior defense. No Dawn Staley-coached team minds things getting a little gritty, however, and they certainly fought through the physical nature of this contest. That said, the first half was the equivalent of two heavyweight boxers clinched on the ropes for six rounds. At one point, the two teams combined to miss nearly twenty shots in a row. Duke got off to a quick 9-4 lead thanks to a three by Azurá Stevens, a post-up by Rebecca Greenwell, a drive by Greenwell and a stickback by Stevens. A three by Mercedes Riggs put Duke up 16-11 with about nine minutes to go in the half, and the scoreboard stayed stuck on that number for a long time.
Duke had to manage foul trouble to Williams (two offensive fouls) and Sierra Calhoun. The Devils had a tenuous 19-17 lead with seconds to go in the first half with the Gamecocks possessing the ball, but Greenwell came up with a huge steal and scored a driving basket as time expired. Despite Williams, Calhoun and Oderah Chidom combining to go 0-14 from the field and the Devils committing 12 turnovers, Duke was still more opportunistic, holding a 10-2 edge in points off turnovers. USC star Tiffany Mitchell was just 1-6 from the field and the big USC team was -7 on the boards.
The Gamecocks started the second half on that huge run, and it looked like they might pull away when they led 32-25. Duke, led by Ka'lia Johnson, got tough and started to find ways to manufacture points, aided in part by a number of mental errors on the part of USC. Chidom and Johnson both hit tough bank shots to keep Duke close. While USC kept scoring and went up 36-31 midway through the half, Calhoun hit a huge corner three to pull Duke closer and Chidom blew by her opponents on a drive. After a USC score, Amber Henson tied the game at 38 with a terrific spin move. After another USC basket, Calhoun sank another three to give Duke the lead, and Chidom scored on another drive. The Gamecocks scored consecutive baskets and got some key offensive boards to go up 44-43 with under five minutes left.
Williams then hit a ridiculous scoop shot and took a charge on A'Ja Wilson with four fouls to get the ball back. She sank a hook shot to put Duke up 47-44 and later added a free throw to give Duke a 48-44 lead with under three minutes to go. Then came a crucial possession: Stevens came up with a steal and dished to Johnson. KJ missed the layup and Stevens was called for the foul, giving USC 2 free throws. At a time when the Gamecocks had trouble scoring against Duke, giving away two points was a big deal. Duke had more chances to score, but there was a mixup between Calhoun and Stevens that led to a turnover. The Devils kept getting stops, and Greenwell was tackled by Mitchell with under a minute left. Greenwell hit both freebies to give Duke a 50-46 lead with 42 seconds to go.
After struggling to score all game (Staley said Mitchell was exhausted by guarding Greenwell), Mitchell made a nice step-in move to shake her defender and drained a three with 19 seconds left. Duke got the ball into its preferred foul shooter, Greenwell, but USC opted to press and forced a turnover. Mitchell missed a driving layup by Wilson was there for the stickback. With only two seconds left, no players called a timeout and McCallie couldn't get the ref's attention to do so, leaving Johnson to take a last-second fling at the basket. USC preserved its unbeaten record and Duke swallowed a bitter loss. While there's some small consolation in knowing that they could go toe-to-toe with the #1 team in the country, and that Duke's young players matured in this game, that's cold comfort considering their three game losing streak. Things don't get any easier this month for Duke; if they don't find ways to close out games soon, it could be a long conference season.
Top Performers
A'Ja Wilson, USC. 10 points, 5 rebounds. She went toe-to-toe with Elizabeth Williams and had the game-winning basket.


Asia Dozier, USC. 11 points. She hit a couple of critical three point shots that helped USC roar out into the second half.


Rebecca Greenwell, Duke. 12 points, 5 rebounds, 4 steals. Despite a critical late turnover, Greenwell hit some huge shots going to the basket and put Duke in a position to win.
Duke Blue Devils Team Box Score
| | | | | | | | | | | | | | |
| --- | --- | --- | --- | --- | --- | --- | --- | --- | --- | --- | --- | --- | --- |
| | PTS | FG | FG % | 3FG | 3FG % | FT | FT% | A | O-D-REB | BLK | STL | TO | PF |
| 1st | 21 | 7-32 | 21.9 | 2-11 | 18.2 | 5-6 | 83.3 | 2 | 11-17-28 | 6 | 3 | 12 | 9 |
| 2nd | 29 | 11-25 | 44.0 | 2-8 | 25.0 | 5-7 | 71.4 | 6 | 5-11-16 | 2 | 5 | 10 | 7 |
| TOT | 50 | 18-57 | 31.6 | 4-19 | 21.1 | 10-13 | 76.9 | 8 | 16-28-44 | 8 | 8 | 22 | 16 |
South Carolina Team Box Score
| | | | | | | | | | | | | | |
| --- | --- | --- | --- | --- | --- | --- | --- | --- | --- | --- | --- | --- | --- |
| | PTS | FG | FG % | 3FG | 3FG % | FT | FT% | A | O-D-REB | BLK | STL | TO | PF |
| TOT | 51 | 20-53 | 37.7 | 3-12 | 25.0 | 8-16 | 50.0 | 8 | 12-24-36 | 5 | 12 | 18 | 15 |
| 1st | 25 | 7-31 | 22.6 | 1-8 | 12.5 | 10-14 | 71.4 | 2 | 6-11-17 | 3 | 4 | 9 | 4 |
| 2nd | 29 | 9-33 | 27.3 | 5-13 | 38.5 | 6-9 | 66.7 | 5 | 4-10-14 | 1 | 5 | 8 | 18 |
---
Please support DWHoops with a site membership today!
Click Here to Learn More