| | |
| --- | --- |
| NOSH Nutshell: Devils Snap Losing Streak with Williams' 26/20 Night | |
Back on Track
A dominant Elizabeth Williams helps Duke snap a 3 game losing streak.
Williams line included 26 points, 20 rebounds, 3 assists, and 3 blocks.
DWHoops Photos by Orin Day
Please Support our Sponsor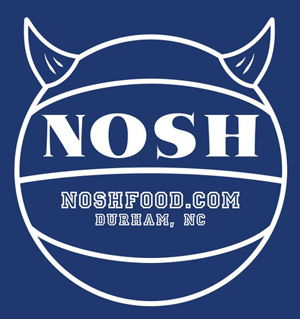 Visit NOSH for great food!
Click their logo for more info
CAMERON INDOOR STADIUM -- Duke got a much-needed win over a struggling but still game Oklahoma club thanks to their inside dominance and aggressive defense. The Sooners came in knowing that they couldn't match up with Duke inside, so they hoped to stay in the game using the three point line. A trio of early treys gave them a lead for the first five minutes of the game, one that was pushed as high a 11-6. Duke got back into the game by actually developing some nice spacing after penetration, as Rebecca Greenwell and Azurá Stevens both hit jump shots. However, Duke made its bones by being aggressive in the paint. A spin move and stickback from Elizabeth Williams gave Duke back the lead. That was the trigger for a 12-0 run that gave Duke a cushion they'd maintain for much of the game.
Oklahoma's strategy was simple: press and trap Duke like crazy, overload their zone to find open shooters in the corner or on the wing, and double and triple team post players. Without a dynamic wing who could attack the basket or a true low-post scoring threat, the Sooners had to rely on their threes dropping and making up the rebounding deficit by forcing turnovers. For a half, that plan almost worked. While the rebounding margin in the half was +20 in favor of Duke, the turnover margin was +8 in favor of Oklahoma. There were truly some egregious turnovers that came off of relatively light Oklahoma pressure, thanks to a lack of communication and panicky decision-making by some of Duke's youngsters. The good news for Duke is that they stayed in attack mode the whole game, looking to pound the ball inside or else just get fouled. There was very little in the way of jacking up bad or quick shots.
Every time the Sooners would splash in a three, Duke would counter: a three by Sierra Calhoun, two free throws by Stevens, a spectacular drive by Stevens, a finish on the block by Stevens on a feed by Williams. The Devils pulled ahead 37-25 on a beautiful high-low play from Williams to Lyneé Belto, but consecutive gaffes allowed the Sooners to pull within 8 points. After Williams gave Duke 42-31 lead after a spectacular drive by Williams, the Sooners hit a trey at the buzzer to make it an eight point game. That came after Jenna Frush was inserted into the game, and she promptly lost her rotation and allowed an open shot. For the game, sophs Oderah Chidom and Kendall Cooper were facing disciplinary action in the first half, such that they'd be the last players coming off the bench. The Devils certainly missed Chidom's energy in particular, and she'd have an impact in the second half.
Duke came out with intensity in the second half. Stevens had an early trey, while Williams scored on a stickback and a hook shot. Oklahoma's threes kept them within shouting distance, but Duke started turning over the Sooners and converting at the other end. An 8-0 was triggered by Calhoun nailing a three in her favorite spot (the left corner), Ka'lia Johnson (aggressive in attacking the hoop all night) hitting a free throw, and Chidom coming up with a stickback and a great pass to Calhoun under the basket, who used a pump fake to clear her defender and score. Right after that sequence, an irate Oklahoma coach Sherri Coale ran out on the floor during a timeout and started pointing at an official, drawing an obviously premeditated technical foul. When Calhoun hit both shots, Duke suddenly had a 63-45 lead.
The Sooners hung around for a bit, but Duke's highly active defense was now doing a better job staying with shooters and forcing the Sooners to come inside and try their luck in the paint. Johnson was also patrolling the passing lanes like a free safety, picking off errant cross-court passes. A steal and layup and then a 19' jumper by Williams showed just how on fire she was in this game. The latter play gave Duke a 73-53 lead with eight minutes left. The lead got as high as 26 points for Duke down the stretch, with the only remaining mystery left being if Williams would reach the 20 rebound mark. Her 20th board was met with a roar by the crowd. Unfortunately, a highly needed feel-good win for Duke was marred by Belton going down with a knee injury with just 14 seconds left in the game. No word yet on the prognosis, but it was especially a shame because she had played so well.
Top Performers
Elizabeth Williams, Duke. 26 points, 20 rebounds, 3 assists, 3 blocks, 2 steals. Liz got great position on her career rebounding night, but her ability to jump high for boards is something she didn't have the last couple of years.


Azurá Stevens, Duke. 17 points, 8 rebounds, 3 assists, 2 blocks. Stevens gets more confident, aggressive and efficient with each game.


Gabbi Ortiz, Oklahoma. 14 points, 5 rebounds, 8 assists. Her gunslinging style from beyond the arc gave her teammates a lot of confidence.
Duke Blue Devils Team Box Score
| | | | | | | | | | | | | | |
| --- | --- | --- | --- | --- | --- | --- | --- | --- | --- | --- | --- | --- | --- |
| | PTS | FG | FG % | 3FG | 3FG % | FT | FT% | A | O-D-REB | BLK | STL | TO | PF |
| TOT | 92 | 32-66 | 48.5 | 5-15 | 33.3 | 23-30 | 76.7 | 18 | 23-34-57 | 8 | 12 | 22 | 18 |
| 1st | 42 | 16-31 | 51.6 | 2-6 | 33.3 | 8-11 | 72.7 | 9 | 12-19-31 | 4 | 5 | 15 | 7 |
| 2nd | 50 | 16-35 | 45.7 | 3-9 | 33.3 | 15-19 | 78.9 | 9 | 11-15-26 | 4 | 7 | 7 | 11 |
Oklahoma Team Box Score
| | | | | | | | | | | | | | |
| --- | --- | --- | --- | --- | --- | --- | --- | --- | --- | --- | --- | --- | --- |
| | PTS | FG | FG % | 3FG | 3FG % | FT | FT% | A | O-D-REB | BLK | STL | TO | PF |
| 1st | 34 | 13-36 | 36.1 | 7-20 | 35.0 | 1-5 | 20.0 | 7 | 6-5-11 | 1 | 8 | 7 | 9 |
| 2nd | 38 | 13-28 | 46.4 | 6-14 | 42.9 | 6-7 | 85.7 | 10 | 1-11-12 | 2 | 2 | 10 | 13 |
| TOT | 72 | 26-64 | 40.6 | 13-34 | 38.2 | 7-12 | 58.3 | 17 | 7-16-23 | 3 | 10 | 17 | 22 |
---
Please support DWHoops with a site membership today!
Click Here to Learn More