| | |
| --- | --- |
| NOSH Nutshell: River Hawks No Match for Duke | |

Sierra Calhoun led Duke with 19 points
DWHoops photo by Orin Day
---
Please Support our Sponsor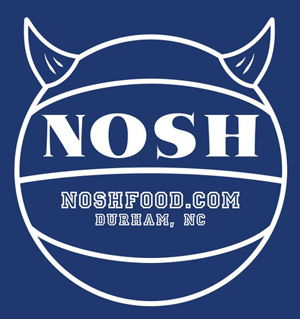 Visit NOSH for great food!
Click their logo for more info
CAMERON INDOOR STADIUM -- Six Duke players scored in double figures led by Sierra Calhoun with 19 as the Blue Devils blew out UMass Lowell, 95-48. The height and skill gap between the Blue Devils and River Hawks was evident from the start as Duke jumped out to a 24-7 lead, led 50-20 at halftime, and coasted the rest of the way. Only cold three point shooting from the Devils (3-14) and coach McCallie resting her starters kept Duke under 100 points for the contest. With a gross height advantage at every position, the Devils dumped the ball into the paint again and again, outscoring UML 62-18 in that category, and 27-9 in second chance points. Azurá Stevens finished with a double-double while Ka'lia Johnson had a quietly efficient night - 9 points, 6 boards, 6 assists to 1 turnover, and no missed shots in just 22 minutes of play. In fact Duke was remarkably careful with the basketball, committing a season low 9 turnovers. Mercedes Riggs also contributed to that stability with a career high five assists to just one turnover, effectively leading the offense to good inside shots. "It was just a good game for us to grow and learn and improve," said Coach P. "We had strong rebounding, reduced turnovers, and a lot of balanced scoring and a lot of good attack stuff out there."
Senior Shannon Samuels led the River Hawks with 26 points on 11-22 shooting as she accounted for 14 of Lowell's 20 first half points. Nicole Hayner added nine points, all in the second half. Coach Jenerrie Harris said, "Duke was definitely another level of tall. II thought we gave a great effort in the last 20 minutes and that's definitely something to build off of." Duke improves to 7-3 going into a Sunday battle with #8 Kentucky, while UMass Lowell stands at a respectable 5-5 in their first season of Division I competition. One note for Duke going forward is that Lyneé Belton's injury Wednesday night was indeed a torn ACL, and she will be lost for the season. "It makes me really mad," said McCallie. "She was coming on very strong for our team and 18 seconds left in the game she bangs knees with an Oklahoma player. She'll handle it well and she'll learn from it herself, but it doesn't seem right."
Top Performers
Sierra Calhoun, Duke. 19 points, 4 rebounds, 3 steals. Sierra was effective everywhere save behind the arc. Being more aggressive not only got her higher percentage shots, but also to the line where she converted 8-10. She was a true go-to player when things got stagnant, and Duke needs this kind of contribution.


Shannon Samuels, UMass Lowell. 26 points, 11-22 FG, 3-7 3FG, 4 rebounds. Samuels just wouldn't quit, a performance that coach McCallie would be a motivator for Duke's next game, and that's a high compliment.


Azurá Stevens, Duke. 10 points, 11 rebounds, 1 block, 20 minutes. The game continues to slow down for Azura who didn't let up against a lesser opponent. Her three three point attempts were all on-target but didn't fall.


Ka'lia Johnson, Duke. 9 points, 6 assists, 6 rebounds, no missed shots, 22 minutes. With more time on the floor, this could have been a second triple-double for KJ.
Duke Blue Devils Team Box Score
| | | | | | | | | | | | | | |
| --- | --- | --- | --- | --- | --- | --- | --- | --- | --- | --- | --- | --- | --- |
| | PTS | FG | FG % | 3FG | 3FG % | FT | FT% | A | O-D-REB | BLK | STL | TO | PF |
| 1st | 50 | 19-38 | 50.0 | 1-8 | 12.5 | 11-14 | 78.6 | 8 | 10-19-29 | 4 | 10 | 4 | 3 |
| 2nd | 45 | 17-37 | 45.9 | 2-6 | 33.3 | 9-14 | 64.3 | 12 | 13-16-29 | 3 | 5 | 5 | 8 |
| TOT | 95 | 36-75 | 48.0 | 3-14 | 21.4 | 20-28 | 71.4 | 20 | 23-35-58 | 7 | 15 | 9 | 11 |
UMass Lowell Team Box Score
| | | | | | | | | | | | | | |
| --- | --- | --- | --- | --- | --- | --- | --- | --- | --- | --- | --- | --- | --- |
| | PTS | FG | FG % | 3FG | 3FG % | FT | FT% | A | O-D-REB | BLK | STL | TO | PF |
| 1st | 20 | 8-31 | 25.8 | 4-17 | 23.5 | 0-0 | | 3 | 4-11-15 | 0 | 3 | 12 | 9 |
| 2nd | 28 | 10-30 | 33.3 | 3-15 | 20.0 | 5-7 | 71.4 | 7 | 5-10-15 | 1 | 3 | 7 | 10 |
| TOT | 48 | 18-61 | 29.5 | 7-32 | 21.9 | 5-7 | 71.4 | 10 | 9-21-30 | 1 | 6 | 19 | 19 |
---
Please support DWHoops with a site membership today!
Click Here to Learn More