| | |
| --- | --- |
| NOSH Nutshell: Balanced Blue Devils, Cold Shooting Doom Cats | |
Signature Win
Azurá Stevens' 17 point effort led Duke to a 21 point win over #8 Kentucky,
and a post-game celebration featuring a midcourt team primal scream.
DWHoops Photos by Orin Day
Please Support our Sponsor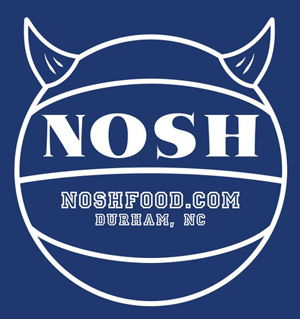 Visit NOSH for great food!
Click their logo for more info
---
Today's win was especially meaningful for Kentucky native Rebecca Greenwell
DWHoops Photo by Orin Day
---
Join DWHoops with Paypal!



DWHoops Needs
Your Support!
Click Here for More Info
CAMERON INDOOR STADIUM -- Duke capped off a stretch of three games in five days in style, crushing an athletic Kentucky team that was simply disastrous from long range. In a series of surprising reversals, Duke got off to a hot start from distance, nailing a trio of treys in the first five minutes to establish an early nine point lead. Wisely, Duke didn't remain perimeter-happy, in part because Kentucky played an aggressive trapping defense but mostly stayed in a man-to-man for the duration of the game. That allowed Duke to get the ball inside repeatedly (42 points in the paint) and attack the basket (25-34 from the line). Part of that was due to the game plan, but Duke has simply become better at using better passing angles and improving timing on passes into the paint from both the high post and the wing. There were many fewer passes to double-teamed players or thrown out of reach in this game, and there were some remarkably accurate passes that were a result of players knowing where they were going to be on the floor.
The good thing about this game for Duke is that despite winning by double digits and rarely leading by less than 11 points after the first fifteen minutes of the game, they never felt totally in control. Indeed, the Wildcats were doing a lot of tough things: scrapping after offensive rebounds (26 fo game), turning Duke over (25), getting to the foul line (27 times), and attacking the basket (36 points in the paint). Their loss wasn't so much one of effort, but of execution. They didn't hit open shots and didn't hit enough shots to get Duke out of its zone. They turned Duke over with their constant pressure, but they also gave up lanes to some unlikely Duke players. Offensively, Duke did a much better job than in prior games of making solid connecting plays to cutting and open players. Some of that came in transition, but that was also a result of players making smart decisions to find open teammates in the halfcourt.
Elizabeth Williams found Rebecca Greenwell open for a three to kick things off, and Greenwell found Sierra Calhoun to give Duke a 6-0 lead. A 17' jumper behind a screen by Azurá Stevens (an unguardable play) and a stickback by Greenwell gave Duke a 10-2 lead. A three by Stevens and a perfect feed from Williams into Oderah Chidom from the high post made it 15-4, giving Duke a working margin they'd never lose. Back-to-back steals by Kentucky cut the lead to 7, but that's when Duke started grinding away. Williams, Calhoun and Chidom hit six straight foul shots, and Williams found Stevens posting up to make it 23-12. Kentucky finally hit a couple of baskets back-to-back in halfcourt play, aided in part by Johnson missing the front end of a one-and-one. With eight minutes to go in the half, it felt like Kentucky was ready to make a run, having cut the lead to seven once again.
Instead, Duke scored six straight points. Johnson got the ball inside to Amber Henson, who had a huge impact in this game. Henson followed that up with a dish inside to Williams, and Johnson hit two foul shots after a steal. Meanwhile, Kentucky was settling for the three and missing badly. Kentucky's Jennifer O'Neill finally hit a three, but Henson loaded up and nailed one from the corner. Greenwell followed that up with a trey, Henson scored with her right hand, and Greenwell scooped up a loose ball to give Duke an improbable 39-19 lead with three minutes to go in the half.
Johnson then picked up her second foul and went to the bench, and Mercedes Riggs entered the game. Kentucky got to the line and cut the lead to 39-22, but Henson found a cutting Chidom, Chidom found a cutting Calhoun, and Riggs picked up a steal and jogged it in for a layup (keeping an eye behind her at all times). Kentucky scored, but Greenwell found Chidom for a score. After a Kentucky score, Riggs was fouled and hit both shots. After a missed foul shot by Kentucky, Riggs zoomed in to secure a tough rebound (the kind Duke had been giving up to the Wildcats all half), giving Duke a 49-26 lead. Despite grabbing 14 offensive rebounds, Kentucky only scored 5 second-chance points. And despite Duke coughing up the ball 11 times, they had more points off turnovers (10-7) than the Wildcats. It helped that Duke shot 61% to just 23% for Kentucky, but a lot of that came from both shot selection and exploiting mismatches.
Kentucky has faced several halftime deficits this season, and they'd managed to rally from all but one of them. Given their aggressive, trapping style, it's not a surprise that they've managed to do this -- especially with their best defensive player, Bria Goss, who is currently injured. In the second half, Kentucky gave up on taking threes and tried to press and attack the hoop. They went on a 14-4 run to start the second half as Duke turned the ball over five times. Only a coast-to-coast drive by Williams and a loose-ball score by Stevens stemmed the tide slightly. Chidom also went in on a drive, and Johnson found Williams on a bomb for a three point play, prompting her to jump into her teammate's arms as Cameron exploded.
The Wildcats kept coming, scoring five straight points to cut the lead to 14. Calhoun had a driving three point play, as every Duke score made it tougher for the Wildcats. A turnover by Henson and a questionable three attempt by Calhoun led to four straight Wildcat points. Henson hit a couple of free throws, but back-to-back Duke turnovers made it 63-52 with eleven minutes to go. This was as close as Kentucky had been for quite some time. Greenwell got free for a short jumper off an inbounds play (a smart read by Johnson), and it was Duke's turn to do some work. Williams got a tough rebound and fed Stevens down low, who got fouled. Coach McCallie noted that at that juncture of the game, Stevens gave them a mismatch in the post, and they tried to exploit it as much as possible. Henson found her in a high-low, and Stevens posted up yet again and got fouled, hitting a free throw. That gave Duke a 16 point lead with nine minutes left.
Duke continued to attack the hoop and started to get Kentucky in real foul trouble. The Devils scored 6 straight points to boost their lead to 21. Kentucky would come no closer than 16 the rest of the way, as Duke continued to pound the ball inside. A late three by Johnson was the coup de grace, as the Devils celebrated a resume'-building win right before a week off.
Top Performers
Elizabeth Williams, Duke. 13 points, 10 rebounds, 3 assists, 3 blocks. Liz was a defensive monster and got a lot of tough rebounds, but the best part of her game was the way she moved the ball around.


Azurá Stevens, Duke. 17 points, 9 rebounds, 2 blocks. Duke's toughest matchup scored from all over the floor, got to the foul line and looked confident doing it.


Alexis Jennings, Kentucky.. 17 points, 3 rebounds. On a day when a number of Kentucky's veterans struggled, this young player was a huge spark off the bench.
Duke Blue Devils Team Box Score
| | | | | | | | | | | | | | |
| --- | --- | --- | --- | --- | --- | --- | --- | --- | --- | --- | --- | --- | --- |
| | PTS | FG | FG % | 3FG | 3FG % | FT | FT% | A | O-D-REB | BLK | STL | TO | PF |
| 1st | 49 | 17-28 | 60.7 | 5-8 | 62.5 | 10-13 | 76.9 | 12 | 7-19-26 | 6 | 4 | 11 | 12 |
| 2nd | 40 | 12-24 | 50.0 | 1-6 | 16.7 | 15-21 | 71.4 | 7 | 6-16-22 | 4 | 6 | 14 | 9 |
| TOT | 89 | 29-52 | 55.8 | 6-14 | 42.9 | 25-34 | 73.5 | 19 | 13-35-48 | 10 | 10 | 25 | 20 |
Kentucky Team Box Score
| | | | | | | | | | | | | | |
| --- | --- | --- | --- | --- | --- | --- | --- | --- | --- | --- | --- | --- | --- |
| | PTS | FG | FG % | 3FG | 3FG % | FT | FT% | A | O-D-REB | BLK | STL | TO | PF |
| TOT | 68 | 25-80 | 31.3 | 2-24 | 8.3 | 16-27 | 59.3 | 9 | 26-14-40 | 3 | 12 | 14 | 25 |
| 1st | 26 | 9-39 | 23.1 | 1-13 | 7.7 | 7-13 | 53.8 | 4 | 14-5-19 | 2 | 6 | 7 | 12 |
| 2nd | 42 | 16-41 | 39.0 | 1-11 | 9.1 | 9-14 | 64.3 | 5 | 12-9-21 | 1 | 6 | 7 | 13 |
---
Please support DWHoops with a site membership today!
Click Here to Learn More