| | |
| --- | --- |
| NOSH Nutshell: Series Ends on Usual Sour Note | |
Please Support our Sponsor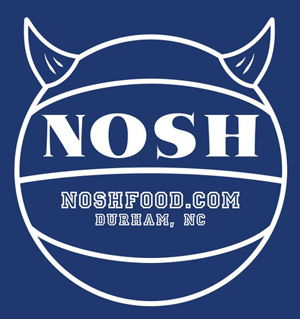 Visit NOSH for great food!
Click their logo for more info
---
Join DWHoops with Paypal!



DWHoops Needs
Your Support!
Click Here for More Info
XL Center -- A decade after Jessica Foley hit a historic shot against UConn, the Huskies once again demonstrated their mastery of Duke in the Joanne P. McCallie era. This one was more than interesting for a half, as Duke actually led for over four minutes in the first half and was tied for another three minutes. While that stat seems like a rather pathetic attempt at digging out positives in a thirty-point blowout, it does indicate that the team went in with a competitive, fighting spirit. Behind an aggressive defense that forced 11 turnovers and scrappy post play, Duke actually led 24-22 with six minutes to go in the first half. That came after a 16-3 Duke run that surprised the Huskies after they took an early lead. The Devils have never been able to successfully fight back after the Huskies have taken control of a game before under McCallie, and it was a combination of UConn turnovers and missed shots that helped Duke quickly get back in the flow.
Duke couldn't sustain that late in the half, and a three by Kaleena Mosqueda-Lewis with 25 seconds to go was the kill shot that UConn needed. Though that gave them just a seven point lead at the half, it felt bigger. Back-to-back threes by Moriah Jefferson to start the second half offset some heroics by Azurá Stevens, who didn't look at all intimidated by the crowd or circumstances. That second trey put UConn up by 11 again, and they never looked back as Duke would only come as close as fourteen. Down the stretch, a dispirited Duke club was essentially run out of the building but a UConn team that was now having fun in front of their home crowd.
After the game, McCallie called out her team for a lack of defensive leadership in the second half. To be sure, the fact that UConn shot 61% in the second half was disappointing. However, I found her comments about her schedule being too hard and the team's lack of fight to be disingenuous. She knew that she'd have a very young team this year, even if she did think she'd have Alexis Jones back. When Nora Lynn Finch (ACC Associate Commissioner)in her remarks at ACCWBB Media Day, says that Duke may have possibly overscheduled this year, then you know you've overscheduled. Rather than blast the players for a lack of effort and leadership, why not take a look at what adjustments UConn made in the second half and why Duke didn't react to them? Not a single one of her Duke teams has been in the same area code as UConn during the series, despite the fact that they've been competitive against everyone else. That's been experienced teams, inexperienced teams, big teams, deep teams, you name it -- UConn has always found a way to render Duke's offense inert and to exploit it defensively. Sometimes this has happened right away, and other times it's taken UConn a half to adjust to what Duke was doing, but it always happened. UConn coach Geno Auriemma has made a habit of doing this against most of the Huskies' opponents over the last fifteen years, so there's no shame in losing (even losing big) to the Huskies. But Duke didn't lose this game simply because they stopped hustling.
Top Performers
Moriah Jefferson, UConn. 18 points, 2 rebounds, 4 assists, 5 steals. She killed Duke with both her long-range shooting (3-4 from three) and her defense.


Breanna Stewart, UConn. 14 points, 5 rebounds, 3 assists. Solid as ever, Stewart played fine defense and scored when needed.


Elizabeth Williams, Duke. 15 points, 8 rebounds, 2 assists, 2 steals. Liz played a great first half and then didn't get the same looks in the second half.
Duke Blue Devils Team Box Score
| | | | | | | | | | | | | | |
| --- | --- | --- | --- | --- | --- | --- | --- | --- | --- | --- | --- | --- | --- |
| | PTS | FG | FG % | 3FG | 3FG % | FT | FT% | A | O-D-REB | BLK | STL | TO | PF |
| TOT | 52 | 17-54 | 31.5 | 4-11 | 36.4 | 14-21 | 66.7 | 11 | 15-17-32 | 2 | 10 | 22 | 19 |
| 1st | 26 | 10-29 | 34.5 | 2-6 | 33.3 | 4-4 | 100.0 | 6 | 6-10-16 | 0 | 6 | 12 | 7 |
| 2nd | 26 | 7-25 | 28.0 | 2-5 | 40.0 | 10-17 | 58.8 | 5 | 9-7-16 | 2 | 4 | 10 | 12 |
Connecticut Team Box Score
| | | | | | | | | | | | | | |
| --- | --- | --- | --- | --- | --- | --- | --- | --- | --- | --- | --- | --- | --- |
| | PTS | FG | FG % | 3FG | 3FG % | FT | FT% | A | O-D-REB | BLK | STL | TO | PF |
| 1st | 33 | 13-30 | 43.3 | 4-12 | 33.3 | 3-6 | 50.0 | 9 | 7-13-20 | 6 | 6 | 11 | 6 |
| 2nd | 50 | 17-28 | 60.7 | 6-12 | 50.0 | 10-14 | 71.4 | 11 | 6-12-18 | 1 | 6 | 5 | 10 |
| TOT | 83 | 30-58 | 51.7 | 10-24 | 41.7 | 13-20 | 65.0 | 20 | 13-25-38 | 7 | 12 | 16 | 16 |
---
Please support DWHoops with a site membership today!
Click Here to Learn More