| | |
| --- | --- |
| NOSH Nutshell: Aggies Provide Bounceback from UConn Debacle | |
Please Support our Sponsor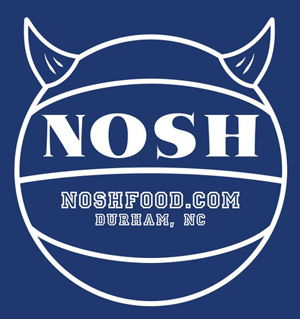 Visit NOSH for great food!
Click their logo for more info
Join DWHoops with Paypal!



DWHoops Needs
Your Support!
Click Here for More Info
CAMERON INDOOR STADIUM -- A disciplined and big NC A&T team favored to win the MEAC gave Duke all it wanted for about six minutes, before the Devils turned on the defensive pressure and used a 14-0 run to flatten the Aggies. A&T is a team with a couple of 6-3 bigs who generally score a lot of points against most opponents, but the Devils keyed in on them and neutralized them. Indeed posts Eboni Ross and Aprill McRae combined to go 2-9 from the field with 9 rebounds and 3 turnovers and just 5 points. Duke instead forced the Aggies to bomb away from the perimeter, and there was a period where they managed to stay in the game. Indeed, when Duke took that early 28-7 lead, the Aggies responded with a 9-2 run on a trio of treys. Though Duke responded with a 7-2 run, A&T hit another three to keep the lead under 20. A three by Rebecca Greenwell gave Duke some extra momentum going into the second half.
The Devils scored the first eight points of the second half and blasted out on a 36-7 run that covered the first thirteen minutes of the period. As it had been true all game, Duke's bigs dominated not just by attacking the basket, but with the pass. Elizabeth Williams had three consecutive assists (to Sierra Calhoun in the corner, Oderah Chidom from the high post and Azurá Stevens on a cut), followed by Chidom with three assists in a row (to Stevens, Ka'lia Johnson and Calhoun). That last basket put Duke up by 34. Even when A&T finally scored again to make it 59-27, Duke rolled off 18 straight points to put the game into deep reserve time. Young players like Erin Mathias got some extended run and continued the post-pass parade that marked Duke's win. All told, the second half in particular was a nice tonic for the UConn loss, until Sierra Calhoun cleaned out her locker after the game, leaving the Duke program in good academic standing.
Top Performers
Rebecca Greenwell, Duke. 20 points, 4 rebounds, 3 assists, 3 steals. She patiently waited for her spots and took advantage.

Azurá Stevens, Duke. 19 points, 8 rebounds, 3 assists, 4 steals, 2 blocks. The usual all-around destruction that she's become known for.


Elizabeth Williams, Duke. 8 points, 5 rebounds, 7 assists, 4 blocks. A mature and patient game for Liz, who navigated triple teams nicely.
Duke Blue Devils Team Box Score
| | | | | | | | | | | | | | |
| --- | --- | --- | --- | --- | --- | --- | --- | --- | --- | --- | --- | --- | --- |
| | PTS | FG | FG % | 3FG | 3FG % | FT | FT% | A | O-D-REB | BLK | STL | TO | PF |
| 1st | 40 | 15-26 | 57.7 | 2-5 | 40.0 | 8-10 | 80.0 | 10 | 4-16-20 | 3 | 7 | 8 | 2 |
| 2nd | 47 | 18-31 | 58.1 | 5-6 | 83.3 | 6-8 | 75.0 | 16 | 5-20-25 | 8 | 6 | 7 | 6 |
| TOT | 87 | 33-57 | 57.9 | 7-11 | 63.6 | 14-18 | 77.8 | 26 | 9-36-45 | 11 | 13 | 15 | 8 |
NC A&T Team Box Score
| | | | | | | | | | | | | | |
| --- | --- | --- | --- | --- | --- | --- | --- | --- | --- | --- | --- | --- | --- |
| | PTS | FG | FG % | 3FG | 3FG % | FT | FT% | A | O-D-REB | BLK | STL | TO | PF |
| 2nd | 16 | 6-32 | 18.8 | 2-12 | 16.7 | 2-3 | 66.7 | 4 | 7-10-17 | 0 | 3 | 9 | 8 |
| TOT | 36 | 13-61 | 21.3 | 7-25 | 28.0 | 3-5 | 60.0 | 10 | 13-18-31 | 3 | 6 | 21 | 16 |
| 1st | 20 | 7-29 | 24.1 | 5-13 | 38.5 | 1-2 | 50.0 | 6 | 6-8-14 | 3 | 3 | 12 | 8 |
---
Please support DWHoops with a site membership today!
Click Here to Learn More