| | |
| --- | --- |
| NOSH Nutshell: 41st Straight Over Deacs was a Battle | |
Please Support our Sponsor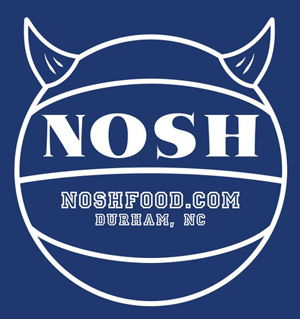 Visit NOSH for great food!
Click their logo for more info
---
Join DWHoops with Paypal!



DWHoops Needs
Your Support!
Click Here for More Info
CAMERON INDOOR STADIUM -- On the day that the transfer of Sierra Calhoun out of the Duke program was announced, Duke fell behind to Wake Forest early, but averted disaster with a 70-63 win, the 41st straight over the Demon Deacons. Four Blue Devils finished in double figures, led by Elizabeth Williams with 18. The tough interior defense of Duke (10-4, 1-0 ACC) was the difference that really stymied the Deacs -- all five Blue Devil posts recorded at least two blocked shots, tying the Cameron record of 15 blocks and led once again by Williams with six. She now needs just 62 to surpass Alison Bales' ACC record 434 blocks and is now averaging 3.5 per game on the season.
Duke's slow start allowed Wake to run out to a 10-0 lead, with multiple missed layups by Duke's posts, and Wake (9-6, 0-1 ACC) scoring eight of those ten in the paint. Dearica Hamby got six of those eight Deacon points, but would only score five more the rest of the way. Duke's first offensive spark came from their posts, with consecutive layups from Williams (predictable) followed by back-to-back treys from Amber Henson (surprise!) keeping the Blue Devils with shouting distance. Duke wasn't getting any stops just yet, but was still putting points on the board. The Wake press was a key as Duke's turned it over 23 times, including 13 in the first half leading to 19 of Wake's 33 points. Even as starters Azurá Stevens and Kendall Cooper were shut out in the first half, Oderah Chidom added eight critical points off the bench as Duke battled back.
Ka'lia Johnson was the first Duke guard to scratch with a fast break layup off a Mercedes Riggs steal that cut Wake's lead to single digits at the 7:38 mark. But the real excitement came in the final 30 seconds of the half. With Duke trailing 33-30, Rebecca Greenwell was fouled on a twisting layup off an inbounds pass. After Becca sunk both, Oderah Chidom stole the inbounds pass from Kelila Atkinson and laid it in. Atkinson then charged into Ka'lia Johnson but Duke couldn't convert, being whistled for a five-second inbounds violation. A missed Millesa Calicott three ended the half with Duke up 34-33. Still, when the dust had settled, Duke had yielded more first half field goals to Wake then to UConn earlier this season.
The second half started out all Blue Devils, opening with a 11-1 Duke run. Two Wake time outs helped stop the bleeding. Wake head coach Jen Hoover said afterwards, "There are games of runs and when you can't score you have to get to the free throw line and knock them down confidently." Indeed, Wake was missing the free throws and layups that helped them gain their early advantage. Three different Duke posts blocked shots in that four minute segment, leading Hoover to clear her bench with a full five player substitution. That squad briefly held their own as Deacon starters returned one by one, and Wake chipped away at a Duke lead that had swelled to 15. A cold Duke stretch and a sudden three point outburst from Wake made it uncomfortably close for the Devils. Duke didn't help themselves at the line, as a Williams missed free throw followed by a Calicott trey made it a 67-63 game with just 2:28 remaining. Wake blew a golden opportunity as Calicott rebounded a Williams miss, tore down the floor, and passed up an open three try to instead cough it up. Wake would miss two more threes that could have made it closer (including a long bomb from Hamby with 11 left on the shot clock) until Johnson was fouled and closed it out with a pair of freebies.
Quite predictably, the first post game questions for coach McCallie focused on Calhoun's departure, noted by the players writing "10" on their wrists before the game, presumably to indicate the remaining 10 healthy players on the Blue Devil Roster. "Character is revealed when difficult things come up in your life. I expected it [the letdown from Sierra leaving and slow start] but I didn't expect it to stay. We just kept pushing to where we needed to get energetically." Indeed, contributions and leadership from Williams and Johnson, including taking charges, were key momentum shifters. Williams added, "It was important for us to emotionally have everyone on the same page. Sierra is great, and we love her, but it was important to have the team be together and as seniors to make sure the team focuses on each other and what we have with us today." From the other side, Hoover was proud of Wake's intensity and focus. "We were obviously disappointed in the outcome, but we worked real hard to come in and were able to hone in on some things we were working on and I'm proud of that."
Top Performers
Elizabeth Williams, Duke: 18 points, 8 rebounds, 6 blocked shots, 5 steals, 1 charge taken. Williams was the difference maker inside, the only blemish on this game were early defensive breakdowns and six missed free throws.

Ka'lia Johnson, Duke: 15 points, 5 assists, 5 rebounds, 2 steals, 2 charges taken. She provided the energy that Duke needed, getting both her teammates and herself active and involved. It will be necessary for Ka'lia to continue to stretch her skills at point as this season unfolds.


Oderah Chidom, Duke: 10 points, 5-9 FG, 5 rebounds, 2 blocks, 2 steals, 2 assists. Solid play off the bench buoyed Duke despite a shoulder brace that she's worn the past two game.
Duke Blue Devils Team Box Score
| | | | | | | | | | | | | | |
| --- | --- | --- | --- | --- | --- | --- | --- | --- | --- | --- | --- | --- | --- |
| | PTS | FG | FG % | 3FG | 3FG % | FT | FT% | A | O-D-REB | BLK | STL | TO | PF |
| 1st | 34 | 14-31 | 45.2 | 2-6 | 33.3 | 4-5 | 80.0 | 9 | 7-13-20 | 7 | 6 | 13 | 8 |
| 2nd | 36 | 13-27 | 48.1 | 2-6 | 33.3 | 8-15 | 53.3 | 7 | 4-17-21 | 8 | 7 | 10 | 9 |
| TOT | 70 | 27-58 | 46.6 | 4-12 | 33.3 | 12-20 | 60.0 | 16 | 11-30-41 | 15 | 13 | 23 | 17 |
Wake Forest Team Box Score
| | | | | | | | | | | | | | |
| --- | --- | --- | --- | --- | --- | --- | --- | --- | --- | --- | --- | --- | --- |
| | PTS | FG | FG % | 3FG | 3FG % | FT | FT% | A | O-D-REB | BLK | STL | TO | PF |
| TOT | 63 | 24-58 | 41.4 | 6-20 | 30.0 | 9-22 | 40.9 | 18 | 10-25-35 | 1 | 10 | 19 | 19 |
| 1st | 33 | 14-29 | 48.3 | 2-8 | 25.0 | 3-10 | 30.0 | 10 | 6-11-17 | 1 | 5 | 11 | 8 |
| 2nd | 30 | 10-29 | 34.5 | 4-12 | 33.3 | 6-12 | 50.0 | 8 | 4-14-18 | 0 | 5 | 8 | 11 |
---
Please support DWHoops with a site membership today!
Click Here to Learn More