| | |
| --- | --- |
| NOSH Nutshell: Devils Hang On Despite 25 Turnovers | |
Narrow Escape
Rebecca Greenwell scored a team high 20 points in Duke's win over Syracuse.
DWHoops Photos by Orin Day
-->

Please Support our Sponsor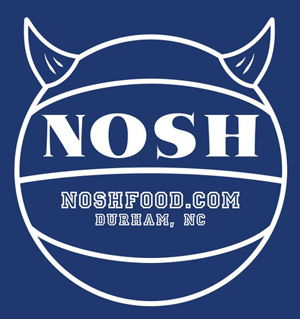 Visit NOSH for great food!
Click their logo for more info
---
Join DWHoops with Paypal!



DWHoops Needs
Your Support!
Click Here for More Info
CAMERON INDOOR STADIUM -- Duke eked out another close win against an ACC foe, this time the #21 ranked Syracuse Orange. After the game, coach McCallie wasn't exactly jumping up and down for joy, because her team got outrebounded, turned the ball over 25 times and in general turned what should have been a comfortable win into a nail-biter. To the credit of the Orange, they never gave up no matter what the deficit and continued to work a series of high screens to free up shooters and saw 13 of 38 three point attempts fall. They won every hustle stat category but couldn't quite find a way to pull ahead in the waning moments of the game.
Duke started out the game looking exceptionally sharp on offense. Azurá Stevens scored the first ten points of the game for the Devils on a pull-up jumper, a three, a couple of free throws and then another three. Her size was giving Syracuse all kinds of trouble. Stevens then hurt her foot, and she said that it was bothering her the rest of the game, but it didn't seem to be a major issue after the game. Duke's posts then made a concerted effort to get the ball inside and out, with Kendall Cooper finding Elizabeth Williams and then Rebecca Greenwell for scores. The Devils then began to give the pressing Orange a taste of their own medicine as they generated several steals. A steal and layup by Greenwell pushed the lead up to 15 with under seven minutes to go.
Syracuse got right back in it with a short jumper (they hit a number of mid-range shots in the first half), a three after a steal and then a steal & layup. Greenwell countered with a three, but back-to-back long and slightly ridiculous treys by Diamond Henderson brought the Orange within 5. Mercedes Riggs hit a huge bomb for Duke and Greenwell followed that up with another trey. Greenwell missed a shot and had her pocket picked for a turnover, and the Cuse was able to keep the halftime deficit at 9. Despite Duke's 13 turnovers, points off turnovers were even at 10. The Devils shot 61.5% in the first half and an incredible 7-9 from three. Syracuse had a great game plan and did a great job of chasing down long rebounds after missed jumpers. When their guards got in the lane, they pulled up for short jumpers instead of charging or simply getting their shots blocked at the rim. Even though their bench wasn't productive in terms of points, rotating in fresh bodies helped keep their pressure constant. Their perimeter barrage was precipitated in part by starting center Briana Day playing just eight minutes because of foul trouble.
Duke started the second half off strong, pushing the lead up to 13 thanks to Elizabeth Williams scoring three times and Greenwell sinking yet another trey. Syracuse struck back and finally made a serious inroads with a 10-2 run. Brianna Butler got free and started to get hot, while Diamond Henderson got to the foul line. Syracuse coach Quentin Hillsman noted in the press conference that while Butler may have a low field goal percentage from three, that's partly because he tells her to shoot no matter what ("I don't care if you have to double-pump it."). In a game like this, you can see why, because her release is so quick and her range is so deep.
Duke responded well to the run with a 9-2 run of their own. Johnson scored on a nice dish from Williams, then found Henson inside. Syracuse then missed five treys in a row and then missed an easy jumper while Duke went scoreless for nearly three minutes. When Riggs broke the drought with a three, it seemed like Duke was in total command. Syracuse then turned the ball over and Riggs then had her pocket picked for an easy Orange layup. Williams had back-to-back careless turnovers, but Syracuse didn't draw closer until the fiive minute mark, when Alexis Peterson sank a three to cut the lead to six. The Orange murdered Duke with second chance opportunities, especially when Butler hit a trey to make it 67-64 with 3:34 left. A Williams foul shot and a Greenwell steal and dish to Johnson for a layup pushed the lead up to six, but Peterson hit a quick shot to keep the pressure on. Johnson was fouled and hi both to make it 72-66, and Duke got the stop and the rebound.
Williams then missed a point-blank layup and the Orange again got two cracks at the basket before Butler got another open look that she drained. Greenwell missed three, but Duke got another opportunity before promptly turning the ball over with 1:16 left. Butler somehow got loose once again and hit another three to tie the game at 72 with under a minute to go. Greenwell shed a defender, drove to the basket, missed a shot, grabbed the board and got fouled. She hit two pressure-packed foul shots with 26 seconds left. This time around, Duke opted to double-team Butler, who passed it to Henderson for an open look on the baseline. That shot bounced off the rim, where it fell to the Orange's Cornelia Fondren. Her shot rolled off the rim and Amber Henson got a strong rebound and handed it to Greenwell. Time ran out and Greenwell emphatically spiked the ball to celebrate holding on.
While Duke shouldn't have been in a position where they had to barely survive, their experience in close games undoubtedly helped them down the stretch--especially Greenwell. The Devils survived Syracuse's 18-8 edge in points off turnovers in the half and being outrebounded overall to win. They were right at 25 turnovers for the game--right at the cutoff point that I established for victory.
Top Performers
Elizabeth Williams, Duke: 16 points, 4 rebounds, 3 assists, 3 blocks, 2 steals. Liz was especially efficient in the first half, when Duke was cutting up Syracuse's zone.

Rebecca Greenwell, Duke 20 points, 6 rebounds, 5 assists, 4 steals.: Got hot early in the game and then made a few big plays down the stretch to clinch the win.


Brianna Butler, Syracuse. :23 points, 5 rebounds, 4 steals. Butler nearly brought the Orange all the way back with her three point shooting.
Duke Blue Devils Team Box Score
| | | | | | | | | | | | | | |
| --- | --- | --- | --- | --- | --- | --- | --- | --- | --- | --- | --- | --- | --- |
| | PTS | FG | FG % | 3FG | 3FG % | FT | FT% | A | O-D-REB | BLK | STL | TO | PF |
| 1st | 45 | 16-26 | 61.5 | 7-9 | 77.8 | 6-7 | 85.7 | 12 | 1-16-17 | 4 | 7 | 13 | 4 |
| 2nd | 29 | 10-22 | 45.5 | 2-6 | 33.3 | 7-8 | 87.5 | 8 | 4-14-18 | 1 | 4 | 12 | 10 |
| TOT | 74 | 26-48 | 54.2 | 9-15 | 60.0 | 13-15 | 86.7 | 20 | 5-30-35 | 5 | 11 | 25 | 14 |
Syracuse Team Box Score
| | | | | | | | | | | | | | |
| --- | --- | --- | --- | --- | --- | --- | --- | --- | --- | --- | --- | --- | --- |
| | PTS | FG | FG % | 3FG | 3FG % | FT | FT% | A | O-D-REB | BLK | STL | TO | PF |
| TOT | 72 | 25-70 | 35.7 | 13-38 | 34.2 | 9-15 | 60.0 | 11 | 19-18-37 | 1 | 14 | 15 | 12 |
| 1st | 37 | 14-38 | 36.8 | 7-20 | 35.0 | 2-4 | 50.0 | 7 | 9-9-18 | 0 | 8 | 7 | 6 |
| 2nd | 35 | 11-32 | 34.4 | 6-18 | 33.3 | 7-11 | 63.6 | 4 | 10-9-19 | 1 | 6 | 8 | 6 |
---
Please support DWHoops with a site membership today!
Click Here to Learn More