| | |
| --- | --- |
| NOSH Nutshell: Devils Unable to Outshoot Hard Rebounding Noles | |
Please Support our Sponsor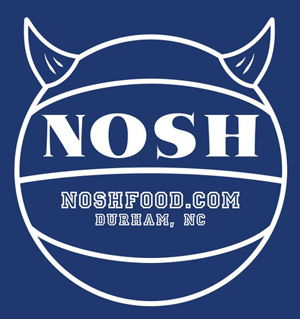 Visit NOSH for great food!
Click their logo for more info
---
Join DWHoops with Paypal!



DWHoops Needs
Your Support!
Click Here for More Info
TALLAHASSEE -- Duke fell to Florida State 74-58 in a game that was close for a half only because of hot Blue Devil shooting in the first 15 minutes. FSU outrebounded Duke 38-28 resulting in a 15-5 advantage in second chance points. Duke's 25 turnovers led to 23 points for the Noles. And, the combination led to FSU taking 17 more shots than the Blue Devils, a deadly combination when Duke went ice cold from the floor.
FSU held a 14-4 offensive rebounding advantage in the first half, using it to stay in the game despite white-hot Blue Devil shooting from Rebecca Greenwell and Azurá Stevens, who combined for 22 first half points. Stevens did not start but entered the game early in the first half despite a lingering foot injury suffered in Thursday's win over Syracuse. However, Duke found little offense beyond the duo in the second half, as their combined 14 points and 4 baskets were 2/3 of Duke's 21 point 6-20 FG second half output.
A big part of Duke's scoring woes was All-American center Elizabeth Williams being almost completely neutralized by Adut Bulgak, the 2014 Junior College player of the year. Williams, who averaged 15 points and 9 boards coming into the game, scored two points on 1-7 shooting in the first half, then was whistled for a remarkable two fouls in the first 30 seconds of the second half. Williams was reinserted after Bulgak's six consecutive points turned Duke's 37-34 lead into a 40-37 deficit, helping Duke rally back into the lead. However, her fourth foul came just two minutes later, and without her presence FSU was able to close out Duke shooters and get better looks on the other end.
Indeed, Duke only attempted three three-point shots in the second half, not counting a play where Greenwell was fouled beyond the arc (converting all three). The combination of not shooting outside and being stopped inside predicts a brutal result, and that was indeed the case.
After some see-saw action, Stevens knotted it at 54 with a jumper at the 6:47 mark. Duke would not score another field goal for the rest of the game. Five FSU second chance points followed by three pointers by Leticia Romero and Maegan Conwright put the Blue Devils in an 11 point hole. Even good shots wouldn't fall for Duke at this point, and Oderah Chidom and Williams were both whistled for fouls contacting Bulgak in the face -- Chidom with her hand on a rebounding play, Williams with the elbow wheeling for a stickback on a play first not judged a foul, but later to be a flagrant one upon video replay. Nole free throws the rest of the way stretched things out to the final margin.
The loss was Duke's second consecutive game being outrebounded, and their third league game with 23 or more turnovers. Beyond those basic stats, Duke only managed 14 points in the paint and allowed FSU to connect on 7-11 second half two point field goal attempts. Every Duke player inserted turned the ball over at least once, and no Blue Devil besides Greenwell and Stevens scored more than four points. Still, as noted in our preview "DO NOT WANT" section, giving up offensive rebounds was our key to the game, and a huge piece of the Blue Devils' downfall. Duke will need to regroup before facing Virginia Tech at home on Thursday, while FSU will enjoy the head-to-head tiebreaker over Duke should the two teams finish with identical records come March.
Top Performers
Aduk Bulgak, FSU: 18 points, 18 rebounds, 1 block, 1 turnover. A near flawless game for Bulgak in one of the biggest ACC tests she'll face this regular season.


Leticia Romero, FSU: 16 points, 7 rebounds, 4 assists, 1 steal. Romero picked up where she left off after her Big XII All-Freshman season in 2013-14, playing like an all-ACC player despite not making the start.


Rebecca Greenwell, Duke: 19 points, 4-5 3FG, 7-7 FT, 5 rebounds, 2 assists. Becca's shot looked great today, but she didn't get nearly enough looks in the second half for Duke to maintain their leads.
Duke Blue Devils Team Box Score
| | | | | | | | | | | | | | |
| --- | --- | --- | --- | --- | --- | --- | --- | --- | --- | --- | --- | --- | --- |
| | PTS | FG | FG % | 3FG | 3FG % | FT | FT% | A | O-D-REB | BLK | STL | TO | PF |
| 1st | 37 | 13-25 | 52.0 | 5-7 | 71.4 | 6-8 | 75.0 | 9 | 4-12-16 | 1 | 4 | 11 | 10 |
| 2nd | 21 | 6-20 | 30.0 | 1-3 | 33.3 | 8-11 | 72.7 | 3 | 4-8-12 | 0 | 2 | 14 | 17 |
| TOT | 58 | 19-45 | 42.2 | 6-10 | 60.0 | 14-19 | 73.7 | 12 | 8-20-28 | 1 | 6 | 25 | 27 |
Florida State Team Box Score
| | | | | | | | | | | | | | |
| --- | --- | --- | --- | --- | --- | --- | --- | --- | --- | --- | --- | --- | --- |
| | PTS | FG | FG % | 3FG | 3FG % | FT | FT% | A | O-D-REB | BLK | STL | TO | PF |
| TOT | 74 | 25-62 | 40.3 | 9-31 | 29.0 | 15-19 | 78.9 | 17 | 18-20-38 | 1 | 8 | 18 | 15 |
| 1st | 34 | 13-38 | 34.2 | 4-18 | 22.2 | 4-5 | 80.0 | 7 | 14-9-23 | 0 | 3 | 10 | 6 |
| 2nd | 40 | 12-24 | 50.0 | 5-13 | 38.5 | 11-14 | 78.6 | 10 | 4-11-15 | 1 | 5 | 8 | 9 |
---
Please support DWHoops with a site membership today!
Click Here to Learn More