| | |
| --- | --- |
| NOSH Nutshell: Devils Rebound, Outrebound, Dominate Hokies | |
Chidom OK After Repeat Shoulder Dislocation
Oderah Chidom was felled with a shoulder dislocation early in the second half, but returned to the bench for a hug in lieu of high five from teammate Jenna Frush as Duke rolled to a 65-40 win in Cameron. Chidom previously dislocated the same shoulder in practice on December 31 but missed no games.


DWHoops Photos by Orin Day
Please Support our Sponsor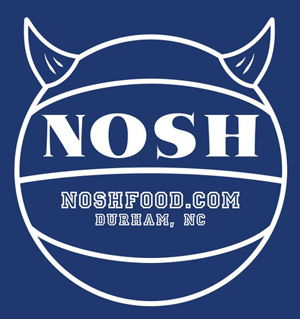 Visit NOSH for great food!
Click their logo for more info
---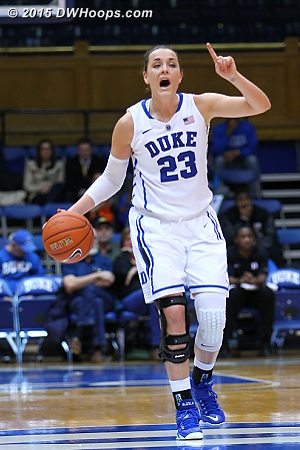 Rebecca Greenwell had her fifth 20+ point scoring game of the year, including a single-handed 11-0 run that put Duke comfortably in front.
DWHoops Photo by Orin Day
---
Join DWHoops with Paypal!



DWHoops Needs
Your Support!
Click Here for More Info
CAMERON INDOOR STADIUM -- Duke bounced back from a tough defeat at Florida State, using stifling defense and hot outside shooting to down Virginia Tech, 65-40. The Hokies (9-9, 0-5 ACC) were led by Vanessa Panousis with 14 points, while Duke's Rebecca Greenwell led all scorers with 21 points. Azurá Stevens was the only rebounder in double figures with 13 in the odd game that no player achieved a double-double. The Blue Devils (12-5, 3-1 ACC) had turnover troubles in their past three ACC outings with 20+ in each, but improved in albeit a slower paced game with just 14 miscues while forcing 15. "Twenty-five turnovers is way too much, so we really just tried to value the basketball and be patient and not rush," said Greenwell. "I think it showed." Duke also regained some of their rebounding mojo against the outmatched Hokies. "That's progress, but we need to grow it," said Duke coach Joanne P. McCallie. "At one point we were number one in the nation in rebounding. It you think about that too long, it's not smart. What we care about is being number one in the nation in rebounding at the end of the year. It's a long process. It's a marathon."
At the game's start, Virginia Tech fell behind 4-0 and Dennis Wolff called an immediate timeout. This seemed a little quick, but he used the break in the action to bring in senior Kelsey Conyers who helped the Hokies stretch Duke's defense and jump into the lead. VT clung to a narrow lead until a Duke steal and a pair of Hokie fouls put Oderah Chidom on the stripe, putting the Blue Devils ahead 17-16 with just over 10 minutes left in the half. After the second made free throw, Duke put on a full court press, resulting in a Ka'lia Johnson steal and basket, and Wolff's second timeout. The momentum had shifted and Duke continued to trap, first forcing a held ball, then a Conyers turnover. Pounding the ball inside proved to be fruitful as the Hokie fouls continued to mount -- first with Kendall Cooper on the stripe hitting one, with her subsequent miss rebounded by Duke and a KJ-trey that prompted a Cameron eruption. Chidom was next on the stripe, hitting one, and an Elizabeth Williams drive after another VT turnover gave Duke a sudden 26-16 working margin at the under-8 media break. The Duke defensive onslaught continued, forcing quick VT shots on the possessions where the Hokies didn't cough it up. Duke's posts continued to get whatever looks they wanted, forcing Wolff's third time out when the lead swelled to 30-16, a 17-0 Duke run. "I'm taking out of this that our kids were playing hard and trying," said Wolff. "It's not a question of effort but rather skill issues inside."
Tech finally broke their drought with a Vanessa Panousis trey at the 4:47 mark, the third of the half for the Australian guard. That progress was immediately negated when Rebecca Greenwell turned over Panousis, scoring a traditional three point play on a well executed two-man break with Stevens that featured a nifty set of back-and-forth passes between Greenwell and Stevens. The Hokies managed to cut the gap slightly by bombing from the perimeter, but still had no remedy to prevent Blue Devils getting good looks from anywhere. A late bank shot from Erin Mathias gave Duke a 37-24 halftime lead.
Rebecca Greenwell was a one woman wrecking crew to start the second half, answering a Panousis layup with a single-handed 11-0 run. However, during that six minute outburst, Oderah Chidom exited with a dislocated shoulder. Chidom had been wearing a brace since a similar injury in practice on December 31, and if her recovery period is similar, she'll be back for Sunday's tilt with Miami. "She said it feels great and was ready to go back in the game," said McCallie. The "Becca run" increased Duke's lead to 48-28, not quite ending the game, but forcing VT to do nothing but shoot threes. "We really have trouble scoring in the lane," said Tech head coach Dennis Wolff. "That's the best chance of us scoring but you're not going to win that many games shooting so many threes." Indeed, when those threes didn't fall (3-16 for the second half) the result was pretty much written. Mercedes Riggs used the balance to gain some confidence in league play, dishing four second-half assists and hitting a three, and Duke's deep bench closed out the last four minutes.
Top Performers
Rebecca Greenwell, Duke: 21 points, 4-8 3FG, 1 block. Greenwell continued to exhibit the sweet shooting touch that's her calling card. Unlike the second half at Florida State, her teammates kept feeding her the ball, and she delivered.


Azurá Stevens, Duke: 7 points, 13 rebounds, 4 assists. Stevens was the key to Duke winning the second half rebound battle after losing it in the first half. When she was doubled,


Vanessa Panousis, VT: 14 points, 4-15 3FG. While her perimeter scoring was on volume, many shots bounced in and out, and it was the only factor preventing a blowout from turning into a full blown rout. "We are asking Vanessa to do too much right now where she is in her career," said coach Wolff. Indeed, she could have a place in any ACC rotation.
Duke Blue Devils Team Box Score
| | | | | | | | | | | | | | |
| --- | --- | --- | --- | --- | --- | --- | --- | --- | --- | --- | --- | --- | --- |
| | PTS | FG | FG % | 3FG | 3FG % | FT | FT% | A | O-D-REB | BLK | STL | TO | PF |
| 1st | 37 | 14-24 | 58.3 | 3-7 | 42.9 | 6-9 | 66.7 | 8 | 2-14-16 | 2 | 5 | 5 | 4 |
| 2nd | 28 | 11-24 | 45.8 | 5-9 | 55.6 | 1-4 | 25.0 | 10 | 8-17-25 | 4 | 3 | 9 | 8 |
| TOT | 65 | 25-48 | 52.1 | 8-16 | 50.0 | 7-13 | 53.8 | 18 | 10-31-41 | 6 | 8 | 14 | 12 |
Virginia Tech Team Box Score
| | | | | | | | | | | | | | |
| --- | --- | --- | --- | --- | --- | --- | --- | --- | --- | --- | --- | --- | --- |
| | PTS | FG | FG % | 3FG | 3FG % | FT | FT% | A | O-D-REB | BLK | STL | TO | PF |
| 1st | 24 | 8-30 | 26.7 | 6-17 | 35.3 | 2-2 | 100.0 | 6 | 8-9-17 | 1 | 1 | 9 | 7 |
| 2nd | 16 | 6-27 | 22.2 | 3-16 | 18.8 | 1-4 | 25.0 | 3 | 5-7-12 | 2 | 5 | 6 | 8 |
| TOT | 40 | 14-57 | 24.6 | 9-33 | 27.3 | 3-6 | 50.0 | 9 | 13-16-29 | 3 | 6 | 15 | 15 |
---
Please support DWHoops with a site membership today!
Click Here to Learn More