| | |
| --- | --- |
| NOSH Nutshell: Blue Devil Posts Punish Canes in Lane | |
Duke Posts Dominate Canes
Elizabeth WIlliams (left) led all scorers and rebounders with 24 points and 11 boards, while Azura Stevens (center) scored 20 and Amber Henson (right) grabbed 11 rebounds in Duke's 68- 53 win over Miami. The Blue Devils held a ridiculous 52-6 edge in points in the paint and outrebounded the Canes 47-33.


DWHoops Photos by Orin Day
Please Support our Sponsor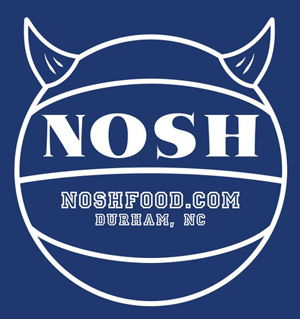 Visit NOSH for great food!
Click their logo for more info
---
Duke's defense turned Miami back again and again when the Canes attacked the basket, turning Katie Meier's squad into an exclusively jump shooting team.
DWHoops Photo by Orin Day
---
Join DWHoops with Paypal!



DWHoops Needs
Your Support!
Click Here for More Info
CAMERON INDOOR STADIUM -- In a battle of size versus speed, Duke's size was able to negate Miami's speed and shooting thanks to solid defensive communication and smart passing. After a tight first half, Duke (13-5, 4-1 ACC) got some separation in the second half and won comfortably, 68-53. Miami coach Katie Meier lamented that her team took so many threes, falling into Duke's "trap" of taking quick perimeter shots. It helped that Miami center Jassany Williams, their only big who commands much attention, got into quick foul trouble attempting to guard Elizabeth Williams. However, Miami (14-4, 4-1 ACC) weathered the absence of J.Williams and guard Michelle Woods in the first half until the very end, when Miami missed their last four shots and the duo of E.Williams and Azurá Stevens combined for six straight points. A 10-2 run to open the second half gave Duke that separation, as they did a much better job of holding on to the ball and attacking Miami's pressure. What was most heartening about this game is that Duke beat a solid opponent and did so by consistently exploiting mismatches in a way that they weren't always able to do against other teams. The Devils also cleaned up the kind of problems they had had on the boards against smaller opponents who shot a lot of threes, as their bigs ran out as far as halfcourt to chase down long rebounds. It helped that Miami wasn't sending a lot of players to the offensive boards, but Duke made sure to eliminate the random element of long bounces as much as possible.
Miami initially played a man-to-man, with the idea being that Jassany Williams would guard Elizabeth Williams one-on-one. Within four minutes, J.Williams was sitting on the bench and Liz had four points. The Devils had to go without Oderah Chidom, whose separated shoulder suffered Thursday against Virginia Tech kept her on the bench. Given that Chidom's loss made a short bench even shorter, there seemed to be an additional level of focus for Duke, especially in the post. Kendall Cooper came off the bench and provided some immediate scoring, as her hook shot put Duke up 10-5. Miami's Necole Sterling kept her team close with her three point shooting. Every time Duke went up by a few points, a three by Sterling would make the game tight again. A three point play by Jessica Thomas and two foul shots by Adrienne Motley actually gave Miami a 21-19 lead with under four minutes to go. Stevens responded with a stickback plus the foul to give Duke the lead. Miami tied the game at 22, but a drive by Stevens gave Duke another lead. Thomas hit a trey to make it 25-24 with 2:14 left, but it was all Duke from there. Duke massaged foul trouble of its own, as the starting backcourt of Ka'lia Johnson and Rebecca Greenwell both had two fouls apiece, as did backup post Cooper. The duo of E.Williams and Stevens was too much for the Canes to handle, as Liz scored on a drive and a floater and Erin Matthias hit Stevens in the post. Suriya McGuire of Miami just missed a driving layup at the halftime buzzer, and Duke went into the break with a 30-25 lead.
The only reason why Miami was able to hang around despite shooting 23.5% was that they forced 10 Duke turnovers (committing just one themselves) and hit five treys. Duke absolutely dominated the paint (26-4 in points) and were +10 on the boards. Stevens and Williams also managed to avoid foul trouble. Duke extended their run right into the second half, as Williams had a stickback and scored on a pass from Henson. After a basket by J.Williams broke up Duke's 11-0 run, Stevens scored inside and then found Rebecca Greenwell on the break for an open three. That made it 40-27, and even though Miami quickly cut the lead to ten, they weren't able to stop Duke inside long enough to mount any real comeback.
Indeed, the two teams nearly tied after that Duke run, with Duke holding a slim 28-26 edge. Every time Miami got it down to ten points, Duke would string together a couple of consecutive baskets to push the lead up to 14 or 15 points. Miami tried to diversify its offense a bit in the second half by driving and taking short and medium-range shots, but Duke's post defense was unyielding and its rebounding was strong. The Devils wound up +14 on the boards and had a powerful 52-6 edge in points in the paint. After just one turnover in the half, Miami committed 10 in the second, and they led to 14 Duke points. In essence, Duke was better able to assert their will in this game than Miami was.
Top Performers
Elizabeth Williams, Duke: 24 points, 11 rebounds, 2 assists. A dominant performance at both ends, as Duke concentrated on getting her the ball and she took full advantage of a size mismatch.


Azurá Stevens, Duke: 20 points, 7 rebounds, 3 assists. Stevens had a career-high in points and proved to be effective in both halves.


Necole Sterling, Miami: 17 points, 6 rebounds. Sterling was the one 'Cane who was able to get many shots to splash in; she was 5-11 from three and the rest of the team was 3-26.
Duke Blue Devils Team Box Score
| | | | | | | | | | | | | | |
| --- | --- | --- | --- | --- | --- | --- | --- | --- | --- | --- | --- | --- | --- |
| | PTS | FG | FG % | 3FG | 3FG % | FT | FT% | A | O-D-REB | BLK | STL | TO | PF |
| 1st | 30 | 13-23 | 56.5 | 0-2 | 0.0 | 4-6 | 66.7 | 4 | 4-19-23 | 3 | 0 | 10 | 9 |
| 2nd | 38 | 17-32 | 53.1 | 2-6 | 33.3 | 2-7 | 28.6 | 9 | 9-15-24 | 4 | 4 | 9 | 7 |
| TOT | 68 | 30-55 | 54.5 | 2-8 | 25.0 | 6-13 | 46.2 | 13 | 13-34-47 | 7 | 4 | 19 | 16 |
Miami Team Box Score
| | | | | | | | | | | | | | |
| --- | --- | --- | --- | --- | --- | --- | --- | --- | --- | --- | --- | --- | --- |
| | PTS | FG | FG % | 3FG | 3FG % | FT | FT% | A | O-D-REB | BLK | STL | TO | PF |
| TOT | 53 | 18-69 | 26.1 | 8-37 | 21.6 | 9-12 | 75.0 | 10 | 16-17-33 | 2 | 7 | 11 | 18 |
| 1st | 25 | 8-34 | 23.5 | 5-22 | 22.7 | 4-5 | 80.0 | 6 | 5-8-13 | 2 | 3 | 1 | 9 |
| 2nd | 28 | 10-35 | 28.6 | 3-15 | 20.0 | 5-7 | 71.4 | 4 | 11-9-20 | 0 | 4 | 10 | 9 |
---
Please support DWHoops with a site membership today!
Click Here to Learn More