| | |
| --- | --- |
| NOSH Nutshell: Devils Fail Again on Road | |
Please Support our Sponsor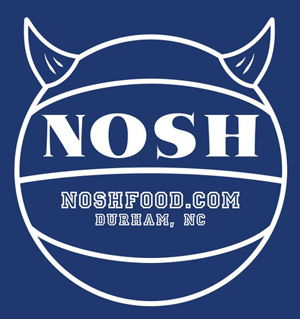 Visit NOSH for great food!
Click their logo for more info
---
Join DWHoops with Paypal!



DWHoops Needs
Your Support!
Click Here for More Info
CONTE FORUM -- In the biggest upset in the ACC so far this year, Boston College stunned Duke with twelve three-pointers to pull off a 60-56 win. In an odd game that featured huge scoring droughts by both teams, it seemed like Duke would win easily as they ran out to a 9-0 lead.The trio of Elizabeth Williams, Azurá Stevens and Rebecca Greenwell tallied all nine points, with Stevens finding Greenwell for a three. Just like that, BC (9-10, 1-5 ACC) came back with three straight triples to tie the game up, and the teams traded leads for a while. After a hook by Williams made it 13-12, BC went on an 18-5 run that stretched over nearly ten minutes. They hit a trio of treys during that segment of the game, as Nicole Boudreau was nailing corner threes thanks to excellent spacing and passing by the Eagles and poor defensive rotations by Duke.
It looked like the Eagles might take a double-digit lead into the locker room, but Stevens erupted for 12 straight points. The Eagles weathered that storm and hit another three to go up 35-26 with about a minute left in the half, but their foul trouble got to them and Duke (13-6, 4-2 ACC) did a great job taking advantage, as Williams cut the lead to 35-28 and then Greenwell scored with under 30 seconds to go to cut the lead to five.
Duke kept that run going in the second half, as Stevens hit a runner, Greenwell sank a trey and Williams hit 2 foul shots. That 7-0 gave Duke the lead back as coach Joanne P. McCallie decided to have Ka'lia Johnson face guard Boudreau in a box-and-one. That caught BC off guard for a bit, since Duke rarely runs a junk defense, but BC coach Erik Johnson made some adjustments and started to use Boudreau as more of a decoy in order to free up other players. The two teams traded runs back and forth; after the Eagles hit a three and took the lead at 40-39, Stevens scored on a feed from Greenwell and Johnson had her only field goal of the game on a drive. That made it 43-40, but the Eagles went on a 7-0 run to put the squeeze on Duke with under ten minutes left.
Back came Duke's bigs on an 8-0 run: Stevens and Williams both hit a pair of foul shots, Williams had a stickback and Stevens scored on a perfect strike from Williams. A foul shot from Williams and a stickback by Greenwell made it 54-49 with three minutes left, with Duke seemingly in control. The Eagles then hit three treys in a row yet again to go up 58-54 with just a minute left. Duke was in trouble because they had only committed three team fouls up to that point, and there was a huge communication mix-up during this period as Duke's players often let as many as ten seconds run off the clock before fouling. Finally, Duke got the ball back after the Eagles missed the front end of a one-and-one and Stevens scored on a stickback. The Eagles clinched the game on their next try with just two seconds to go, giving Johnson perhaps the biggest win of his career.
Duke once again failed to gain its first road win of the year, and the previously 0-5 in the ACC Eagles represented one of Duke's best chances to do so. The Eagles confidently executed their game plan, played to their strengths, minimized their weaknesses and got contributions across the board from their entire roster. Duke adjusted slowly to BC's strategies, committed sloppy turnovers, missed easy shots and gave a struggling opponent just enough daylight to dig out a big win. The Devils will need to rethink strategies and hope that they can get Oderah Chidom back from injury before they play UNC in Chapel Hill
Top Performers
Nicole Boudreau, BC: 18 points, 3 rebounds, 3 assists, 2 steals, 5-11 from three. Boudreau scorched Duke with all 18 of her points in the first half, helping push her team out to an early 12 point lead.


Emilee Dailey, BC: 17 points, 5 rebounds, 3 assists, 5-11 from three. Dailey took over from Boudreau in the second half, hitting a late three that gave BC just enough room to pull off the upset.


Azurá Stevens, Duke: 24 points, 9 rebounds, 2 steals, 2 assists, 2 blocks. Stevens was the one matchup that BC couldn't handle, as she broke her single-game scoring record one game after breaking it with 20 points.
Duke Blue Devils Team Box Score
| | | | | | | | | | | | | | |
| --- | --- | --- | --- | --- | --- | --- | --- | --- | --- | --- | --- | --- | --- |
| | PTS | FG | FG % | 3FG | 3FG % | FT | FT% | A | O-D-REB | BLK | STL | TO | PF |
| 1st | 30 | 10-26 | 38.5 | 1-4 | 25.0 | 9-10 | 90.0 | 5 | 6-13-19 | 1 | 3 | 9 | 2 |
| 2nd | 26 | 8-29 | 27.6 | 1-7 | 14.3 | 9-12 | 75.0 | 3 | 11-15-26 | 5 | 2 | 6 | 8 |
| TOT | 56 | 18-55 | 32.7 | 2-11 | 18.2 | 18-22 | 81.8 | 8 | 17-28-45 | 6 | 5 | 15 | 10 |
Boston College Team Box Score
| | | | | | | | | | | | | | |
| --- | --- | --- | --- | --- | --- | --- | --- | --- | --- | --- | --- | --- | --- |
| | PTS | FG | FG % | 3FG | 3FG % | FT | FT% | A | O-D-REB | BLK | STL | TO | PF |
| 2nd | 25 | 9-29 | 31.0 | 5-16 | 31.3 | 2-3 | 66.7 | 7 | 6-11-17 | 1 | 3 | 6 | 10 |
| TOT | 60 | 22-62 | 35.5 | 13-35 | 37.1 | 3-4 | 75.0 | 17 | 13-21-34 | 5 | 7 | 13 | 18 |
| 1st | 35 | 13-33 | 39.4 | 8-19 | 42.1 | 1-1 | 100.0 | 10 | 7-10-17 | 4 | 4 | 7 | 8 |
---
Please support DWHoops with a site membership today!
Click Here to Learn More