| | |
| --- | --- |
| NOSH Nutshell: Devils Last Team Standing in Game of Swings | |
Career Game at Carolina for Williams
Elizabeth Williams scored a game and career high 33 points, but no play was more important than her game-saving rejection of a Latifah Coleman layup (right), forcing overtime where Duke dominated.


DWHoops Photos by Orin Day
Please Support our Sponsor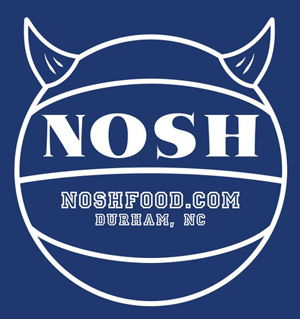 Visit NOSH for great food!
Click their logo for more info
---
Ka'lia Johnson was one of three Blue Devils to notch a double-double, grabbing 13 boards and scoring 12 points including two free throws to ice the game.
DWHoops Photo by Orin Day
---
Join DWHoops with Paypal!



DWHoops Needs
Your Support!
Click Here for More Info
CARMICHAEL ARENA -- In a game that was more intense and physical than well-played, Duke overcame a ten-point halftime deficit, nearly blew a late lead and wound up dominating overtime in Chapel Hill against arch-rival UNC, 74-67. It was another game of size vs speed, and size won because the Heels simply didn't exploit their speed as much as they could have. While they had 15 steals and forced 23 turnovers, they surprisingly didn't use much full court pressure during the game, despite the shakiness of Duke's ball-handling. In many ways, the game was a microcosm of both teams' seasons: lots of close games against ranked foes, dominance in one or two phases of the game followed by painfully long scoring droughts, and squads that have had to deal with significant injuries.
Duke (14-6, 5-2 ACC) got a bit of good news when Oderah Chidom was available for this contest; she wound up being a decisive factor in Duke's win. The Heels badly missed forward Xylina McDaniel, as they were punished in the paint by the Blue Devils. Duke held a 46-18 edge in points in the paint and wee +14 on the boards. UNC (17-4, 4-3 ACC) only had a 16-12 edge in points off turnovers despite forcing 23 of them. UNC's Stephanie Mavunga had an incredible game (15 points, 15 rebounds, 3 blocks, 4 steals), but she was overmatched trying to fight Duke's deep post rotation more-or-less by herself. Williams in particularly looked to isolate against her as much as she could. Duke's one area of strength was their post play, and there's no question that they ruthlessly exploited that. UNC's dominant area was its quickness and transition game, and they simply didn't exploit this as much as they could have.
The first five minutes or so of the game were pretty even, as both teams tested the waters. Rebecca Greenwell hit a three and a short jumper and also found Williams inside. The Heels clamped down on her after that. The Devils went on a 12-3 run to go up 19-11, as Ka'lia Johnson and Amber Henson both hit treys and Williams scored twice. Over the next six minutes, the Heels went on a 21-4 run that was punctuated by six Duke turnovers and a whole lot of foul trouble. Azurá Stevens, Greenwell, Kendall Cooper, Chidom and Erin Mathias all had two fouls apiece as Duke desperately tried to battle its way to halftime without too much damage. Williams was a one-woman-gang for Duke down the stretch, scoring Duke's last nine points. She was called for a foul with only a second left, however, and that gave the Heels a ten point lead at the half. Neither team shot particularly well, but the Heels were 12-16 from the foul line, as opposed to just 1-3 for Duke. Senior point guard Latifah Coleman scorched Duke for 13 points, while Williams had 15 of Duke's 28 points.
UNC's Danielle Butts opened up a 12 point lead for the Heels to start the second half, but Duke rattled off 7 straight points to get back into the game. Stevens and Williams scored on post-ups, while Greenwell scored on a driving three point play. Johnson got much more involved in the game, hitting 2 foul shots and then finding Williams for a score that brought Duke within 41-39. Over the next few minutes, UNC's Allisha Gray kept Duke at arm's length by hitting a three every time Duke got too close. Greenwell and Williams kept coming, though. Greenwell was all grit, scoring on free throws and stickbacks, while Williams was scoring on entry passes and also going to the line. Stevens picked up her third foul early in the half, which put Duke in a pickle with few scorers on the floor. Johnson was key in keeping Duke afloat and eventually trying up the game. She scored on a floater and found Williams to make it 54-54 with ten minutes to go.
Chidom came in and made two crucial plays: she scored under the basket to put Duke up 56-54, and then she found Williams for a three point play to make it 59-56. That second play came nearly four minutes after the Heels tied the game and both teams made scores of bad shots, missed foul shots and bumbling turnovers. N'Dea Bryant of UNC hit a tough shot, but Williams had another three point play against UNC's overmatched but stubbornly insistent front line. UNC played very little zone, preferring to let Williams go up against Mavunga and stop everyone else. The Devils seemed to be in control with a four point lead, but they missed five straight shots and the Heels tied the game at 62 with under forty seconds to go. The only shot Duke could get down the stretch was a three that Johnson airballed, giving the Heels 8 seconds to win the game. Coleman went right at Williams, and Liz responded with a resounding block to send the game into overtime. A floater or jumper might have worked better, but Coleman was clearly hellbent on getting to the hoop.
In overtime, Stevens found Williams for a score. That came after UNC came up with a brilliant steal but threw the ball out of bounds because they were moving just a bit too quick. That was more-or-less the story of their game. After a miss by Mavunga, Williams rebounded a miss by Johnson and threw it out to a wide-open Greenwell, who canned the three. Chidom then rebounded a miss by Williams for a stickback and Johnson hit a foul shot as the Devils rattled off the first eight points of OT. The Heels pulled within 70-66, but Stevens stuck back her own miss to up the lead to 6, and Johnson clinched the game with a couple of foul shots to make it 74-67. The Heels were 2-8 in OT, including 0-5 from three. Duke hit shots when they were really needed and their zone worked well against a Heel squad that was 5-30 from distance. Duke needed this win badly after losing to Boston College, and it puts them right back in the ACC race.
Top Performers
Elizabeth Williams, Duke: 33 points, 10 rebounds, 3 assists, 4 blocks, 2 steals. Liz scored more points in a game against UNC than any other Duke player ever.


Rebecca Greenwell, Duke: 14 points, 14 rebounds, 2 assists, 2 steals. Her rebounding but especially her shot in overtime carried Duke.


Allisha Gray, UNC: 20 points, 5 rebounds, 2 steals. Gray hit some timely shots in the second half to keep UNC ahead.
Duke Blue Devils Team Box Score
| | | | | | | | | | | | | | |
| --- | --- | --- | --- | --- | --- | --- | --- | --- | --- | --- | --- | --- | --- |
| | PTS | FG | FG % | 3FG | 3FG % | FT | FT% | A | O-D-REB | BLK | STL | TO | PF |
| 2nd | 34 | 13-28 | 46.4 | 0-1 | 0.0 | 8-11 | 72.7 | 6 | 6-19-25 | 2 | 3 | 10 | 8 |
| OT | 12 | 4-9 | 44.4 | 1-1 | 100.0 | 3-4 | 75.0 | 2 | 3-6-7 | 2 | 1 | 2 | 3 |
| TOT | 74 | 29-75 | 38.7 | 4-13 | 30.8 | 12-18 | 66.7 | 17 | 23-38-61 | 6 | 7 | 23 | 23 |
| 1st | 28 | 12-38 | 31.6 | 3-11 | 27.3 | 1-3 | 33.3 | 9 | 14-13-27 | 2 | 3 | 11 | 12 |
North Carolina Team Box Score
| | | | | | | | | | | | | | |
| --- | --- | --- | --- | --- | --- | --- | --- | --- | --- | --- | --- | --- | --- |
| | PTS | FG | FG % | 3FG | 3FG % | FT | FT% | A | O-D-REB | BLK | STL | TO | PF |
| TOT | 67 | 23-76 | 30.3 | 5-30 | 16.7 | 16-26 | 61.5 | 16 | 19-28-47 | 7 | 15 | 14 | 20 |
| 1st | 38 | 12-35 | 34.3 | 2-9 | 22.2 | 12-16 | 75.0 | 7 | 12-13-25 | 3 | 6 | 6 | 8 |
| 2nd | 24 | 9-33 | 27.3 | 3-16 | 18.8 | 3-6 | 50.0 | 8 | 5-12-17 | 1 | 8 | 6 | 10 |
| OT | 5 | 2-8 | 25.0 | 0-5 | 0.0 | 1-4 | 25.0 | 1 | 2-3-5 | 3 | 1 | 2 | 2 |
---
Please support DWHoops with a site membership today!
Click Here to Learn More