| | |
| --- | --- |
| NOSH Nutshell: Strong First Half is Duke Difference | |
Two Double-Doubles Means No Trouble
Oderah Chidom (left) and Azurá Stevens both hit double figures in points and rebounds as Duke's taller squad defeated Pitt, 62-45 in Durham.


DWHoops Photos by Orin Day
Please Support our Sponsor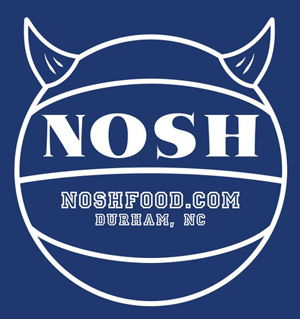 Visit NOSH for great food!
Click their logo for more info
---
Rebecca Greenwell achieved her typical double digit output against Pitt, providing a counterpoint to Duke's persistent inside attack.
DWHoops Photo by Orin Day
---
Join DWHoops with Paypal!



DWHoops Needs
Your Support!
Click Here for More Info
CAMERON INDOOR STADIUM -- Behind an active and stifling defensive effort and a dominant showing on the boards, Duke handled Pitt with relative ease, 62-45. The Panthers featured two of the best three point shooters in the ACC in Brianna Kiesel and Monica Wignot, and that duo was held to 3-14 shooting from deep. Pitt (13-7, 3-4 ACC) got some good looks, but they were generally well-defended. As a result, some of their open looks were rushed as Pitt's players hurried to get their attempts off over rapidly closing (and long) Duke defenders. While Duke's defensive effort was solid, holding Pitt to 29% from the floor and 24% from three, it was their offense that made the real difference. Duke (15-6, 6-2 ACC) shot 50% for the game, thanks mostly to excellent passes to and away from the post. The Devils had assists on 12 of their 14 baskets in the first half and kept their turnovers down to a reasonable 7 as they built a 16 point lead. The second half was, shall we say, less than spectacular, but they shot well enough when they weren't coughing up the ball to keep Pitt at arm's length.
Duke started the game fast, as Azurá Stevens scored in transition and on a steal from Elizabeth Williams. Williams also found Oderah Chidom (starting this game in place of Amber Henson) for a score, and Rebecca Greenwell hit a nice floater. She's clearly trying to diversify her offensive game by attacking the basket in more varied ways, and that floater is a new shot in her arsenal. Kiesel hit a three to make it 8-5, but Mercedes Riggs came off the bench to hit a trey of her own. Pitt post Stasha Carey countered with a three to make it 11-8, but the Devils responded with an 8-0 that gave them a working margin they used the rest of the game. Interestingly, it happened with Williams on the bench with two fouls. Ka'lia Johnson scored on a drive, Kendall Cooper hit 2 foul shots, Mercedes Riggs drove and kicked it back to Chidom for a short jumper, and Stevens posted up and finished with her right hand. That made it 19-8, and Duke would only build on that lead.
Back to-back treys by Greenwell blunted a couple of Pitt baskets. The game got out of control with a 7-0 Duke run late in the half as Cooper hit a turnaround jumper, Stevens hit a three and then scored on a cut on a pass from Cooper. That made it 33-14 with about three minutes to go. The Panthers hit a couple of late threes, but the Devils still had a comfortable 36-20 lead at intermission. Duke dominated every stat: +9 on the boards, +14 in points in the paint, +5 in points off turnovers (Duke had a very reasonable 8 miscues in the first half) and even +6 in bench points. The fact that Duke got scoring from a number of players was the difference between this and the Boston College game. With Williams on the bench, a number of role players were ready to step up.
The first ten minutes of the second half were rife with errors from both teams. After Duke pushed the lead to 40-21, they nearly five minutes without a field goal. Pitt only managed to score 5 points during that period, and Chidom broke Duke's drought with a post-up and a stickback. The two squads were entirely even from then on, with Duke scoring with relative ease when they weren't turning the ball over. The Panthers pulled within 13 with eight minutes to go, but an 8-0 Duke run squelched that modest comeback attempt. After being controlled for most of the game, Williams scored three times. The Devils had 18 turnovers in the second half alone, and the overall numbers (except for shooting and rebounds, with wound up being +18 for Duke) were more or less the same. Pitt simply wasn't aggressive enough on the defensive end to disrupt Duke's post attack.
Top Performers
Rebecca Greenwell, Duke: 10 points, 5 rebounds, 3 steals. Her shooting gave Duke balance on offense.


Azurá Stevens, Duke: 14 points, 12 rebounds, 3 assists. The inside-outside threat she posed was more than Pitt could handle.


Oderah Chidom, Duke: 10 points, 10 rebounds. Her scores always seemed to come at important times.
Duke Blue Devils Team Box Score
| | | | | | | | | | | | | | |
| --- | --- | --- | --- | --- | --- | --- | --- | --- | --- | --- | --- | --- | --- |
| | PTS | FG | FG % | 3FG | 3FG % | FT | FT% | A | O-D-REB | BLK | STL | TO | PF |
| 2nd | 26 | 9-19 | 47.4 | 1-3 | 33.3 | 7-12 | 58.3 | 4 | 7-15-22 | 4 | 5 | 17 | 5 |
| TOT | 62 | 23-46 | 50.0 | 5-12 | 41.7 | 11-18 | 61.1 | 16 | 11-33-44 | 7 | 8 | 25 | 7 |
| 1st | 36 | 14-27 | 51.9 | 4-9 | 44.4 | 4-6 | 66.7 | 12 | 4-18-22 | 3 | 3 | 8 | 2 |
Pittsburgh Team Box Score
| | | | | | | | | | | | | | |
| --- | --- | --- | --- | --- | --- | --- | --- | --- | --- | --- | --- | --- | --- |
| | PTS | FG | FG % | 3FG | 3FG % | FT | FT% | A | O-D-REB | BLK | STL | TO | PF |
| 1st | 20 | 8-29 | 27.6 | 4-14 | 28.6 | 0-0 | | 3 | 3-10-13 | 1 | 5 | 7 | 3 |
| 2nd | 25 | 10-33 | 30.3 | 3-15 | 20.0 | 2-4 | 50.0 | 4 | 8-5-13 | 0 | 8 | 8 | 9 |
| TOT | 45 | 18-62 | 29.0 | 7-29 | 24.1 | 2-4 | 50.0 | 7 | 11-15-26 | 1 | 13 | 15 | 12 |
---
Please support DWHoops with a site membership today!
Click Here to Learn More