| | |
| --- | --- |
| NOSH Nutshell: Five Blue Devils Hit Double Figures | |
Duke Starters Score Them All
Azurá Stevens led five Duke starters in double figures with 17 points as Duke defeated #8 Louisville, 66-58. While the Blue Devil bench players did not score, they contributed in other ways including 11 rebounds.
DWHoops Photos by Orin Day
Please Support our Sponsor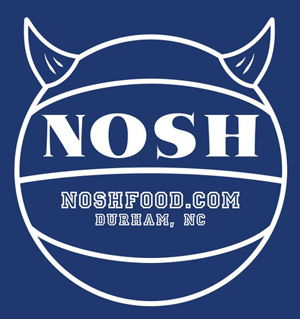 Visit NOSH for great food!
Click their logo for more info
---
Oderah Chidom battled the Louisville defense to score 14 points in 24 minutes limited by foul trouble.
DWHoops Photo by Orin Day
---
Join DWHoops with Paypal!



DWHoops Needs
Your Support!
Click Here To Help
CAMERON INDOOR STADIUM -- Duke beat #8 Louisville 66-58 thanks to a dominant defensive performance and play in the paint. Despite Louisville's speed, depth and physical play, I thought that Duke matched up quite well with them, and that the Cardinals hadn't yet seen a team with Duke's size and length. The game was certainly being officiated in a way that discouraged both Louisville's bumping of cutters and hand-checking as well as Duke's penchant for charging. With the physical element of the game essentially held under control, much of the game was spent with each side trying to make the other as uncomfortable as possible. Duke tried to turn Louisville into a halfcourt jump-shooting team, while Louisville tried to make Duke's guards make plays. The difference in the first half turned out to be that walking matchup problem Azurá Stevens, whose 8 first half points broke Duke out of a long scoring drought and kept them on top. Duke was constantly looking to isolate Stevens to create mismatches, and her ability to drive under the basket for scores and fend off the Cardinals with the help of the rim was crucial for Duke.
It was important for Duke (16-6, 7-2 ACC) to get off to a good start, because Louisville is not a team one wishes to try to come back against. That's just what happened, as Oderah Chidom scored on a stickback, scored on an inbounds pass from Elizabeth Williams and then scored on a nimble drive. Throw in a rare trey from Ka'lia Johnson (taken off ball reversal), and the Devils had a nice 11-2 run to start the game. Louisville (19-3, 7-2 ACC) has come back from a number of big deficits this year; they nearly beat Florida State after being down 20 in the first half and recently defeated Miami after being down by double figures. No lead against the Cardinals could be considered safe. Indeed, the Devils went into one of their periodic scoring slumps for nearly seven minutes. Amazingly, the Cards only managed to score 7 points as both teams turned the ball over and simply couldn't get shots to fall. Part of the problem for Duke was foul trouble for its frontcourt, as Williams, Chidom and Kendall Cooper were all out with two fouls apiece.
A reverse layup by Rebecca Greenwell and a pretty wing feed from Amber Henson (back after missing a game with a sore knee) to Stevens stopped the bleeding. Louisville stayed close, going on a 5-2 mini-run to pull within a basket with 3:03 left in the half. Another trey by KJ gave Duke a five point lead again, but Louisville hit its first and only trey of the half. Henson fed Stevens for another basket, and the Cards turned the ball over. Stevens scored on a pretty reverse with 25 seconds left, and Henson blocked a shot and got the rebound. She had a chance to hit a three at the buzzer but missed. Still, Duke had advantages in points in the paint and rebounds and didn't do too badly in points off turnovers or total turnovers. Louisville shot just 29% compared to 42% for Duke.
The two squads exchanged baskets to start the second half, with Greenwell sinking her first trey. Then the Devils went on a 12-0 run that gave them the working margin they needed the rest of the way. With their full roster back, Chidom scored on another inbounds play, Stevens came up with a steal and pitched it behind her to Johnson for a short jumper, and Greenwell hit another three. Then Williams went to work after a scoreless first half, leaping for a basket, hitting a foul shot and plowing through the opposition on a drive. It was 40-23 at this point, but one could sense that this Duke team wasn't quite mature enough to put their opponent away, nor was Louisville the sort of team that would just wave the white flag.
Indeed, the Cards ripped off a 10-2 run that included a couple of treys, as they got frosh guard Mariya Moore going. However, Duke was able to score just enough to prevent them from getting any closer than 7 points. For the most part, Duke went inside to hold off the Cards, as Chidom found Stevens and Williams hit 2 foul shots. However, Louisville's game plan of making Duke shoot threes backfired a bit when Greenwell hit a three to make it 49-38 and Johnson hit another to make it 52-42. A stickback by Stevens gave Duke a 12 point lead with about five minutes left. Back came the Cards one last time with a 7-2 run. By this point, Louisville was fouling Duke's attempts at posting up. If Duke had done a better job at the foul line (10-18 in the final 2:25), they would have had a larger lead down the stretch; as it was, they left a tiny window for Louisville that they did their damndest to crack open, hitting a trio of late threes while continuing to foul -- much to the consternation of every Duke partisan. Still, Duke had a wire-to-wire win against a top ten team, pulled into second place in the ACC (they now own the tiebreaker against Louisville with this win) and overall got better as a team. With a long road trip approaching, Duke needs to record every win at home possible.
Top Performers
Azurá Stevens, Duke: 17 points, 9 rebounds, 3 assists. She presented Louisville with matchup problems that it could not solve.


Elizabeth Williams, Duke: 11 points, 9 rebounds, 5 blocks, 2 steals. While she struggled on offense, she was relentless on the boards and swatted away everything in sight.


Sara Hammond, Louisville: 17 points, 8 rebounds, 2 assists. She hit a lot of tough mid-range shots and took some hard hits.
Duke Blue Devils Team Box Score
| | | | | | | | | | | | | | |
| --- | --- | --- | --- | --- | --- | --- | --- | --- | --- | --- | --- | --- | --- |
| | PTS | FG | FG % | 3FG | 3FG % | FT | FT% | A | O-D-REB | BLK | STL | TO | PF |
| 1st | 25 | 11-26 | 42.3 | 2-9 | 22.2 | 1-3 | 33.3 | 5 | 8-13-21 | 5 | 5 | 13 | 8 |
| 2nd | 41 | 12-23 | 52.2 | 4-9 | 44.4 | 13-23 | 56.5 | 9 | 9-13-22 | 6 | 1 | 9 | 4 |
| TOT | 66 | 23-49 | 46.9 | 6-18 | 33.3 | 14-26 | 53.8 | 14 | 17-26-43 | 11 | 6 | 22 | 12 |
Louisville Team Box Score
| | | | | | | | | | | | | | |
| --- | --- | --- | --- | --- | --- | --- | --- | --- | --- | --- | --- | --- | --- |
| | PTS | FG | FG % | 3FG | 3FG % | FT | FT% | A | O-D-REB | BLK | STL | TO | PF |
| 1st | 19 | 7-24 | 29.2 | 1-7 | 14.3 | 4-8 | 50.0 | 3 | 6-7-13 | 1 | 5 | 11 | 8 |
| 2nd | 39 | 16-41 | 39.0 | 6-15 | 40.0 | 1-1 | 100.0 | 12 | 12-10-22 | 2 | 6 | 4 | 17 |
| TOT | 58 | 23-65 | 35.4 | 7-22 | 31.8 | 5-9 | 55.6 | 15 | 18-17-35 | 3 | 11 | 15 | 25 |
---
Please support DWHoops with a site membership today!
Click Here to Learn More