| | |
| --- | --- |
| NOSH Nutshell: Devils Share and Value Basketball Throughout | |
Midseason Form
Elizabeth Williams came one assist short of a triple double as Duke mauled Clemson in Durham, 89-60. She led all scorers with 21 points and grabbed 12 rebounds during the annual Blue Devil observance of Play4Kay.


DWHoops Photos by Orin Day
Please Support our Sponsor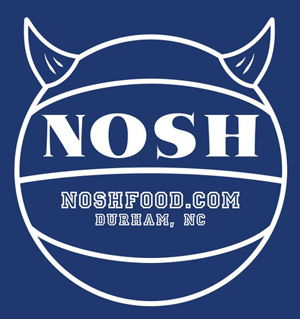 Visit NOSH for great food!
Click their logo for more info
---
Azurá Stevens had another quality performance, scoring 17 against the Tigers.
DWHoops Photo by Orin Day
---
Join DWHoops with Paypal!



DWHoops Needs
Your Support!
Click Here To Help
CAMERON INDOOR STADIUM -- In the penultimate home game of the season, Duke's seniors combined to score 32 points, grab 21 rebounds, dish out 15 assists and swipe 9 steals as the Devils crushed the Clemson Tigers 89-60. Duke shot over 50% and kept their turnovers down to a modest 12 for the game -- and just one during the first thirteen minutes of the game, when Duke built a 19-point lead. Indeed, the best way to describe this game for Duke was "business-like." They pressed their advantages against the Tigers (size, post scoring, rebounding) and minimized their weaknesses (ballhandling). Clemson coach Audra Smith, when asked why she didn't choose to press a Duke team that was shaky in terms of ballhandling, said that she preferred to play Duke straight up because she didn't think her young group of players was capable of executing a proper press, not to mention worrying about dealing with Duke when her Tigers missed shots. I can understand eschewing such a strategy for the majority of the game, but even a slow-footed Boston College club was able to force a number of Duke turnovers with just token pressure.
Duke turned a very early one-point deficit into a big lead with a 12-0 run. That included a fast break basket from Rebecca Greenwell, threes by Greenwell and Ka'lia Johnson, and a few free throws. Just like that, Duke was up 14-3 and the Tigers found themselves in real trouble. After a Tiger basket where Clemson scored against Duke's pressure, the Devils ripped off a 7-0 run to make it 21-5. With Oderah Chidom announced as out for the year with a shoulder injury, her replacement Kendall Cooper said that she was playing for her close friend and roommate. Cooper came out focused and confident, and she hit three straight baskets to put Duke up 29-10 with eleven minutes to go in the half. The Devils pushed that lead up to 35-13 after a spectacular Elizabeth Williams tip in of a miss by Erin Mathias. The Tigers woke up a bit after that, led by Nikki Dixon off the bench.
When asked why she brought her leading scorer off the bench, Audra Smith said that Dixon tends to be foul-happy when she enters a game, and she preferred to have her provide some scoring punch off the bench. While the Tigers did outscore the Devils 18-11, it only brought Clemson within 15 at the half. Every time it seemed like Clemson was really going to make some inroads on that margin, a Duke player like Greenwell or Mercedes Riggs would step up and hit a huge three. Clemson cut the lead to 13 in the final minute, but a Stevens stickback of a wild Johnson miss at the buzzer gave Duke all the momentum at the half. Impressively, Duke held a 20-6 margin in points off turnovers, and they committed just five of their own.The Tigers shot 45.5% against the Devils, but Duke was slightly better at 47%.
Duke started the second half on an 8-0 run that removed any doubts as to whether or not this was going to be a competitive game. Stevens scored 5 points and Greenwell hit a short jump shot during the run, as Clemson missed 7 shots and turned the ball over three times. Duke was working the ball into the low post against mostly one-on-one coverage, and Williams feasted on this when her teammates got her the ball, which was often. At the same time, Liz was hitting teammates on inbounds plays and from the wing, as the post passing of Duke continues to be its most exceptional element on offense. A 12-0 run midway through the half turned it from a 20 point show of dominance to a true blowout, as Williams scored on a crazy reverse pivot move, Mathias scored on a turnaround jumper, Stevens scored on a drive and lob and Cooper hit a couple of foul shots. For a team like Clemson that has limited skilled size, it was a clinic.
After a trey by Greenwell made it 79-43. Clemson finished the game on a 17-10 run. Duke was a bit sloppy and weak with the ball during this period and missed more open shots than the rest of the game. Clemson managed to score 10 points in transition as Duke broke down a little, but Duke was never threatened. The Devils got to the foul line, they shot over 50% for the game, they had 24 assists to just 12 turnovers and their defense (led by Johnson) was tremendously aggressive, using the zone as a weapon rather than simply a crutch. In the end, this was a game that Duke should have won convincingly, and they went out and did just that.
Top Performers
Elizabeth Williams, Duke: 21 points, 12 rebounds, 9 assists, 4 blocks. Liz was a force in both halves, especially when it came to finding open teammates.


Azurá Stevns, Duke: 17 points, 8 rebounds, 4 assists, 3 steals, 2 blocks. Stevens got off to slow start, but her ability to get to the hoop steamrolled Clemson in the second half.


Nikki Dixon, Clemson: 17 points, 4 rebounds, 3 assists, 2 steals. Coming off the bench, Dixon provided instant offense, got to the foul line (11-11) and in general moved the ball around nicely while providing a steady offensive threat.
Duke Blue Devils Team Box Score
| | | | | | | | | | | | | | |
| --- | --- | --- | --- | --- | --- | --- | --- | --- | --- | --- | --- | --- | --- |
| | PTS | FG | FG % | 3FG | 3FG % | FT | FT% | A | O-D-REB | BLK | STL | TO | PF |
| TOT | 89 | 31-61 | 50.8 | 6-15 | 40.0 | 21-29 | 72.4 | 24 | 14-27-41 | 8 | 13 | 12 | 11 |
| 1st | 46 | 16-34 | 47.1 | 4-8 | 50.0 | 10-14 | 71.4 | 11 | 11-9-20 | 2 | 9 | 5 | 4 |
| 2nd | 43 | 15-27 | 55.6 | 2-7 | 28.6 | 11-15 | 73.3 | 13 | 3-18-21 | 6 | 4 | 7 | 7 |
Clemson Team Box Score
| | | | | | | | | | | | | | |
| --- | --- | --- | --- | --- | --- | --- | --- | --- | --- | --- | --- | --- | --- |
| | PTS | FG | FG % | 3FG | 3FG % | FT | FT% | A | O-D-REB | BLK | STL | TO | PF |
| 1st | 31 | 10-22 | 45.5 | 4-10 | 40.0 | 7-7 | 100.0 | 7 | 3-9-12 | 3 | 2 | 12 | 8 |
| 2nd | 29 | 9-32 | 28.1 | 3-13 | 23.1 | 8-12 | 66.7 | 5 | 7-10-17 | 0 | 7 | 8 | 10 |
| TOT | 60 | 19-54 | 35.2 | 7-23 | 30.4 | 15-19 | 78.9 | 12 | 10-19-29 | 3 | 9 | 20 | 18 |
---
Please support DWHoops with a site membership today!
Click Here to Learn More