| | |
| --- | --- |
| NOSH Nutshell: Duke Rebounders and Greenwell Too Much for Hoos | |
Please Support our Sponsor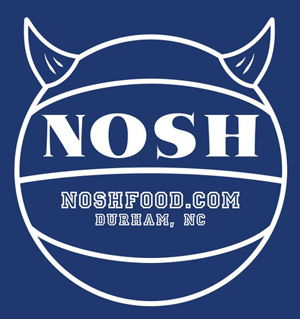 Visit NOSH for great food!
Click their logo for more info
---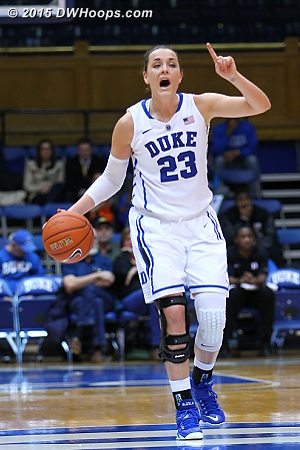 Rebecca Greenwell led Duke in scoring, establishing a new freshman record for three pointers made in the process.
DWHoops Photo by Orin Day
---
Join DWHoops with Paypal!



DWHoops Needs
Your Support!
Click Here To Help
JOHN PAUL JONES ARENA -- The Devils notched their most dominating ACC road win to date, as they demolished a very good UVa team 71-45. Duke held one of the best shooting teams in the ACC to just 2-11 from the three point line, shackled their leading scorer Faith Randolph to just 2-8 shooting and three turnovers, and forced 22 turnovers overall. Duke got off to a strong start with a stickback from Elizabeth Williams, a jumper from Azurá Stevens, and five quick points from a dominant Rebecca Greenwell. The guard-oriented Hoos had no answer for a sizzling-hot Greenwell, who broke the frosh single-season record for threes. It is likely that this won't be the first record that Greenwell breaks at Duke.
The Hoos just did not seem ready to compete in the first half and didn't wake up until long after the game was effectively over. That Duke had an 11-3 edge in second-chance points in the first half isn't that surprising given that the Devils are a superior offensive rebounding unit. What was surprising is that the Devils also had a 14-2 edge in points off turnovers, as Virginia committed 12 first half miscues to nine for Duke. Given that this has been a huge problem for the Devils, especially on the road, dominating this hustle category was crucial in setting up the win. Virginia closed to within 19-13 in the first half on a three point play by post Sarah Imovbioh, who went toe-to-toe with Duke's array of bigs and didn't flinch. Steals & runouts by Greenwell and Ka'lia Johnson kept the margin between eight and then points until the Devils closed the half on a 15-4 run to go up 40-21. Three stickbacks, a three by Mercedes Riggs and a steal late in the half by Williams that led to Johnson hitting a bucket at the buzzer built that lead.
That last basket gave Duke all the momentum, as Greenwell led a 14-4 run to start the second half to put the game out of reach. She hit threes, got to the foul line and generally ran amok. Hoo frosh Mikayla Venson scored five straight points to cut the lead to 24, but a three point play by Johnson snuffed out that comeback. The Devils held and then slowly extended the lead until the final 1:37; Virginia scored the last five meaningless points of the game. Every player contributed for Duke, and the whole team seemed ready to compete and on the same page in a way they haven't always been this season. We'll see how that translates against Notre Dame.
Top Performers
Rebecca Greenwell, Duke: 22 points, 5 rebounds, 2 assists, 3 steals, 4-10 3FG. Greenwell has been a steady scorer all season long, but she hasn't had a dominant game like this for quite some time.


Azurá Stevens, Duke: 10 points, 14 rebounds, 4 assists, 3 steals, 2 blocks. The do-it-all forward struggled from the field (4-13) but still found ways to get it done.


Sarah Imovbioh, Virginia: 14 points, 8 rebounds. She was the only Virginia player who didn't back down to the Devils, and she helped keep points in the paint a 24-24 draw.
Duke Blue Devils Team Box Score
| | | | | | | | | | | | | | |
| --- | --- | --- | --- | --- | --- | --- | --- | --- | --- | --- | --- | --- | --- |
| | PTS | FG | FG % | 3FG | 3FG % | FT | FT% | A | O-D-REB | BLK | STL | TO | PF |
| 1st | 40 | 16-33 | 48.5 | 2-10 | 20.0 | 6-6 | 100.0 | 8 | 10-12-22 | 0 | 8 | 9 | 4 |
| 2nd | 31 | 10-26 | 38.5 | 4-9 | 44.4 | 7-11 | 63.6 | 9 | 8-12-20 | 4 | 8 | 10 | 5 |
| TOT | 71 | 26-59 | 44.1 | 6-19 | 31.6 | 13-17 | 76.5 | 17 | 17-25-41 | 4 | 16 | 20 | 9 |
Virginia Team Box Score
| | | | | | | | | | | | | | |
| --- | --- | --- | --- | --- | --- | --- | --- | --- | --- | --- | --- | --- | --- |
| | PTS | FG | FG % | 3FG | 3FG % | FT | FT% | A | O-D-REB | BLK | STL | TO | PF |
| 2nd | 24 | 10-27 | 37.0 | 2-5 | 40.0 | 2-3 | 66.7 | 6 | 5-8-13 | 2 | 4 | 10 | 8 |
| TOT | 45 | 19-52 | 36.5 | 2-11 | 18.2 | 5-8 | 62.5 | 13 | 10-15-25 | 2 | 9 | 22 | 13 |
| 1st | 21 | 9-25 | 36.0 | 0-6 | 0.0 | 3-5 | 60.0 | 7 | 5-7-12 | 0 | 5 | 12 | 5 |
---
Please support DWHoops with a site membership today!
Click Here to Learn More