| | |
| --- | --- |
| NOSH Nutshell: Devils Shut Out Behind Arc | |
Please Support our Sponsor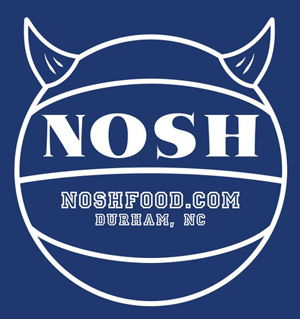 Visit NOSH for great food!
Click their logo for more info
---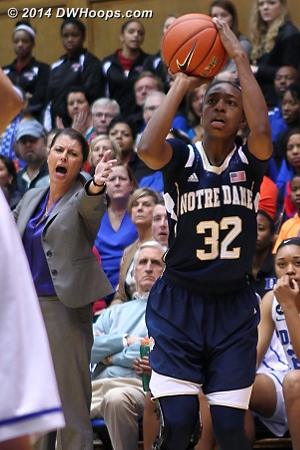 Notre Dame perimeter shooters like Jewell Loyd (pictured here in 2014) once again found open looks against the Duke defense, shooting 9-23 behind the arc as a team. Meanwhile, Duke was 0-12 from long range.
DWHoops Photo by Orin Day
---
Join DWHoops with Paypal!



DWHoops Needs
Your Support!
Click Here To Help
JOYCE CENTER -- The Blue Devils of Duke lost to Notre Dame 63-50 in a game where the final score didn't indicate how well Duke played early or how well Notre Dame played late in the first half. Once again, Duke played against a good team with a great coach and seemed to have them on the ropes early in the contest. Then that opponent made a couple of adjustments, Duke failed to react well to those adjustments, and the game quickly turned around. In this case, the Devils overwhelmed Notre Dame early with their size and length. The Devils were regularly using the lob to get the ball to Elizabeth Williams and Azurá Stevens, mixing in jump shots from Stevens & Williams as well as rugged plays from Rebecca Greenwell. The Irish broke the glass case containing superstar Jewell Loyd and she went to work with some tough threes to bring the Irish back from an early 14-5 deficit.
The Irish then broke off a 19-4 run based on a simple adjustment: they went to a zone with a chaser face-guarding Greenwell. With Duke's single reliable shooter accounted for, the post players were able to pack the paint and make things tough for Duke's posts. The Devils didn't help their cause with poor spacing and even worse perimeter defense. A stickback by Stevens and a Williams foul shot stopped some of the bleeding, but the Irish held a 34-24 lead at the half. Duke once again came out charging in the second half, with Stevens and Williams punishing the Irish inside. It helped to have Ka'lia Johnson back on the floor after sitting out a number of minutes in the first half with two fouls. Duke had a chance to cut the lead to 34-32 but missed a couple of bunnies, and the Irish banged in a three to make it 37-30. Williams cut the lead to 41-33 with an amazing stickback plus the foul, but the Devils simply fell apart. There were missed free throws, rushed shots, missed layups, and some remarkable transition offense on the part of the Irish. After an 11-0 run, it was 52-33 in favor of Notre Dame.
Duke continued the hang around, as Williams kept attacking the basket and deep sub Erin Mathias had a nice post-up. The Devils pulled within 54-41 before Loyd drained another three. It was the team's ninth of the game (compared to 0 for Duke) and was the final knockout punch. The Irish soon went up 61-42, and an 8-2 run by Duke late in the game made it look more respectable, especially since they managed to get up to 50 points. The Devils missed 8 of their 16 foul shots, missed a number of short shots around the hoop and had some silly turnovers. Even without hitting any long-range shots, the Devils still had enough offense to make things more interesting, but it was the simple plays that they couldn't convert. A lot of it seemed to be down to a lack of confidence at certain points and a lack of focus at others. The Devils won the rebounding battle but simply couldn't convert enough offensive boards into points.
Top Performers
Jewell Loyd, Notre Dame: 21 points, 6 rebounds, 5 assists, 2 steals, 5-6 3FG. The best player in the country did what she does: make shots when her team needed her.


Brianna Turner, Notre Dame: 11 points, 5 rebounds, 4 blocks, 2 assists, 2 steals. It took Turner a little while to get going, but her quickness and post defense proved to be crucial.


Elizabeth Williams, Duke: 18 points, 11 rebounds. Liz had to work like crazy to get her points.
Duke Blue Devils Team Box Score
| | | | | | | | | | | | | | |
| --- | --- | --- | --- | --- | --- | --- | --- | --- | --- | --- | --- | --- | --- |
| | PTS | FG | FG % | 3FG | 3FG % | FT | FT% | A | O-D-REB | BLK | STL | TO | PF |
| 2nd | 26 | 11-34 | 32.4 | 0-4 | 0.0 | 4-10 | 40.0 | 3 | 12-15-27 | 0 | 4 | 11 | 7 |
| TOT | 50 | 21-62 | 33.9 | 0-12 | 0.0 | 8-16 | 50.0 | 8 | 20-25-45 | 1 | 6 | 19 | 14 |
| 1st | 24 | 10-28 | 35.7 | 0-8 | 0.0 | 4-6 | 66.7 | 5 | 8-10-18 | 1 | 2 | 8 | 7 |
Notre Dame Team Box Score
| | | | | | | | | | | | | | |
| --- | --- | --- | --- | --- | --- | --- | --- | --- | --- | --- | --- | --- | --- |
| | PTS | FG | FG % | 3FG | 3FG % | FT | FT% | A | O-D-REB | BLK | STL | TO | PF |
| 1st | 34 | 12-29 | 41.4 | 6-13 | 46.2 | 4-6 | 66.7 | 8 | 8-11-19 | 2 | 6 | 6 | 6 |
| 2nd | 29 | 11-29 | 37.9 | 3-10 | 30.0 | 4-6 | 66.7 | 8 | 4-14-18 | 5 | 5 | 8 | 9 |
| TOT | 63 | 23-58 | 39.7 | 9-23 | 39.1 | 8-12 | 66.7 | 16 | 12-25-37 | 7 | 11 | 14 | 15 |
---
Please support DWHoops with a site membership today!
Click Here to Learn More