| | |
| --- | --- |
| NOSH Nutshell: 12 NC State Threes Too Much for Devils | |
Upset in Raleigh
Duke coach Joanne P. McCallie expresses her displeasure with NC State plays such as Miah Spencer's first half buzzer beating three, celebrated by Spencer (right). State won 72-59 in the final Hoops for Hope game before Reynolds Coliseum undergoes major renovations.


DWHoops Photos by Orin Day
Please Support our Sponsor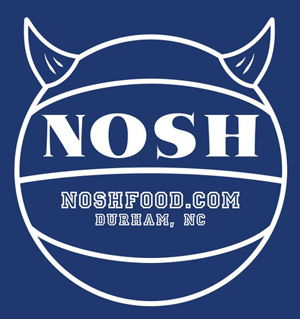 Visit NOSH for great food!
Click their logo for more info
---
Azurá Stevens had a 13/10 double-double in Raleigh, but Duke's posts couldn't outscore the four NC State guards in double figures.
DWHoops Photo by Orin Day
---
Join DWHoops with Paypal!



DWHoops Needs
Your Support!
Click Here To Help
REYNOLDS COLISEUM -- Using a formula almost identical to the one that Boston College used to upset Duke, NC State proved that basketball really is a game of match-ups in upsetting Duke, 72-59. The tiny Wolfpack (their backcourt goes 5-5, 5-8, 5-8 and their frontcourt 6-1, 6-1) used speed, spacing and tremendous shooting (12-25 from three) to keep Duke off-balance. The Devils struggled to impose their style of play despite owning 32-6 and 21-7 advantages in paint points and second chance points respectively, in large part because of State's incredible 28-5 edge in points off turnovers. These weren't aggressive turnovers that came from traps; instead, they were passes bobbled, traveling in the post and a total lack of focus at that end. Every time Duke made such a mistake, State took advantage, often by taking a three.
The game was very close for much of the first half. Indeed, Duke led for nearly ten minutes. Duke went up 17-12 as Azurá Stevens finally got into the flow of the game, scoring two buckets in a row. She looked a little jittery at times, perhaps because so many people she knows were at the game (she's from nearby Cary). A Stevens drive kept Duke on top at 21-18, but then the offense fell apart for the Devils. The Pack went on an 8-0 run that included back-to-back treys. The Devils countered with a nice pass from Amber Henson to Kendall Cooper inside (one of the very few times a post entry pass actually worked) and Ka'lia Johnson scored on a drive. Duke got the ball back, but a turnover by Stevens led to a State basket. Duke had many shots at the basket and missed plenty of open shots, but Stevens was fouled for a one-and-one. She missed, and State's Miah Spencer nailed a three at the halftime buzzer to give the Wolfpack Women a tremendous amount of momentum going into the second half.
The Devils made a nice run at the start of the second half, as Johnson and Rebecca Greenwell hit back-to-back treys. The Devils had missed 18 threes in a row up to that point, across several games. Williams hit 2 foul shots and a floater to give Duke a 35-34 lead. The Pack countered with a 12-0 run consisting of four consecutive treys. Duke took bad shots and turned the ball over twice, and the confident Pack wasted little time in pulling the trigger on wide-open shots. The Devils were inconsistent on rotating over to the shooter for much of the game and didn't do a great job of keeping a hand up on defense, but this was yet another case where playing man for longer periods of time would have made sense. When State tried to come inside on layups, they had them swatted away by Duke's bigs.
Thanks to Johnson and Williams, Duke pulled within 4 a couple of other times, including at the 8:51 mark when Stevens hit 2 foul shots. A poor shot by Cooper, a turnover by Stevens and a turnover by Johnson led to a 7-0 run that put Duke in desperation mode. State's scrappy play on defense and their toughness inside took Duke by surprise, especially since the Pack made sure to zero in on Greenwell, holding her to 4-18 from the floor. After that run, it was pretty much free throws all the way down, as Duke came within just 7 points down the stretch. In their 10th Annual Hoops For Hope, State played inspired basketball that Kay Yow would have been proud of. Duke's play was far from inspired.
Top Performers
Miah Spencer, NC State: 23 points, 3 rebounds, 3-3 3FG. Spencer was spectacular from long range and was effective attacking the basket as well.


Jennifer Mathurin, NC State: 13 points, 12 rebounds, 3-6 3FG. Mathurin, at 6-1, more than held her own against Duke's bigger post players.


Elizabeth Williams, Duke: 19 points, 8 rebounds, 2 blocks. When Liz was an active part of the offense, Duke did well. When she didn't get a touch, Duke struggled.
Duke Blue Devils Team Box Score
| | | | | | | | | | | | | | |
| --- | --- | --- | --- | --- | --- | --- | --- | --- | --- | --- | --- | --- | --- |
| | PTS | FG | FG % | 3FG | 3FG % | FT | FT% | A | O-D-REB | BLK | STL | TO | PF |
| 1st | 25 | 10-27 | 37.0 | 0-6 | 0.0 | 5-8 | 62.5 | 7 | 6-17-23 | 3 | 3 | 10 | 7 |
| 2nd | 34 | 12-30 | 40.0 | 3-12 | 25.0 | 7-12 | 58.3 | 4 | 13-14-27 | 2 | 1 | 8 | 16 |
| TOT | 59 | 22-57 | 38.6 | 3-18 | 16.7 | 12-20 | 60.0 | 11 | 19-31-50 | 5 | 4 | 18 | 23 |
NC State Team Box Score
| | | | | | | | | | | | | | |
| --- | --- | --- | --- | --- | --- | --- | --- | --- | --- | --- | --- | --- | --- |
| | PTS | FG | FG % | 3FG | 3FG % | FT | FT% | A | O-D-REB | BLK | STL | TO | PF |
| TOT | 72 | 19-58 | 32.8 | 12-25 | 48.0 | 22-26 | 84.6 | 14 | 11-22-33 | 2 | 10 | 7 | 18 |
| 1st | 31 | 11-33 | 33.3 | 7-13 | 53.8 | 2-3 | 66.7 | 8 | 6-13-19 | 0 | 7 | 6 | 8 |
| 2nd | 41 | 8-25 | 32.0 | 5-12 | 41.7 | 20-23 | 87.0 | 6 | 5-9-14 | 2 | 3 | 1 | 10 |
---
Please support DWHoops with a site membership today!
Click Here to Learn More