| | |
| --- | --- |
| NOSH Nutshell: Jackets Hand Duke 3rd Straight Loss, Snap 37 Game Series Streak | |
Please Support our Sponsor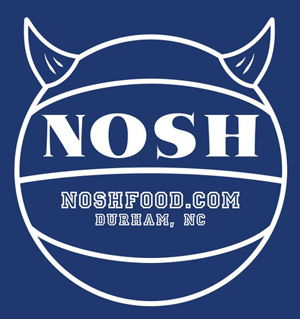 Visit NOSH for great food!
Click their logo for more info
---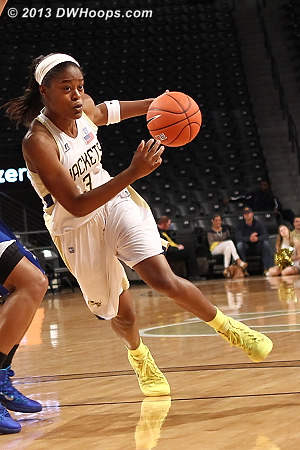 Georgia Tech sophomore Kaela Davis scored a game-high 24 points as Georgia Tech defeated Duke for the first time in nearly 21 years.
DWHoops Photo by Orin Day
---
Join DWHoops with Paypal!



DWHoops Needs
Your Support!
Click Here To Help
MCCAMISH PAVILION -- The struggling Duke Blue Devils lost yet another game on the road to an unranked opponent, this time having their 37-game and 21-year winning streak snapped against an energized Georgia Tech squad, 71-62. Duke was listless and looked confused for the first thirty minutes of the game and then made a number of spirited comeback attempts. By that point, however, it was too little, too late, as Tech made some big plays down the stretch to hold off the Devils. Still, even when the Jackets seemed to hand Duke an engraved invitation to get back in the game by twice missing the front of one-and-ones in the late going, Duke still couldn't take advantage. All of the usual problems against opponents of late were present: poor close-outs on shooters, a lack of overall toughness at times (allowing smaller players to get rebounds against Duke's front line), and total disorganization on offense. It's as though the coaches simply said "get the ball inside" without coming up with a viable solution to the fact that Tech clogged the lane with three defenders at all times and essentially dared the Blue Devils to shoot threes. Duke took that dare and was an awful 3-18 as a result.
After Duke went up 4-0 to start the game, Tech responded with a 9-0 run that included a trey from star Kaela Davis. Duke would stay relatively close until back-to-back treys from the Jackets made it 21-8. Two free throws from Amber Henson and a trey from Azurá Stevens brought Duke to within 10, but Tech kept finding ways to score. The end of the half was a disaster, as Duke once again came within 10 but Tech scored the last four points of the half to lead 33-19. Davis had 14 points for Tech, hitting from long range as well as scooping up 5 rebounds.
The lead swelled to 18 before five straight Duke points prevented the game from being a runaway, thanks to a floater by Stevens and a three point play by Greenwell. Elizabeth Williams finally got into the act with a stickback, Greenwell had a drive and Stevens had a stickback as Duke cut the lead to 40-30. Right on cue, stretch four Katerina Vuckovic drained a three to keep Duke at bay. Not surprisingly, this was her best showing of the year. Duke kept coming, as Greenwell and Kendall Cooper scored on drives. Duke played great defense and forced a desperation three by Tech guard Antonia Peresson--which naturally splashed in. Greenwell found Stevens for a score and then had a steal and layup to cut the lead to 8 with about ten minutes to go.
Tech continued to hold off the Devils, getting some tough baskets inside. Finally, Duke wore the Jackets down a bit and scored back-to-back post-ups. Cooper hit a 10' jumper to bring Duke within 6. Greenwell hit a jumper to make it 60-54. Tech immediately responded with a basket and Greenwell and Cooper both missed shots and Vuckovic drained a wide-open three in the corner. Duke looked dead, but suddenly Ka'lia Johnson and Greenwell drained threes to make it 67-60. Tech twice missed the front end of one-and-ones but Duke could not take advantage. When Davis hit two foul shots to make it 69-60, it was over.
Top Performers
Kaela Davis, Georgia Tech: 24 points, 7 rebounds. Tech's big gun had a big game, scoring when Tech needed her.


Katarina Vuckovic, Georgia Tech: 11 points, 4 rebounds, 2 assists. She was the other shooter that Tech needed to stretch the floor, and she hit a huge three down the stretch to preserve the win.


Rebecca Greenwell, Duke: 16 points, 4 rebounds, 3 assists, 3 steals. After a terrible first half, Greenwell was relentless in the second half for Duke.
Duke Blue Devils Team Box Score
| | | | | | | | | | | | | | |
| --- | --- | --- | --- | --- | --- | --- | --- | --- | --- | --- | --- | --- | --- |
| | PTS | FG | FG % | 3FG | 3FG % | FT | FT% | A | O-D-REB | BLK | STL | TO | PF |
| 1st | 19 | 7-34 | 20.6 | 1-10 | 10.0 | 4-6 | 66.7 | 3 | 12-12-24 | 5 | 3 | 6 | 6 |
| 2nd | 43 | 19-39 | 48.7 | 2-8 | 25.0 | 3-4 | 75.0 | 7 | 12-12-24 | 6 | 5 | 6 | 10 |
| TOT | 62 | 26-73 | 35.6 | 3-18 | 16.7 | 7-10 | 70.0 | 10 | 24-24-48 | 11 | 8 | 12 | 16 |
Georgia Tech Team Box Score
| | | | | | | | | | | | | | |
| --- | --- | --- | --- | --- | --- | --- | --- | --- | --- | --- | --- | --- | --- |
| | PTS | FG | FG % | 3FG | 3FG % | FT | FT% | A | O-D-REB | BLK | STL | TO | PF |
| 1st | 33 | 13-32 | 40.6 | 4-12 | 33.3 | 3-4 | 75.0 | 9 | 7-15-22 | 1 | 1 | 6 | 5 |
| 2nd | 38 | 12-31 | 38.7 | 4-9 | 44.4 | 10-13 | 76.9 | 5 | 10-9-19 | 1 | 4 | 7 | 6 |
| TOT | 71 | 25-63 | 39.7 | 8-21 | 38.1 | 13-17 | 76.5 | 14 | 17-24-41 | 2 | 5 | 13 | 11 |
---
Please support DWHoops with a site membership today!
Click Here to Learn More