| | |
| --- | --- |
| NOSH Nutshell: Strong Devil Second Half Saves Senior Day | |
Senior Night Redemption
The inside play of Duke's Azurá Stevens (left, 21 points, 12 rebounds) and Elizabeth Williams (center, 18 points, 8 rebounds) left Allisha Gray and North Carolina in tears as the Blue Devils defeated the Tar Heels 81-80 in Durham. It snapped a three game losing streak for Duke.


DWHoops Photos by Orin Day
Please Support our Sponsor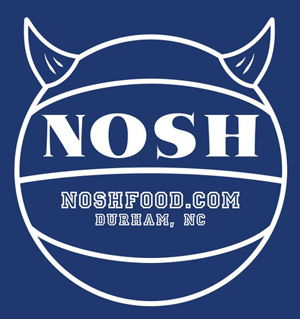 Visit NOSH for great food!
Click their logo for more info
---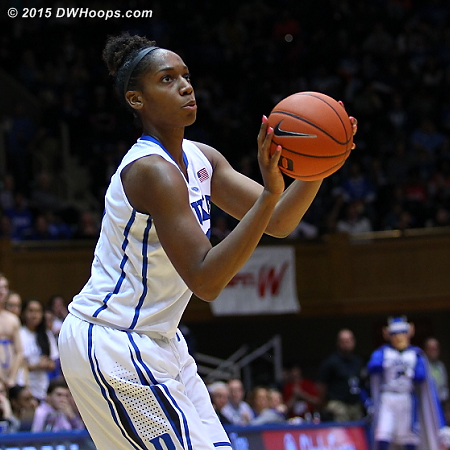 Amber Henson contributed 34 solid minutes on what may be the first of multiple Senior Days for her, adding 10 points on 4-5 shooting to other solid stats.
DWHoops Photo by Orin Day
---
Join DWHoops with Paypal!



DWHoops Needs
Your Support!
Click Here To Help
CAMERON INDOOR STADIUM -- In a proverbial game of runs, Duke outlasted arch-foe UNC for a heart-stopping 81-80 win on Senior Day. The win preserved a double-bye for the ACC tournament for the Blue Devils as they finished 4th in the ACC. The win might have also preserved Duke's hopes of hosting the first two rounds of the NCAA tournament as a top-sixteen national seed, given that it came against a higher-ranked opponent. This game was exciting and full of big plays but also remarkably sloppy, as the two squads combined for 45 turnovers and 38 fouls. UNC hit a program-record 14 three pointers, but Duke countered with a 40-20 edge in paint points. Once again, it was size vs speed, and size won by the thinnest of margins.
UNC had the upper hand for much of the first half, although by a fairly thin edge. Duke got some early contributions from Kendall Cooper off the bench, who tied the game at 9-all with a high-low catch on a pass from Elizabeth Williams. Every time Duke got close, the Heels got a three from silky shooter Allisha Gray or Jessica Washington. The Heels went up 19-13 midway through the first half, but Azurá Stevens hit a turnaround jumper, had a steal and layup, and scored on a give-and-go from Amber Henson to tie the game up. Henson and Cooper both hit jump shots (something they couldn't do against Georgia Tech) to keep Duke close, and a stickback from Stevens made it 27-25 in favor of the Heels. The Heels then went on a half-ending 13-4 run as Duke started to fall apart thanks to foul trouble and turnovers. Washington hit a couple of more threes during the run, as Cooper committed a foul immediately after missing a shot and Greenwell was called for an offensive foul. Washington actually had a good look at another three before the half but missed. Duke was whistled for ten team fouls to UNC's four, and there seemed to be little rhyme or reason as to why. The Heels were an amazing 7-11 from three, though they struggled to score around the basket -- post Stephanie Mavunga was just 0-5 from the field.
To start the second half, Greenwell scored on a drive, but Gray drained a three to push the lead to 12. Henson got isolated on the wing with the ball, as the Heels dared her to shoot. She took a dribble and sank a three that changed the course of the game. Henson then blocked a shot and then scored on a post-up plus the foul. After a UNC turnover, Williams scored on a stickback plus one. A pass from Henson to Stevens suddenly put Duke up 44-43. After the Heels tied the game, it was time for Greenwell to step up. She scored on a three, got a steal and layup and another steal and foul shot. She missed the second, but Duke got the rebound and Cooper scored on a finger roll. With about twelve minutes to go, Duke was suddenly up 54-44.
Duke had another run in them, as Johnson hit a 10' jumper, Greenwell scored on a drive plus the foul and then hit Erin Mathias for a basket on a post-up plus one. With ten minutes to go, Duke built a 63-48 lead. It would not last. Washington hit a three, and Greenwell matched her with a trey. Washington came back with another three, and then Johnson took an ill-advised trey. UNC's Brittany Rountree hit a three to cut the lead to 66-57, bringing UNC within range. The Heels scored again to make it 66-57. After playing man-to-man defense for most of the game, the Heels went to a box-and-one on Rebecca Greenwell (the defense of choice for opponents since the Notre Dame game) and that gave Duke some problems. The Heels had their own problems to deal with, as Mavunga picked up her fourth foul, as did a couple of other Heels.
When Duke was successful, it was because they were able to go inside. Stevens found Williams, but the Heels cut the lead to 68-63. Williams then scored on a drive and Greenwell sank 2 foul shots to make it 72-63. Mavunga scored on a three point play, but Henson somehow maneuvered in and scored on a hook. Washington hit a three, but Williams scored on a left-handed hook over three opponents to make it 76-69. Back-to-back baskets by the Heels were matched by two Stevens foul shots. UNC's Latifah Coleman made it 78-75 on a 25' three. Williams was called for an offensive foul, and the Heels got two offensive rebounds to move within 78-75. Stevens was fouled and hit one of two to make it 79-77. Gray drove and missed a layup with three seconds left, and Stevens got the rebound and was fouled. She made both foul shots, which was a very good thing, since it made Gray's subsequent buzzer-beating three a meaningless bucket.. Duke shot 65% in the second half and kept their turnovers down to nine. Most importantly, they got to the foul line 21 times in the second half and Stevens in particular stepped up to hit five of six. In the end, Duke got just the win they needed after a rare three game losing streak and a little momentum going into the ACC tournament.
Top Performers
Azurá Stevens, Duke: 21 points, 12 rebounds, 3 assists, 2 blocks. She was clutch at the foul line and scored both inside and out.


Rebecca Greenwell, Duke: 19 points, 6 rebounds, 4 assists, 3 steals. Her toughness and defense going up against UNC's endless supply of guards was essential to Duke's win.


Allisha Gray, UNC: 20 points, 8 rebounds, 2 blocks, 2 steals. Gray was deadly in the corner and did a great job as she played power forward for much of the game.
Duke Blue Devils Team Box Score
| | | | | | | | | | | | | | |
| --- | --- | --- | --- | --- | --- | --- | --- | --- | --- | --- | --- | --- | --- |
| | PTS | FG | FG % | 3FG | 3FG % | FT | FT% | A | O-D-REB | BLK | STL | TO | PF |
| TOT | 81 | 29-56 | 51.8 | 4-12 | 33.3 | 19-27 | 70.4 | 14 | 15-24-39 | 7 | 8 | 23 | 18 |
| 1st | 29 | 12-30 | 40.0 | 1-4 | 25.0 | 4-6 | 66.7 | 7 | 10-11-21 | 2 | 4 | 14 | 10 |
| 2nd | 52 | 17-26 | 65.4 | 3-8 | 37.5 | 15-21 | 71.4 | 7 | 5-13-18 | 5 | 4 | 9 | 8 |
North Carolina Team Box Score
| | | | | | | | | | | | | | |
| --- | --- | --- | --- | --- | --- | --- | --- | --- | --- | --- | --- | --- | --- |
| | PTS | FG | FG % | 3FG | 3FG % | FT | FT% | A | O-D-REB | BLK | STL | TO | PF |
| 1st | 40 | 14-29 | 48.3 | 7-11 | 63.6 | 5-6 | 83.3 | 7 | 5-9-14 | 5 | 5 | 11 | 4 |
| 2nd | 40 | 14-35 | 40.0 | 7-15 | 46.7 | 5-7 | 71.4 | 6 | 9-9-18 | 2 | 4 | 11 | 16 |
| TOT | 80 | 28-64 | 43.8 | 14-26 | 53.8 | 10-13 | 76.9 | 13 | 14-18-32 | 7 | 9 | 22 | 20 |
---
Please support DWHoops with a site membership today!
Click Here to Learn More