| | |
| --- | --- |
| R Buck Ranch Nutshell: Another Second Half Comeback | |
Devils Advance to Sweet Sixteen
Azurá Stevens did it all for Duke, scoring 22 points from many locations and adding 10 rebounds as the Blue Devils defeated Mississippi State 64-56 in Cameron, advancing to the NCAA Sweet Sixteen for the 16th time in program history.
DWHoops Photos by Orin Day
Join DWHoops for 2016 and receive an exclusive look at Duke's incoming freshmen!
Learn More about DWHoops
---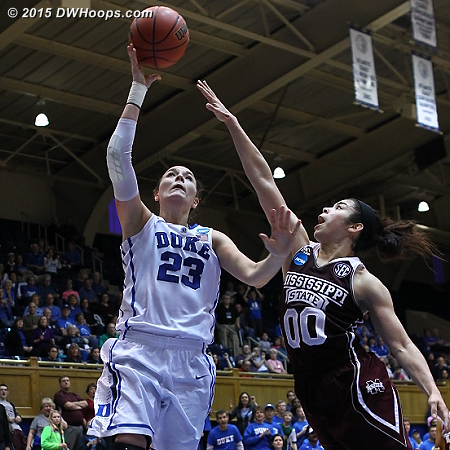 Rebecca Greenwell scored 17 including sinking a trio of momentum-shifting three point baskets.
DWHoops Photo by Orin Day
CAMERON INDOOR STADIUM -- Duke finally seemed to absorb the lesson of how to limit their turnovers against pressure as well as how to turn the tables on the defensive end to overcome a second half deficit and wind up winning with relative ease, beating Mississippi State 64-56 to advance to the Sweet Sixteen. The Bulldogs (27-7) were exactly the sort of team that was built to beat Duke: they were quick, they had tons of guards, they hit lots of threes and they played with relentless pressure. Duke's first round crucible against Albany certainly seemed to put them in the right frame of mind to compete, but it was some adjustments on the fly that really won the game for Duke. After exclusively playing zone in the first half (as Duke has done for most of the year), they suddenly switched to man-to-man, a move that led to a 26-5 run that turned a deficit and a game MSU seemed in charge of into a shocking lead for Duke. The Devils (23-10) switched up defenses during this run, catching MSU off guard and leading to a number of poor shots. While they made up some of the difference down the stretch because of Duke's poor foul shooting, their body language betrayed a lack of belief--they knew they were beaten.
While this was far from a perfect game for Duke, they took care of their most important business: they dominated the boards, dominated the paint, and held their opponent to just 30% shooting from the field. The Devils also got their act together and finally focused enough to stop committing unforced turnovers in the second half. They exploited mismatches, moved the ball around fluidly, and varied the offense enough to keep MSU off-balance. The end result, though typically ugly, was one of Duke's best wins of the year. It came against a team that, though seeded below the Devils, was actually ranked higher (#12), and the second ranked NCAA second round foe in as many years.
Duke hit some jump shots early in the game as they established an early 10-3 lead. The Bulldogs were misfiring as Stevens hit a jumper, Ka'lia Johnson hit a jumper, Elizabeth Williams scored on a stickback and Stevens scored twice inside on feeds from Johnson. MSU struck back with a quartet of treys to take a 12-11 lead as Duke went cold, which was the start of a 15-3 Bulldog run. The Devils committed many of their 14 first half turnovers during this run. Just when it looked like MSU might get an arm's length lead, Duke went on an 8-0 run to take a 21-18 lead. Williams found Kendall Cooper inside for a three point play, Stevens scored on a clever inbounds play, and Williams found Rebecca Greenwell for a trey. MSU star Victoria Vivians (shut down in the first game against Tulane) hit a trey to tie things up. Williams scored on a foul shot and a drive, but MSU scored the last seven points of the half, including another trey by Vivians to make it 28-24 at the half. MSU dominated points off turnovers 14-4 and even had a 5-2 edge in second chance points.
The second half started off with a stickback by Stevens, but MSU was still in a groove as they took advantage of a disorganized Duke defense. Johnson kept her team in the game by hitting another open baseline jumper, then found Greenwell in transition for a three. That pulled Duke within 32-31, but a Bulldog trey and another basket made it 37-31. Duke kept coming close, only to make a key mistake or two as the Bulldogs got an open shot. Greenwell hit another three, Williams found Stevens inside and Greenwell scored on an inbounds quick-hitter to give Duke back the lead. The Rebels went up 39-38, but that would be their last lead of the game.
That's when Duke really took over. Williams found Stevens inside and then Greenwell found Williams on a similar play. A disoriented MSU team gave up drives to Johnson twice in a row from the left wing. A steal by Stevens led to a fast break basket by Greenwell, and Greenwell got the ball inside to Williams, who scored over shotblocker Martha Alwal. MSU stopped the 12-0 run with a trey, but Williams found Stevens on the wing for an open trey as she dealt with a triple-team, Stevens hit 2 foul shots, and Greenwell found Williams inside once again. Greenwell's ability to handle the ball as a secondary point guard was a huge key to Duke winning the game. MSU kept fighting, pulling as close as 58-52 with 1:21 left. Duke missed multiple foul shots to allow the Bulldogs a chance. MSU was whistled for a foul on a play where it looked like Greenwell might have pushed off first, and that error was compounded by a technical foul on MSU coach Vic Schaefer. Greenwell hit 3 of 4 foul shots, and that pretty much put the game away. For a team that came into the season with lowered expectations, making the Sweet Sixteen is a pretty good result. We'll see what else this team can still achieve.
Top Performers
Azurá Stevens, Duke: 22 points, 10 rebounds, 2 blocks. She kept Duke in the game in the first half and helped finish off the Bulldogs.


Rebecca Greenwell, Duke: 17 points, 5 rebounds, 3 assists, 2 steals. She came alive in the second half, especially at the defensive end.


Elizabeth Williams, Duke: 12 points, 9 rebounds, 4 assists, 2 blocks. She stepped up despite tremendous pressure and triple-teams from MSU.
Duke Blue Devils Team Box Score
| | | | | | | | | | | | | | |
| --- | --- | --- | --- | --- | --- | --- | --- | --- | --- | --- | --- | --- | --- |
| | PTS | FG | FG % | 3FG | 3FG % | FT | FT% | A | O-D-REB | BLK | STL | TO | PF |
| 1st | 24 | 10-18 | 55.6 | 1-3 | 33.3 | 3-5 | 60.0 | 7 | 4-16-20 | 3 | 1 | 14 | 7 |
| 2nd | 40 | 14-28 | 50.0 | 3-8 | 37.5 | 9-22 | 40.9 | 9 | 8-14-22 | 4 | 4 | 3 | 9 |
| TOT | 64 | 24-46 | 52.2 | 4-11 | 36.4 | 12-27 | 44.4 | 16 | 12-30-42 | 7 | 5 | 17 | 16 |
Mississippi State Team Box Score
| | | | | | | | | | | | | | |
| --- | --- | --- | --- | --- | --- | --- | --- | --- | --- | --- | --- | --- | --- |
| | PTS | FG | FG % | 3FG | 3FG % | FT | FT% | A | O-D-REB | BLK | STL | TO | PF |
| 2nd | 28 | 8-26 | 30.8 | 3-14 | 21.4 | 9-11 | 81.8 | 5 | 4-13-17 | 5 | 2 | 7 | 17 |
| TOT | 56 | 18-59 | 30.5 | 10-31 | 32.3 | 10-13 | 76.9 | 11 | 12-19-31 | 9 | 5 | 11 | 24 |
| 1st | 28 | 10-33 | 30.3 | 7-17 | 41.2 | 1-2 | 50.0 | 6 | 8-6-14 | 4 | 3 | 4 | 7 |
---
Please support DWHoops with a site membership today!
Click Here to Learn More