| | |
| --- | --- |
| Duke Tallies 44-22 Board Advantage Without Stevens | |
Back In the Win Column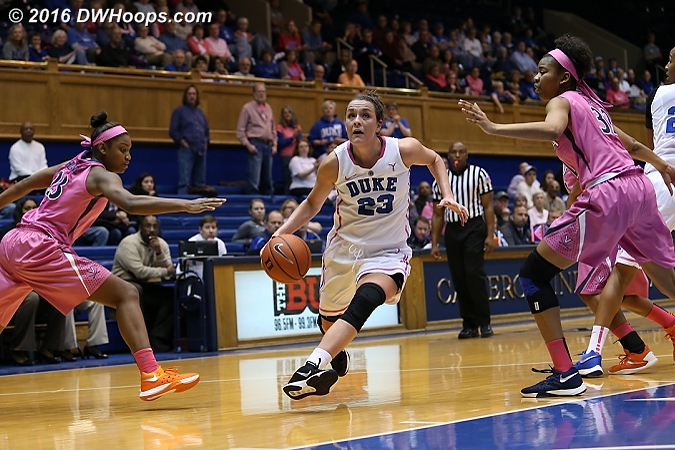 Rebecca Greenwell's game high 25 points and 12 rebounds helped Duke overcome the absence of Azura Stevens and 25 turnovers as the Blue Devils defeated Virginia, 67-52 in Cameron. Duke owned a 44-22 rebounding advantage and outscored the Wahoos 30-16 in the paint while Greenwell also drained 5 three pointers.
DWHoops Photo by Orin Day
CAMERON INDOOR STADIUM -- Duke's 67-52 win over Virginia was a bizarre game of runs, with sizzling three point shooting and inexplicable misses inside by both teams. Duke star Azurá Stevens was out with a torn plantar fascia (she's day-to-day), which made the Devils vulnerable to a Virginia squad that can hit threes. In the early going, the Hoos countered early baskets by Oderah Chidom and Erin Mathias with threes by guards Mikayla Venson (22 points on the night) and J'Kyra Brown (11 points). A pair of Duke turnovers and further hot shooting by the Cavs boosted them to an early 12-5 lead.
Duke first countered with improved passing, as a beautiful Angela Salvadores pass to Kyra Lambert led to a layup by Chidom. Henson stepped up the defense with a slo-mo steal and runout. Rebecca Greenwell bombed in back-to-back treys on passes from Henson and Chidom, giving Duke a 15-12 lead. A Chidom steal triggered a fast break that Greenwell finished. A couple of late turnovers in the quarter led to Salvadores beautifully splitting the defense for a layup and later hitting a foul shot. The Devils finished the quarter on a 15-0 run, totally flummoxing Virginia at both ends.
The second quarter saw the teams trade baskets for a bit, as Greenwell hit a jumper and Salvadores drove for another score. Back to back threes by Greenwell and Salvadores boosted Duke to a 30-19 lead, but the Hoos quickly cut that back to nine. The Devils steadily built their lead back up as Henson scored on a pass from Salvadores, Greenwell found Angela in transition, and Becca snagged her own miss for a stickback. The Hoos fought back to within 37-26, but some free throws and a dagger of a three by Salvadores with seven seconds to go in the half gave Duke a commanding 43-26 lead. The Devils shot a sizzling 57% from the floor and were +11 on the boards, which offset ten turnovers.
Duke opened up the second half with four unforced turnovers in a row, and Virginia feasted on them for seven quick points. After a Salvadores stickback, Virginia was able to go inside a bit and finally get Duke's defense off-balance, cutting the lead to 45-37. Greenwell hit a jumper and found Chidom for a layup to restore the lead to 12, but Venson sank back-to-back corner treys to make it a six point game and bring her team within reach. Once again, the guard tandem of Greenwell and Salvadores rescued Duke, as Becca found Angela in the corner for a long two, and then Angela went behind her back in transition and found Becca for a three. Becca then beat the third quarter buzzer with a tough runner to make it 56-45 and put Duke back in control.
The Devils quickly took control in the fourth quarter, as Chidom found Henson inside, Henson hit a long jumper, Crystal Primm scored on a drive, and Chidom scored on a tough turnaround jumper. That made it 64-47 with four minutes left, as a spent Virginia team couldn't get anything to land. This wasn't exactly a great quarter for Duke either, as the team had six turnovers in the final five minutes, but the Hoos weren't good enough to take advantage, scoring just seven points in the final period. Salvadores finished with 17 points and 6 rebounds, Chidom had 8 & 8, and Henson had 8 points, 5 boards and 4 blocks. Coach McCallie was quick to praise Kyra Lambert's defense on Venson when she was in the game, as well as Crystal Primm's defense on Breyana Mason. With the win, Duke upped their record to 17-7 and 6-4 in the ACC, while the Hoos fell to 13-10 and 3-6.
DWHoops Nosh Player of the Game: Rebecca Greenwell. On a night when Azura' Stevens was out, Greenwell put the team on her back with 25 points, 12 rebounds, 4 assists and 2 steals.
Five Fast Observations About Duke-Virginia
Presented in memory of Jim Sabiston
Regressing To The Mean. Virginia got out to a 12-5 lead with a couple of treys thanks to sizzling early shooting. Some of the shots were open, but others were tough makes that came thanks to getting a nice rhythm. That said, without any offensive balance, chances were that they'd soon regress to the mean because Virginia isn't a good shooting team. When Duke collapsed on post Lauren Moses, the Hoos panicked a bit and started chucking, which led to lots of easy Duke shots.


Small Was Big. Duke started off with a modified jumbo lineup with Chidom, Mathias and Henson--a lineup that's spent no time together. They struggled in the 2-3 zone against the Hoos and their perimeter attack. When Duke brought in Angela Salvadores, they were able to match up much better and even play a bit of man-to-man that was effective. Duke's guards did an outstanding job of getting to loose balls, allowing them to keep playing a three guard lineup and use it effectively.


Rim Protected. Whenever the Hoos got near the hoop, a Duke post player was poised to bother or block the shot. Virginia had just 16 points in the paint and Henson in particular sent back four shots. With the rim protected, Duke could afford to send chasers after Virginia's hot shooters.


Depth Charges. Minus Faith Randolph, Virginia only got 21 minutes from its bench, and that was just two players. Meanwhile, Duke got 54 minutes from its bench and got significant contributions from a couple of players. That took a toll on Virginia, especially in the fourth quarter, when they really started to run out of gas.


Shotmaking Is King. On a night when their most efficient offensive player was out, Duke needed its guards to step up and hit shots. That's just what Greenwell and Salvadores did, hitting 17 of 25 from the floor and a sizzling 7 of 9 from three. That 42 points almost cancelled out the 44 from Virginia's top three scorers. Offense was the best defense in this game.


Our DWHoops photo gallery of this game follows - for more photos, larger photos, and exclusive analysis, join DWHoops today.