| | |
| --- | --- |
| Georgia Tech Gets First Cameron Win Since 1993 | |
Georgia Tech 64, Duke 59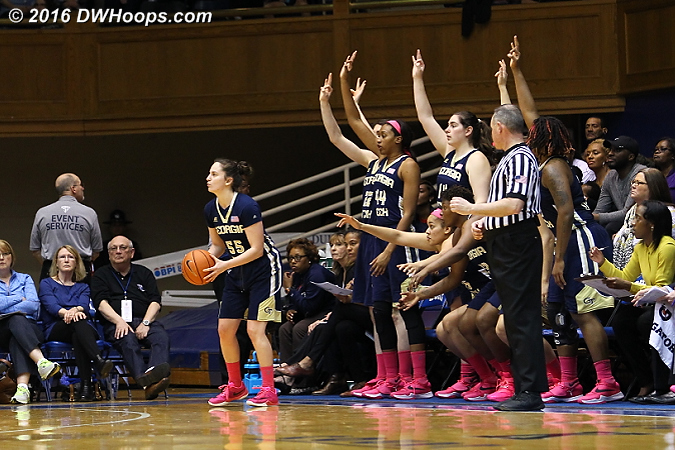 Repeated defensive failures gave Antonia Peresson and Georgia Tech wide open corner threes in the second half, helping the Jackets to earn their first victory in Cameron since 1993. Perreson led all scorers with 20 points including six treys. Meanwhile, Duke's eight ACC losses are their most since 1993-94, the last season in which the Blue Devils failed to reach the NCAA Tournament.
DWHoops Photo by Orin Day
CAMERON INDOOR STADIUM -- Duke's 64-59 loss to Georgia Tech was not unexpected, yet it was a new nadir in a season of lows. Once again, Duke managed to hold an opposing team's star player in check (this time, it was the ACC's leading scorer Aaliyah Whiteside, who was 3-14 from the field but did have 10 rebounds) but failed to contain the support players. The loss dropped Duke to 7-8 in the ACC and 18-11 overall, putting a serious dent in the Devils' NCAA tournament hopes.
It also makes the ACC tournament a lot tougher, as it will take a win at North Carolina plus a lot of help for Duke to avoid finishing eighth or ninth in the ACC opposite #1 seed Notre Dame. Duke still has talent on the floor, but finding ways to get them all to work in concert and establish them in the same game has proved to be elusive. At times, the team looks like they've just started practice instead of being well-drilled and prepared for any situation.
The Devils certainly started out strong, with a 10-0 run to open the game. Angela Salvadores and Rebecca Greenwell both had threes, Greenwell scored on a drive, and Amber Henson found Erin Mathias inside for a beautiful finish. Duke broke out to that lead despite three early turnovers, thanks to truly awful shooting by the Jackets, who were missing layups, short jumpers and threes.
The Jackets were still getting opportunities in the corners thanks to Duke's basic 2-3 defense, but designated shooter Antonia Peresson (who eventually wound up with a game-high 20 points with six treys) finally hit a three. Duke turned the ball over six times in the last five minutes of the quarter and all five shots, while GT got free throws in the last fifteen seconds of the quarter to make it 10-5.
The Devils should have at least a ten point after that quarter and a little room with which to operate. Instead, the Jackets opened the second quarter on a 9-0 run to take the lead as Duke turned the ball over three more times in the first two minutes. A remarkable effort play by Amber Henson and Kyra Lambert (an offensive rebound and an acrobatic attack on the hoop, plus the foul) cut it to a single point, but the Jackets responded with a 9-2 run triggered by another Peresson trey.
Duke fought back with a half-ending 13-6 run. Henson hit a short jumper in rhythm and then found Greenwell inside. The Jackets hit another three to make it 26-19, but Salvadores drained a trey and followed that up with a spectacular three point play as she got mugged by Tech's Roddreka Rogers. Peresson responded with another three, but Salvadores found Greenwell with the three point response to make it 29-28 at the half in favor of the Jackets.
The game started getting really chippy in the third quarter and Tech took advantage by powering up inside and getting fouled. The Jackets broke out to a 34-29 lead in the first three minutes of the quarter, but Duke responded with an 8-0 run as the Devils found gaps in Tech's zone and Crystal Primm, Greenwell and Salvadores all scored on drives. Rogers scored inside for Tech and the Jackets came up with a Greenwell turnover for a score that put them right back in front.
Greenwell hit a short shot and Oderah Chidom had a stickback that gave Duke a 42-38 lead. Tech turned Duke miscues into points and tied the game at 43-43 after Rogers absolutely crushed Faith Suggs with an elbow after Suggs fouled her by undercutting her position -- a play that was reviewed but not revised by the refs. Duke had three cracks at the basket but could not break the tie.
Tech opened the fourth quarter with a long three by non-shooter Ciana Cryor. It was way past the line, but Greenwell had her hands down and Cryor took her chances. Greenwell tried to answer but missed, and Tech started really punishing Duke on the offensive boards. After Peresson missed, Tech got the o-board and found Peresson in the same spot, where she nailed the shot. After Henson missed a three, the Jackets got three cracks at the basket to go up 51-43, establishing a working margin that Duke couldn't break.
Duke stayed close with two foul shots by Salvadores and a spin move by Chidom, but a beautifully-executed version of that same corner three gave Peresson her sixth three of the game and put the Jackets up by nine with 5:33 left. Greenwell scored on a post-up and Salvadores had a steal and used a beautiful Euro-step to get by her defender for a score. Primm missed two free throws that would have brought Duke to within three, but Salvadores hit a tough step-back jumper to do that at 56-53, with 2:32 to go.
Whiteside hit a jumper but Salvadores hit 2 freebies. Then came the killing sequence: Tech burning nearly a minute and a half thanks to getting four straight offensive rebounds and finally scoring on free throws. That made it 60-55 with 29 seconds to go, but Chidom scored quickly to make it three points again. Whiteside only hit one freebie and Lambert came back with a quick layup, but Rogers hit 2 shots with nine seconds left. Lambert tried a layup instead of a three and missed, and that was all she wrote.
Greenwell finished with 16 points, but only six in the second half. Henson had a solid game with 6 points, 9 rebounds, 3 assists and 4 blocks. Katarina Vuckovic had 12 points and Rogers had 11 points and 11 rebounds. Mercedes Riggs got three minutes on her Senior Day.
DWHoops Nosh Player of the Game
Angela Salvadores. She had 19 points, 3 boards and 2 assists as she overcame an ankle injury to keep Duke in the game, especially in the fourth quarter.
Five Fast Observations About Duke-GeorgiaTech
Presented in memory of Jim Sabiston
23. Not just Greenwell's number, but the difference in attempts between Duke and Georgia Tech. The Jackets got 71 attempts and Duke just 48, thanks to 22 Duke turnovers and 24 Jacket offensive boards. Tech coach MaChelle Joseph must have been elated that her team was only down 10-5 after one quarter, considering that her team shot 1-17 from the floor. Their poor shooting was more than offset by the intensity of their hustle play.


History In The Making. The Jackets are just 16-11 and 6-8 in the ACC, which is a far cry from the team that went to the Sweet Sixteen and competed for the ACC title. That said, Joseph told her team that her seniors had a chance to make history and do something no Tech team had done since 1993: beat Duke in Cameron Indoor Stadium. Indeed, it was just Tech's third-ever win in Durham after years of futility. Meanwhile, Duke is heading toward a different kind of history: worst ACC record since 1994 and an increased probability of missing the NCAA tournament.


Cornered. In a 2-3 zone, a patient team can work the ball around, cause the zone to shift and get an open corner three. Tech ran this play a good dozen times, resulting in great looks for shooter Antonia Peresson. Coach McCallie indicated that Duke should have been able to rotate over to challenge that shot and just didn't. I agree that Duke could have done this with Azura' Stevens in the lineup, since she covers so much space and is so long, but Stevens isn't in the lineup and it should have been clear that her team was unable to defend that shot in that defense. Instead, the coach opted to keep using it, despite the fact that Tech shot spottily from any place outside of the corners and its leading scorer was having an off game. That lack of adjustments especially helped the Jackets in the fourth quarter.


Gotta Have Faith? It is clear that as a freshman, Faith Suggs has limitations as a player. She can't dribble or pass all that well at this level yet. What she can do is hustle, rebound and hit stand-still threes. With its offensive options limited when Henson was out of the game, it was unclear why Suggs sat for so long. Then she got crushed with an elbow and went to the floor. I asked if taking her out was a rotational decision or a precaution and coach McCallie noted that it was a little of both. I can understand the worry about concussions, but it wasn't clear if she even went through that protocol. Regardless, it was unfortunate that a potential weapon was left unused for so long.


Let's Not Get Physical. This was a game where Duke really missed Elizabeth Williams -- not so much for her scoring, but for her ability to really mix it up inside. Tech's Roddreka Rogers (every bit as tough as her dad Rodney) crushed Duke players on screens, sent them flying on inbounds plays and shoved them flying backing into the basket. Duke simply wasn't prepared for this kind of action, despite intense physical play being a Georgia Tech calling card for many years, and it frequently frustrated them.


For additional exclusive analysis of this game, please join DWHoops today. A full photo gallery follows...