| | |
| --- | --- |
| Devils Earn 8th Seed in ACC, UNC Finishes 4-12 | |
Whipping the Tar Heels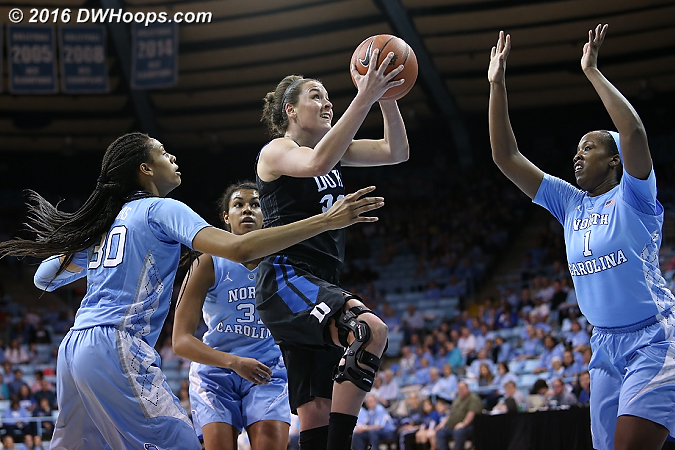 Rebecca Greenwell and the Blue Devils shredded North Carolina's defense on Senior Day in Chapel Hill, rolling to a 93-57 win over the Tar Heels. Greenwell led all scorers with 27 points in just 29 minutes and added 10 rebounds for a double-double. Duke earned the #8 seed in the ACC Tournament and will face #9 Virginia in t Second Round, Thursday 3/3 at 2 PM.
DWHoops Photo by Orin Day
CARMICHAEL ARENA -- Duke shot 52% and outrebounded North Carolina 51-33 to spoil Senior Day in Chapel Hill, thrashing the Tar Heels 93-57. Rebecca Greenwell led Duke with 27 points and 10 rebounds; Oderah Chidom added 20 points and Kyra Lambert notched 14. The Devils finished the ACC 8-8, avoiding their first losing league record since 1994. They also still have a chance to get to twenty wins this season. The loss for UNC puts them at 14-17, which means that the only way they can make the postseason is if they go to the ACC tournament finals.
With UNC starting walk-ons Rachel McGirt and Anne Corrigan for Senior Day, Duke was able to build a small lead despite missing five of its first eight shots. A bad Corrigan turnover led to a steal and runout by Angela Salvadores, while a shot well out of N'Dea Bryant's range led to an easy drive by Rebecca Greenwell. Amber Henson relocated a pass out to Greenwell for a trey, giving the Devils a 9-2 lead.
UNC's Jamie Cherry, she of the late-game clutch shooting, nailed a much-needed trey to cut the lead to four. Greenwell hit a short jumper after a drive by Salvadores sucked in the defender, and then Henson had a beautiful give-and-go to Oderah Chidom to give Duke a 13-5 lead. UNC's Hillary Summers scored in the paint twice in a row, including a stickback after a missed three.
The Devils did not panic, as Greenwell found Henson inside and then Kyra Lambert announced herself with a sweeping drive plus the foul. That gave Duke its largest lead at 18-9, but the Heels hit a three. UNC was still unable to get stops, as Salvadores froze her defender for a finger roll. A turnover by Lambert led to an easy UNC basket and cut the lead to six. With under thirty seconds left in the half, Greenwell drove and found Lambert wide open for a three. Kyra made sure her feet were set and let fly, hitting a momentum-shifting basket and giving Duke its biggest lead at nine.
After UNC missed to start the second quarter, Greenwell grabbed two offensive rebounds on Duke's first possession and then sank a killer three on a pass from Lambert. The Heels scored, but Lambert found Chidom inside, and after a UNC turnover, Henson dished to a driving Greenwell for a three point play. That made it 31-16, and UNC was struggling to stay in the game.
After a nice shot by Summers, Lambert loaded up for back-to-back threes, going from post to perimeter just as Duke prefers to do it. Every time the Heels would score, Duke would score twice. Indeed, after another Summers basket, Greenwell hit a three after Lambert got an offensive board and Henson hit Chidom inside to make it 42-20. UNC scored again to make it 42-22. This was a commanding lead for Duke, but given the Devils' propensity for long offensive droughts, it was by no means a safe one.
That's why Duke's 11-0 run over the last 4:37 of the half was so welcome and so encouraging. Salvadores found Chidom inside with a slick pass, and then Lambert found Salvadores in transition after a UNC miss. Crystal Primm attacked the basket and hit a couple of free throws, and then Lambert found Chidom inside after a Heel turnover. A wide-open three from Greenwell with 22 seconds left was the kill shot that made it 53-24. That 11-0 run was part of a larger 22-4 run over the last seven minutes of the quarter. The Devils shot a sizzling 60% in the first half (including 7-9 from three!) and only turned the ball over six times. The Heels shot 29% and weren't able to take advantage of their quickness.
Duke did not score for the first 2:15 of the third quarter, but the Heels missed three shots and turned the ball over twice, as Henson then had a stickback and Greenwell hit a short jumper. That made it 57-22 and pretty much ended the game. The Heels had a few bursts here and there, but they often came after Duke runs. For example, Duke pushed the lead from around thirty up to 37 after a 7-0 run that featured a drive by Henson (!), a driving three point play by Greenwell, and a stickback by Chidom. Duke didn't hit a single three in the second half (compared to six by the Heels) and the Devils still managed to extend their lead. After that 7-0 run, the Heels had an 8-0 run that featured a couple of treys. But Duke struck back with a crazy bank shot by Greenwell, a beautiful pass in transition from Lambert to Erin Mathias, and another stickback by Henson. Duke was making all the tough plays attacking the basket and was winning in hustle points as well.
The Devils scored all the points they needed to win the game at the 6:26 mark of the third quarter. That made the fourth quarter mostly an exercise in using depth. For Duke, that meant Mathias scoring six points, Lambert breaking off a no-look pass that resulted in a foul, and a brilliant look-away pass by Salvadores that led to a Lambert fast break basket. The Heels kept hoisting shots, but the long season has clearly killed their legs. I was shocked at how slow and tired Cherry looked, for example. Duke got a win they badly needed (a prerequisite for the ACC tournament) and looked better than they have for nearly a month.
DWHoops Nosh Player of the Game: Rebecca Greenwell. Considering the circumstances and the stakes, this was one of the best performances of Becca's career. With 27 points, 10 rebounds, 2 assists and 2 steals, she overwhelmed the Heels with play after play. Her 19 points in the decisive first half punished a UNC team that was giving her shots.
Five Fast Observations About Duke-UNC
Presented in memory of Jim Sabiston
Fast Start. It was Senior Day, and coach Sylvia Hatchell opted to start two walk-ons and reserve Erika Johnson. That can be a risky proposition, especially when the regular starters come in off the bench and are a bit cold. Duke wasn't exactly lighting up the scoreboard in the early going, but UNC was worse, hitting just one basket in the first five minutes. While they got a little closer, Duke's slight edge relaxed them as they started to break out to a bigger lead.


Advantages Pressed. Duke is still bigger and deeper than the Heels, and they used a zone to neutralize UNC's driving to the hoop. Duke won the battle of the boards 51-33 and had a commanding 54-10 edge in points in the paint. Duke also was able to get out and run against a ragged Heel transition defense, scoring 14 fast break points.


Die By The Three. With the paint essentially walled off, except for the occasional turnaround jumper by Hillary Summers (who was excellent with 10 points and 15 rebounds), the Heels had to launch jumpers. They either missed long (8-21 from three) or they missed short (8 blocks from Duke), but the Heels were frequently impatient in trying to see if they could break down Duke's defense with motion. It worked a couple of times, but their young guards just got impatient as Duke baited them into taking those shots.


Get Your Kick-Outs. The biggest reason why Duke won so easily is that their drives and kick-outs to open shooters were crisp and purposeful, giving the shooter plenty of time to get set and take a good shot. When the Heels responded by extending their defense, that's when Duke got some things going near the hoop.


Don't Trust Any Minutes Over Thirty. Happily (and rarely) for Duke, only Chidom played more than thirty minutes. For a team that's had to give huge minutes to a small number of players, this game was a gift after a week off. Meanwhile, five Heels had to play thirty or more minutes. You could see them spinning their wheels a bit in the second half, as they just didn't have enough energy to get the kind of stops that trigger runs.


Our DWHoops photo gallery of this game follows - for more photos, larger photos, and exclusive analysis, join DWHoops today. It's not too late to support our work this season!